They Knew It Was A Lie: Fox News Purposely Pushed Deception On 2020 Voting
@julietulbert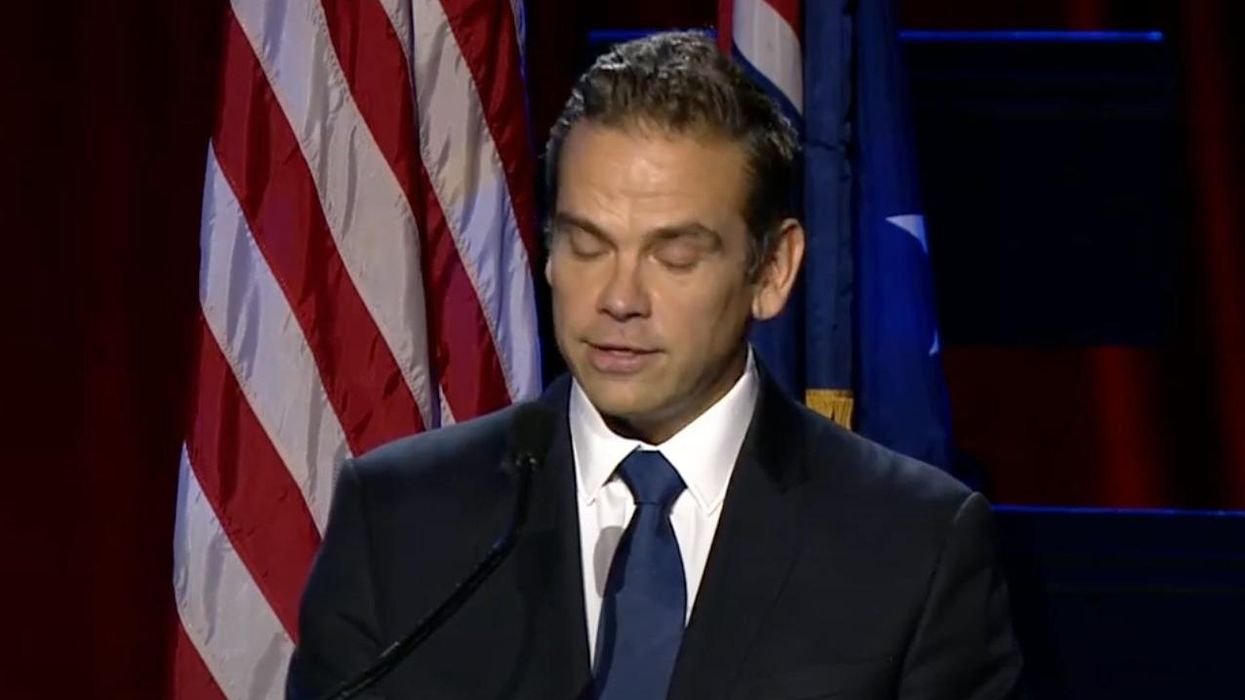 A recent filing in the Dominion Voting Systems lawsuit against Fox News reveals how much the network knew it was pushing false claims to its viewers in the aftermath of the 2020 election by suggesting that Dominion's voting machines were involved in voter fraud.
In March 2021, Dominion filed a defamation suit against Fox for the false claims the network pushed after the election. Those false claims were extensive: In the two-week period after Fox News declared Joe Biden the president-elect, the network questioned the results of the election or pushed conspiracy theories about it almost 800 times, including by using Dominion as a scapegoat. Fox became an outlet that aired Trump campaign lies about Dominion voting machines getting hacked without any evidence.
For Dominion to prove defamation, the company must show that Fox acted with "actual malice," meaning that Fox knew the allegations made about Dominion were false or that Fox acted in reckless disregard for the truth. On February 16, Dominion's brief calling for a summary judgment in its favor was released to the public. As Dominion detailed in the filing, "literally dozens of people with editorial responsibility—from the top of the organization to the producers of specific shows to the hosts themselves—acted with actual malice." Indeed, the filing shows "lies in twenty accused statements across six different shows with the active involvement of numerous Fox Executives."
Here are some of the damning quotes from the filing showing how much Fox's executives and employees knew they were lying about Dominion or the election at the time:
Fox star Tucker Carlson to his producer Alex Pfeiffer about Sidney Powell, one of Trump's campaign lawyers: "Powell is lying." [11/16/20]
Host Laura Ingraham to Carlson and fellow host Sean Hannity: "Sidney Powell is a bit nuts. Sorry but she is." [11/15/20]
Carlson to Ingraham: "Sidney Powell is lying by the way. I caught her. It's insane." Ingraham replied: "Sidney is a complete nut. No one will work with her. Ditto with Rudy." Carlson replied: "It's unbelievably offensive to me. Our viewers are good people and they believe it." [11/19/20]
Fox Corp. Chairman Rupert Murdoch: "Really crazy stuff." [11/19/20]
Murdoch after watching Giuliani and Powell on November 19, 2020: "Terrible stuff damaging everybody, I fear." Fox News CEO Suzanne Scott replied, "Yes Sean [Hannity] and even [Jeanine] Pirro agrees." [11/19/20]
Fox reporter Lucas Tomlinson to anchor Bret Baier: "It's dangerously insane these conspiracy theories." [12/1/2020]
Fox Politics Editor Chris Stirewalt on whether the allegation that Dominion rigged the election was true: "No reasonable person would have thought that."
Fox News CEO Suzanne Scott responded "Yes, I believe that," to the question "You believe, since at least the time that Fox News called the election on November 7th, that Joe Biden was legitimately elected the President of the United States, correct?"
As the filing outlined, Carlson texted a redacted name "that it was 'shockingly reckless' to claim that Dominion rigged the election '[i]f there's no one inside the company willing to talk, or internal Dominion documents or copies of the software showing that they did it' and 'as you know there isn't.'" [11/21/20]
Fox's internal "fact checks" about Dominion allegations reported they were "incorrect" and "not evidence of widespread fraud." [11/13/20; 11/20/20]
After canceling Pirro's November 7 show, Fox executive David Clark told Executive Vice President of Primetime Programming Meade Cooper: "Her guests are all going to say the election is being stolen and if she pushes back at all it will just be token."
Ingraham's producer Tommy Firth texted Fox executive Ron Mitchell: "This dominion shit is going to give me a fucking aneurysm—as many times as I've told Laura it's bs, she sees shit posters and trump tweeting about it." [11/8/20]
Fox News CEO Suzanne Scott to Fox Corp. CEO Lachlan Murdoch: "Viewers going through the 5 stages of grief. It's a question of trust—the AZ [call] was damaging but we will highlight our stars and plant flags letting the viewers know we hear them and respect them." Murdoch replied: "Yes. But needs constant rebuilding without any missteps." Scott responded: "Yes today is day one and it's a process." [11/9/20]
Fox News Washington, D.C., Managing Editor Bill Sammon to Fox Political Editor Chris Stirewalt on the network's coverage of "supposed election fraud": "It's remarkable how weak ratings make[] good journalists do bad things." [12/2/20]
Carlson to Ingraham: Powell's "a nut, as you said at the outset. It totally wrecked my weekend. Wow... I had to try to make the WH disavow her, which they obviously should have done long before." Ingraham responded to Carlson: "No serious lawyer could believe what they were saying." [11/22/20]
Rupert Murdoch told Scott to read a Wall Street Journal piece about Newsmax, telling her: "These people should be watched, if skeptically. Trump will concede eventually and we should concentrate on Georgia, helping any way we can. We don't want to antagonize Trump further, but Giuliani taken with a large grain of salt. Everything at stake here." [11/16/20]
Scott: "Privately, I had a number of conversations with Sean where he wanted the President to accept the results."
After White House correspondent Kristen Fisher fact-checked Giuliani and Powell's press conference, she received a call from her boss, Bryan Boughton, in which he "emphasized that higher-ups at Fox News were also unhappy with it," and said that Fisher "needed to do a better job of…—this is a quote—'respecting our audience.'" [11/19/20]
Fox Corp. Senior Vice President Raj Shah wrote: "shit is so crazy right now. so many people openly denying the obvious that Powell is clearly full of it." Carlson's producer Alex Pfeiffer replied: "She is a fucking nutcase." [11/22/20]
Rupert Murdoch told Suzanne Scott, "It's been suggested our prime time three should independently or together say something like 'the election is over and Joe Biden won,'" and that such a statement "would go a long way to stop the Trump myth that the election [was] stolen." [1/5/21]
Carlson complained to Hannity about Fox News reporter Jacqui Heinrich, who "was 'fact checking' a tweet by Trump that mentioned Dominion—and specifically mentioned Hannity's and Dobbs' broadcasts that evening discussing Dominion" Carlson reportedly wrote: "Please get her fired. Seriously....What the fuck? I'm actually shocked...It needs to stop immediately, like tonight. It's measurably hurting the company. The stock price is down. Not a joke." [11/12/20]
According to the filing, "Ingraham herself testified that she has no basis to believe Dominion committed election fraud by rigging the 2020 Presidential Election or that it is owned by a company founded in Venezuela to rig elections for Hugo Chavez (and agreed its ownership is 'readily ascertainable')."
Anchor Dana Perino also called the voter fraud allegations "total bs," "insane," and "nonsense."
Powell sent an email to Fox Business host Maria Bartiromo about voter fraud claims that "Powell had received from a 'source' which the author herself describes as 'pretty wackadoodle.'" According to the filing, "Bartiromo agreed at her deposition that this email was 'nonsense' … and inherently unreliable."
As the filing laid out:
Each circumstantial factor cuts strongly in Dominion's favor. But here, the words of multiple Fox employees provide overwhelming direct evidence of actual malice. In addition to the evidence cited above, the excerpts below feature just some of the additional examples showing Fox employees knew at the time that these claims—and the guests promoting them—were:

"ludicrous" –Tucker Carlson [11/20/20]
"totally off the rails" –Tucker Carlson [12/24/20]
"F'ing lunatics" –Sean Hannity [12/22/20]
"nuts" –Dana Perino [11/16/20]
"complete bs" –Producer John Fawcett to Lou Dobbs [11/27/20]
"kooky" –Maria Bartiromo, regarding email received from Powell [11/07/20]
"MIND BLOWINGLY NUTS" –Raj Shah, Fox Corporation SVP [11/21/20]
Fox knew that it was pushing lies about Dominion and the election, and the network continued to smear the company and spread conspiracy theories anyway.
Reprinted with permission from Media Matters