Santos Still Hiding Source Of $625K He Didn't Loan To His Campaign
@LauraClawson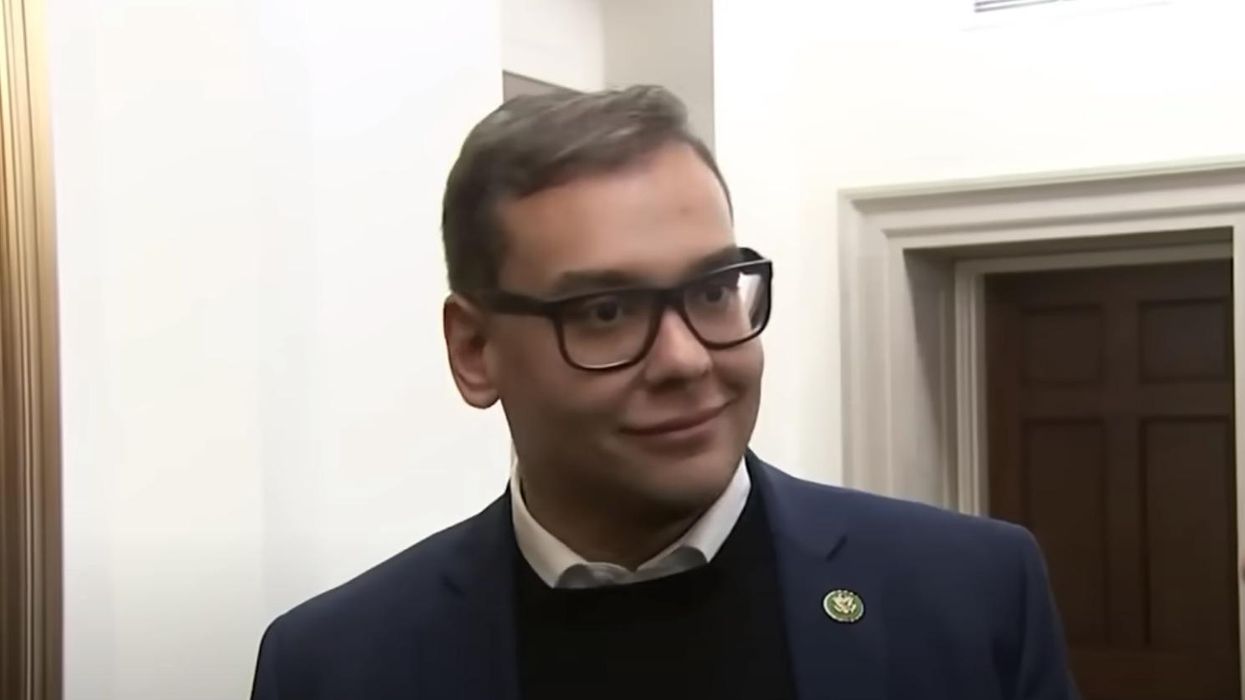 Youtube Screenshot
The big question—the really big question—about Rep. George Santos' lies has been where he got the $700,000 he lent his campaign. Because there's no evidence Santos ever had that much money, and if it came from someone else, that person bought themselves a U.S. congressman, which is illegal. Updated finance reports Santos' campaign filed on Tuesday added a new twist .
In the new filings, the campaign unchecked a single box that had been checked in previous filings. The box in question was originally marked to say that the loan came from "personal funds of the candidate." Now it's not saying that money came from Santos' own money, in two amended reports about $500,000 and $125,000 loans from Santos. But no more explanation is forthcoming.
"I have never been this confused looking at an F.E.C. filing," Jordan Libowitz, a spokesman for Citizens for Responsibility and Ethics in Washington and therefore someone who probably looks at a lot of FEC filings, told The New York Times .
"If the candidate's personal wealth wasn't the source of the loan, then what was?" one campaign lawyer quoted in the Times asked. "The only other permissible source would be a bank, and they would require collateral for a loan of this size. If a bank wasn't the source of the funds, then the only alternatives are illegal sources."
Santos had claimed that he got the money through his company, the Devolder Organization. But the Devolder Organization has no record of clients that would be paying it enough money to funnel hundreds of thousands of dollars to Santos, who made $55,000 a year at his previous job. Even if the Devolder Organization legitimately made that money, with Santos as its owner, taking the money out of the company to go to his campaign could be illegal .
It seems unlikely that "I got the money from my personal company that within the space of a couple years made millions of dollars with no major clients I can disclose" is a true answer, though. One possible answer is that, as the Times reported earlier in the month, large amounts of money were raised for Santos through RedStone Strategies, described in some documents as an "independent expenditure" group but never registered with the FEC. Some of the contributions to RedStone Strategies came shortly before Santos' $125,00 loan to his campaign. Because there's no documentation, we can't say anything for sure about that, but it's … interesting.
Everything about this guy is sketchy, but the hundreds of thousands of dollars he funneled to his campaign on the claim that it was his own money is one of the things most likely to be criminal. That, and the actual criminal fraud charges in Brazil. And the allegation that he fraudulently raised money for lifesaving surgery for a disabled veteran's service dog and then refused to pay for the dog's surgery while claiming that the money would go to other dogs.
So the highly questionable campaign finance arrangements aren't the only crimes Santos may have committed—but they'd be by far the largest in dollar value and impact in the world. (A dog dying needlessly is awful, but not an enormous story in comparison with a criminal criming his way into Congress.)
As a result of the new disclosures and the general cloud of suspicion surrounding Santos, this is how his days are going:
\u201cVideo from a short time ago: Rep. George Santos, R-NY, exiting H GOP conf. meeting, and questions from the press.\u201d

— Lisa Desjardins (@Lisa Desjardins) 1674659837
But note there are still no answers. Voters in his district—and the FEC and Santos' colleagues in the House—really need to know where that money came from. Republican leaders have stood by Santos so far because they care more about his vote than about what rules or laws he may have broken on the way to Congress. Is there anything that could possibly shift Kevin McCarthy's risk-benefit analysis on Santos? It seems like we're going to get a very strong test of that question.
Reprinted with permission from Daily Kos .