After Voting 'No,' Boebert Asks Why We Don't Spend More On Infrastructure
@AJPennyfarthing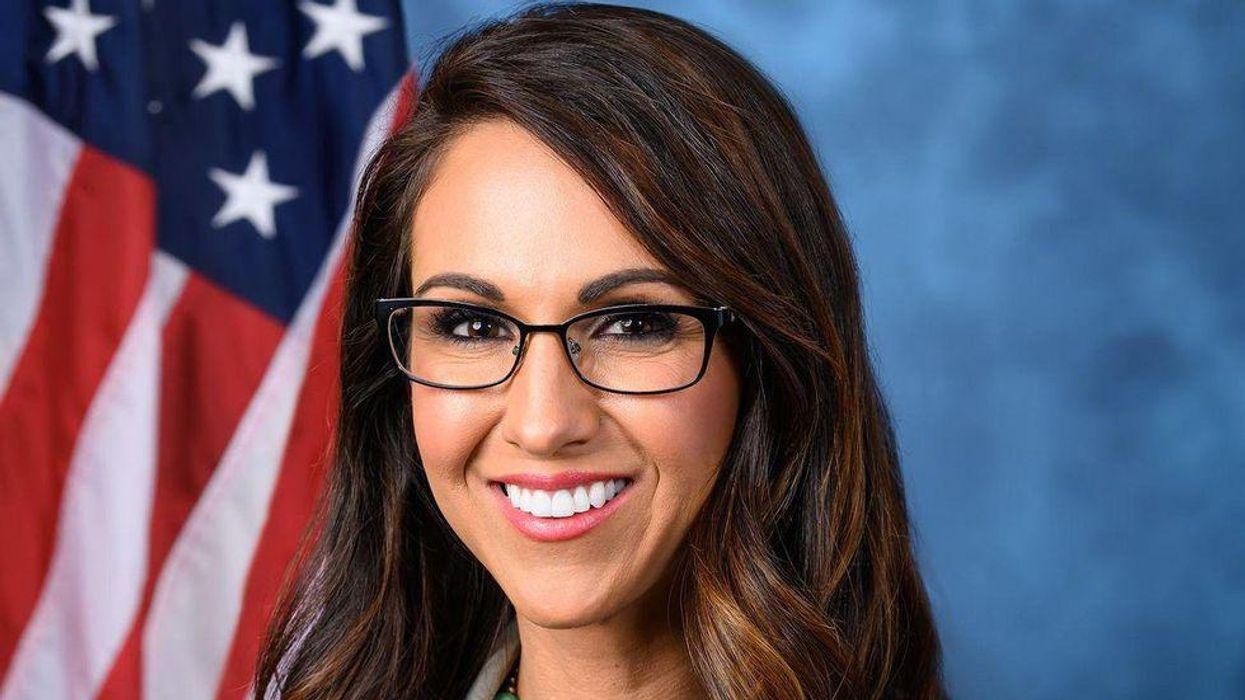 We know Rep. Lauren Boebert has a brain. The drool patterns on her blouse are prima facie evidence of intelligent design, rather than random chance. They were analyzed by the same Oxford University forensics team that declared the Shroud of Turin a modern-day forgery after finding an uneaten Toblerone in one of its inside coat pockets. So we know that's legit.
The problem with Lauren is she rarely consults that brain before sharing her opinions. Perhaps no one taught her how to use it. Or maybe it's still using the bulk of its available RAM to run Flying Toasters . We simply don't know.
What we do know is that Boebert's understanding of her job is tenuous at best. She appears to think it's a steppingstone to a prime-time slot on Fox News, whereas we all know she'd be lucky to score a bimonthly pet-grooming column on Stormfront.org.
But while Boebert is benighted all the time, there are moments when she really excels. And last week she was in rare form.
Seriously, check out this effervescent fuckery, and then let's meet up after the jump.
For the nontweeters:
An AMTRAK passenger train just derailed in California.Two weeks ago a highway collapsed in Philadelphia.
Stuff like this is going on constantly in America.

We're sending our money all over the world but our own country is falling down around us.
Okay, so who wants to tell Lauren what's wrong with this tweet? Oh, I see everyone's hand is up. Of course, we can't hear from all of you, but here's a nice, tidy heap of snark:
Okay, you get the gist. Boebert vehemently criticized , and ultimately voted against , the very same kinds of infrastructure investments that are currently solving the problems she cites. (By the way, the Amtrak train she referenced derailed because someone left a water truck on the tracks . Thanks, Biden!)
These are the very kinds of investments her ocher overlord failed to secure during his four years in office, even though he's universally acknowledged as the bestest negotiator in the wide world and everyone from Nancy Pelosi to Mitch McConnell desperately wanted to pass a long-overdue infrastructure spending package.
But Lauren wasn't going to take those rebukes lying down. She promptly issued this statement:
1 Hour of Flying Toasters - The Classic After Dark Screensaver youtu.be
Of course, this isn't the first time Boebert's hypocrisy has been on lurid display. Last year, she requested $33.1 million in infrastructure funds from the very same administration she excoriated over its spending plans.
Boebert wants $33.1 million for the South Bridge in Glenwood Springs, according to a newsletter from her office. She also sent a letter to U.S. Secretary of Transportation Pete Buttigieg advocating construction of the Glenwood Springs bridge.
...
The city is requesting $33.1 million in Rural Surface Transportation grant money to complete the project, which would create a second point of access between Colorado State Highway 82 and the western side of the Roaring Fork River in the south Glenwood Springs area.
Boebert voted against President Joe Biden's Infrastructure Investment and Jobs Act, calling the legislation "wasteful" and "garbage" on Twitter.
Pretty brazen, huh? Sadly, she's not alone. If there's one thing Republicans like more than harassing LGBTQ+ people in exchange for votes, it's taking credit for infrastructure projects they voted against.
For instance, you have Sen. Tommy Tuberville (R-AL), who up until recently thought rural broadband referred to an all-female Lynyrd Skynyrd tribute group. Nevertheless, he tried to take credit for President Joe Biden's robust broadband initiative.
The funds are from the $555 billion infrastructure bill Biden campaigned for and signed into law in November 2021. Tuberville was one of 30 Republican senators to vote against the legislation, but he praised the arrival of the funds on social media this week.
"Broadband is vital for the success of our rural communities and for our entire economy. Great to see Alabama receive crucial funds to boost ongoing broadband efforts," Tuberville tweeted Tuesday.
The tweet was quickly tagged with a "context" note from Twitter users. "Important context to know here: while Sen Tuberville is celebrating this grant now, he voted against it when it came up in the Senate, and never expressed support for it, until now," the note said.

Ah, these fuckers. While Republican hypocrisy and chutzpah have been with us longer than cosmic microwave background radiation, this shit is still pretty maddening.

The only question is, will we get mad enough to really do something about it ?
Reprinted with permission from Daily Kos .