Mike Johnson Seems Nice -- Until You Take A Closer Look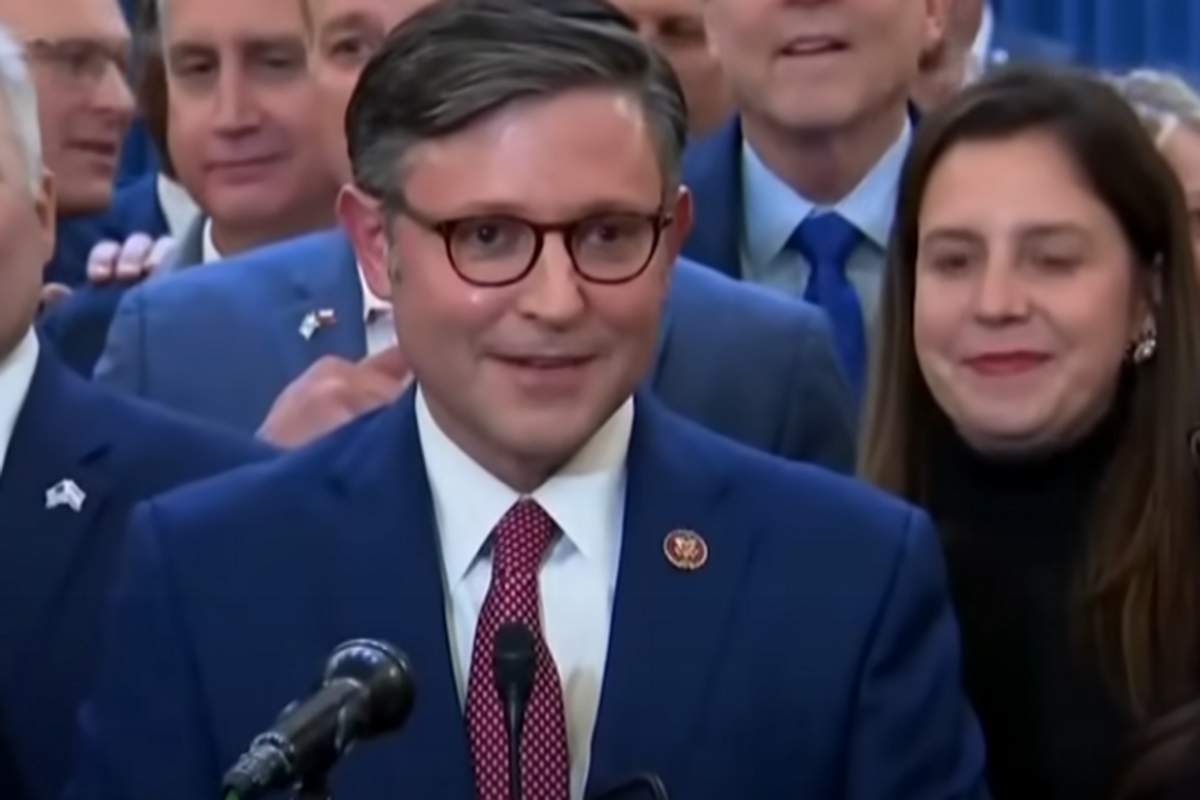 Mike Johnson
Mike Johnson, the four-term Louisiana representative just elected as House speaker, makes a pleasant first impression. That may be why his fellow Republicans chose such an untested politician, with no obvious qualifications, to fill that demanding post. Or they may have simply succumbed to exhaustion and embarrassment after the procedural fiasco that left Congress in limbo for weeks.
Whatever their motivations, it is now clear that Johnson's sudden elevation was a wildly irresponsible act. Behind his thin biography and bland smile is a fanatical mindset that will threaten constitutional order and the democratic process. Throughout his public career, the new speaker has espoused the ideology of Christian nationalism, which marks him as hostile to religious pluralism, rational inquiry and personal dignity.
His perspective sets him far outside the mainstream of American life. Which is not too surprising, because he appears to exist in a far-right dimension of fantasy.
Consider the most obvious stain on Johnson's record, which alone ought to have disqualified him from such high office, namely the starring role he played in former President Donald Trump's attempts to overturn the 2020 election results. Billing himself as a constitutional lawyer, he crafted a legal brief, signed by congressional Republicans, that aimed to disqualify millions of votes in four key states because of fake "fraud" claims.
Those claims had already failed and the Supreme Court swiftly rejected Johnson's arguments. Then he voted against certifying Joe Biden's victory on the House floor.
Presumably that was why Trump, the chief saboteur of democracy, endorsed him for speaker. But Johnson went all the way, voicing the discredited conspiracy theories about Dominion Voting Systems equipment that eventually cost Fox News Channel nearly $800 million in libel damages. "The allegation about these voting machines, some of them being rigged with the software by Dominion — look, there's a lot of merit to that," he said on a Louisiana radio show, describing Dominion's product as "a software system that is used all around the country that is suspect because it came from Hugo Chavez's Venezuela."
Those accusations were unequivocally false, as Johnson could easily have discovered for himself. Either he didn't care whether what he was saying about a free and fair election was true — or he was eager to repeat lies because they had been uttered by Trump's lawyers.
Underneath his mild-mannered persona, Johnson is afflicted with a dogmatic temperament that prizes partisan and sectarian belief over factual evidence. He has proclaimed his confidence in the "creationist" superstition that proclaims Earth is only six thousand years old, because the Bible appears to say so, and not 4.6 billion years old as determined by astronomers and geologists. Indeed Scripture, or at least his interpretation of it, provides his all-purpose intellectual guide.

To anyone who asks, "What does Mike Johnson think about any issue under the sun?" he offers a simple reply. "Well, go pick up a Bible off your shelf and read it — that's my worldview. That's what I believe and so I make no apologies for it."
Where this strict adherence to Biblical law and lore will lead him on economic or foreign policy questions remains to be revealed, although the precedents are ominous. Christian "charity" is not characteristic of Christian nationalists, who have shown an inclination to torment the poor and working class that Jesus would not approve. And owing to their obsession with other people's sex lives, we already know what he thinks about gays and lesbians and anyone else who doesn't conform to his notions of morality.
Yes, Mike Johnson is one of those people who feels obliged to denigrate people defined as "deviant" by his religious sect. He would outlaw their sexual lifestyles and punish them severely, much like the Iranian regime or the Taliban. In his worldview, too, deviance is a sin that extends beyond homosexuals and transsexuals to anyone who has sex outside the bounds of marriage or who asserts the right to reproductive freedom. He has declared that the state has a compelling interest in suppressing such "damaging" conduct, including contraception.

What were Republicans thinking when they installed this bigot as speaker of the House? Did they expect Americans to welcome his rigid ignorance and aggressive prejudice? They've made Trump happy, but before long they will answer to voters for this mad insult.
Joe Conason is editor-in-chief of The National Memo and editor-at-large of Type Investigations. He is the author of several books, including two New York Times bestsellers. His latest book, The Longest Con: How Grifters, Swindlers And Frauds Hijacked American Conservatism, will be published by St. Martin's Press in 2024.