Now Trump Wants A Federal Investigation Of Mike Pence
@alexvhenderson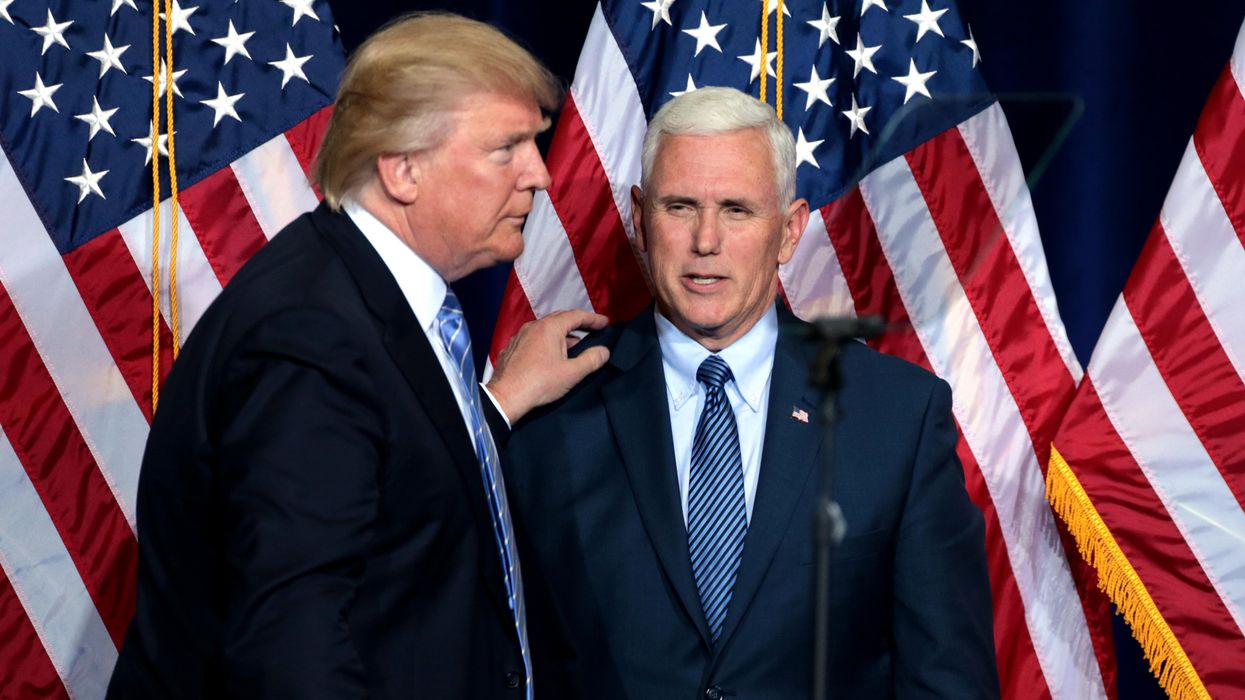 Image via Wikimedia Commons
Former President Donald Trump is bitterly opposed to the in-depth investigation being conducted by House Speaker Nancy Pelosi's select committee on the January 6, 2021 insurrection, even going so far as to say that if he becomes president again, he would consider presidential pardons for some of the rioters who attacked the U.S. Capitol Building that day. And he is equally furious over the Trump-related investigations coming from New York State Attorney General Letitia James, Manhattan District Attorney Alvin Bragg and Fulton County, Georgia DA Fani Willis.

But there is one investigation that Trump would not be opposed to: an investigation of former Vice President Mike Pence, who he continues to resent for not stopping the certification of now-President Joe Biden's Electoral College victory during a joint session of Congress on January 6, 2021 — something that Pence has maintained he didn't have the authority to do.
In her February 1 column, Vanity Fair's Bess Levin — a scathing critic of the former president — recalls that after the 2020 election, Trump relentlessly pushed the "bald-faced lie" that the election was stolen from him even though there was "not one shred of evidence that the 2020 election was plagued by voter fraud."
"Even the reality that, on January 20, 2021, Joe Biden became president, and has been doing the job ever since, has failed to dissuade him," Levin explains. "If anything, Trump has only gone further off the deep end, ranting about the election having been stolen — a place of madness that led him, on Tuesday, to demand that his former vice president be investigated for refusing to stop the certification of Biden's win."
Levin continues, "In a characteristically febrile, grammatically offensive statement disseminated on Twitter, Trump once again claimed that Mike Pence 'had this right' to change the outcome of the election, and that 'the Unselect Committee should be investigating…. why Mike Pence did not send back the votes for recertification or approval.'"
Trump's claim that Pence was letting him down on January 6, 2021 led to death threats against the then-vice president. Crowds of pro-Trump insurrectionists were chanting, "Hang Mike Pence, hang Mike Pence" in Washington, D.C. that day, and some of them even set up a hangman's gallows outside the U.S. Capitol Building.
Levin observes, "Trump, of course, has been laying into Pence for over a year now, though this is the first time he's publicly appeared to suggest that perhaps his VP was in cahoots to deprive him of a second term — despite the fact that Pence was on Trump's 2020 ticket…. Almost a year later, after Pence certified Biden's win, Trump told ABC's Jonathan Karl that his former VP deserved the chants on January 6 calling for his hanging — which makes it extra wild that the worst thing Pence has to say about Trump is that they haven't really been in touch for the last few months but that when they 'sat down in the days that followed (January 6), we spoke about it, talked through it, (and) we parted amicably.'"
Reprinted with permission from Alternet