Ultra-Right One America Network Promotes Dominion Conspiracies Despite Lawsuit Threat
@alexvhenderson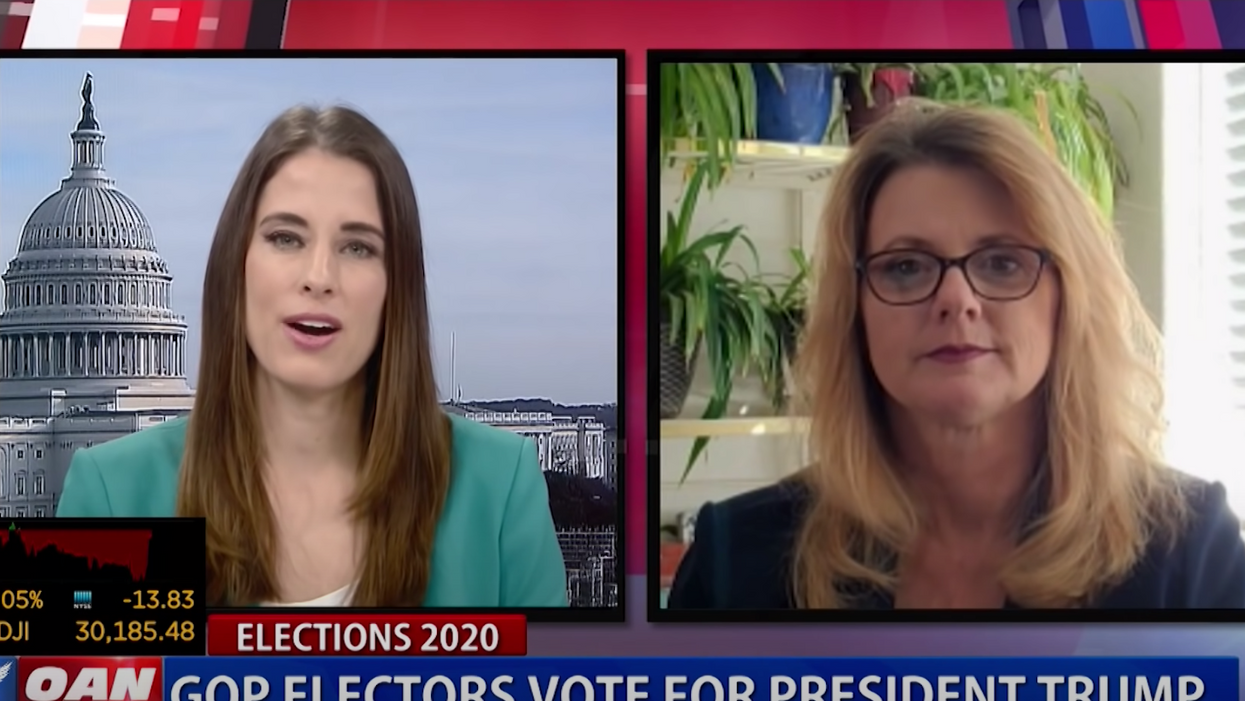 Reprinted with permission from Alternet

One American News, like Newsmax TV, has gone out of its way to promote the baseless conspiracy theory that President Donald Trump, not President-elect Joe Biden, really won the 2020 presidential election. Two companies that have been targeted by far-right election conspiracy theorists include Dominion Voting Systems and Smartmatic, both of which specialize in election technology. And journalist Kelsey Vlamis, in an article published by Business Insider on Christmas Day 2020, reports that OAN has been doubling down on election conspiracy theories while being threatened with a defamation lawsuit by Dominion.
According to Vlamis, "In response to threats of a defamation lawsuit, the One America News Network is leaning further into some election conspiracy theories that the network has featured on its shows. Dominion Voting Systems previously sent OAN letters threatening to sue, accusing the network of spreading the unsubstantiated conspiracy theory that the election technology company manipulated votes in favor of President-elect Joe Biden in the November general election."
Dominion, Vlamis notes, "asked the network to save any documents or correspondence related to Dominion." And OAN, according to Vlamis, "responded by requesting Dominion keep records of certain documents so the network can 'preserve its own claims and defenses in the event of litigation.' The conservative news network sent similar letters to Smartmatic, another election technology company."
Dominion has been a target of far-right attorney, conspiracy theorist and Trump supporter Sidney Powell, who made the baseless claim that Dominion's voting technology was used to help Biden steal the election just as it gave the late President Hugo Chávez an unfair advantage in Venezuela — and Dominion has responded that its technology has never even been used in that South American country. Dominion has filed a lawsuit against Trump's campaign and Powell.
In a late November press release, Dominion explained, "Dominion has no ties to the Venezuelan government, nor any other foreign government, including China and Iran. Dominion has never participated in any elections in Venezuela and has no connection or relationship with the now deceased former Venezuelan dictator Hugo Chávez. Other companies have serviced elections in Venezuela, but Dominion is not one of them."
On Christmas Eve Day, Vlamis reports, OAN asked Smartmatic to "save any correspondence between Smartmatic CEO Antonio Mugica and a number of individuals, including former president of Venezuela, Hugo Chávez, and California Secretary of State Alex Padilla. The president's allies have also claimed, without evidence, that Smartmatic was working with the socialist Venezuelan government and Chávez, who died in 2013, to disrupt the U.S. presidential election."
Vlamis notes, "In addition to OAN, Dominion has sent letters to Fox News and Newsmax with threats to sue for defamation, as well as conservative media figures like Sean Hannity and Rush Limbaugh, among others."