Promoting Trump's Lies, Rudy Giuliani Finally Sank To The Very Bottom
@FromaHarrop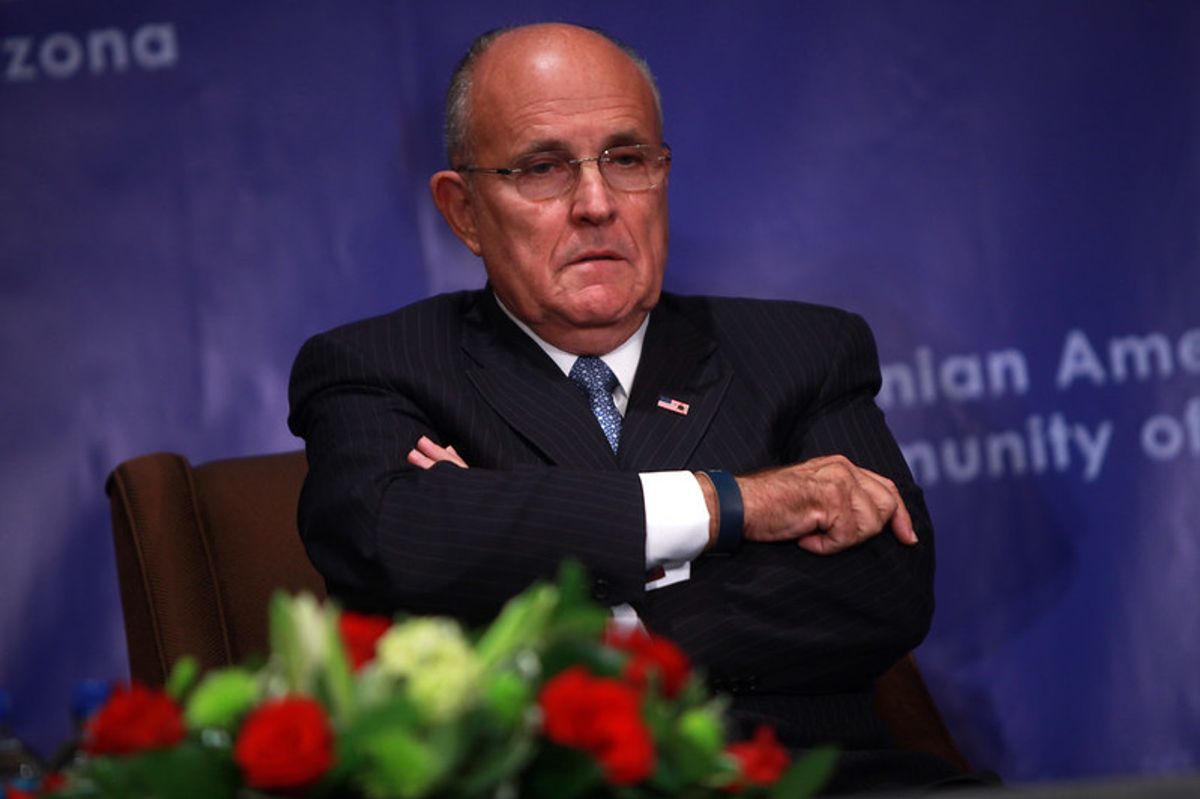 The Italian poet Dante mapped out nine circles of hell, each circle representing a sin. As the circles went deeper into the inferno, the sins attached to them grew more horrible.
Without much reflection, MAGA world has engaged in Dante's three lowest sins. From less terrible to most terrible, they are violence, fraud and treachery. The January 6 attack on the Capitol was violence. The efforts by Donald Trump and his flying monkeys to steal the 2020 election was fraud. And the betrayal of Americans' trust in the sanctity of their democracy was treachery.
Another circle should be dug for Rudolph Giuliani, who, in addition to encouraging violence, lying and treason, practiced human cruelty with no conscience whatsoever. We refer to the two innocent Georgia election workers on whom he preyed, Ruby Freeman and her daughter Shaye Moss. Not only did he smear them with blatant lies, but he publicly identified them as targets knowing the monkeys would sweep down and attack.
Giuliani accused the women of pulling fake ballots out of suitcases hidden under the ballot counting stations. With a racist flourish, he likened these two Black poll workers to drug dealers "passing out dope."
Trump himself singled out Freeman 18 times in a phone conversation with Brad Raffensperger, Georgia's secretary of state. He called the 62-year-old temp worker "a professional vote scammer," "a hustler," and a "known political operative" who "stuffed the ballot boxes."
Fulton County and Georgia officials totally rejected the fantastical story. One America News Network ran with it.
It's one thing in political combat, even unfair political combat, to fume over alleged cheating by unknown forces. It's quite another to name people you've charged with fictional crimes in the knowledge that it would endanger their lives, in this case, piling on a layer of racist sludge.
These women were subject to a flood of threatening phone calls, some terrifying. Freeman reported callers saying, "We're coming to get you. We are coming to get you." And the creeps threatened Moss' teenage son. The menace grew physical as simians banged loudly on their door in the night.
The intimidators, of course, could keep their identities secret. That's the coward's way.
Another sick vision in Trump's campaign to defraud the American electorate featured the "salt of the earth" Michigan Republicans who agreed to act as phony electors, all part of a plot to change the honest outcome in their state. It was unsettling to see how easily wholesome exteriors could cover so much moral rot. All they needed was a command from Trump, and they were ready to spread their furry wings and betray their country.
So effortlessly will MAGA world gang up on a scapegoat, it will go after its own. We speak of Ray Epps, the Arizona man who participated in the January 6 riot but was designated as a sacrifice to be tarred as an undercover government agent. The story was that he pushed violence as a means to disparage Trump and his followers. Tucker Carlson beat this drum, setting off a wave of toxicity that forced Epps and his wife from their home.
Freeman and Moss have reached a settlement with One America but are still suing Giuliani for defamation. Giuliani has admitted that his statements were "false" and would not dispute the "factual elements of liability." But his defense is that those vile accusations were "constitutionally protected" under the First Amendment.
I trust the women have good lawyers. May they bleed that vampire dry. Whether the First Amendment protects such vicious lies remains to be seen. But Giuliani should hope that Dante's "Inferno" was product of a poet's imagination. If it exists, he's in deep trouble for a long, long time.
Follow Froma Harrop on Twitter @FromaHarrop. She can be reached at fharrop@gmail.com. To find out more about Froma Harrop and read features by other Creators writers and cartoonists, visit the Creators webpage at www.creators.com.
Reprinted with permission from Creators .