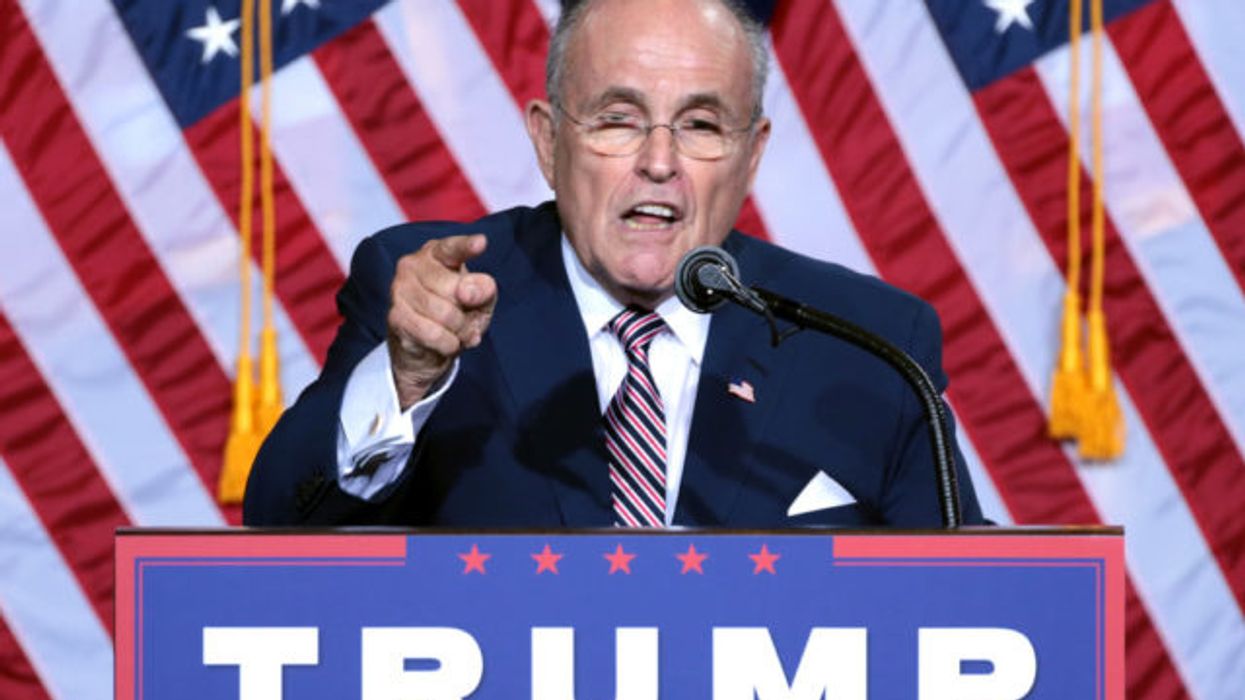 George Soros is a 92-year-old Jewish Hungarian immigrant who escaped the Nazi occupation of his homeland, and who huddled in a basement during the 1945 Russian siege of Budapest before escaping to France and then England. While enrolling as a student, Soros worked as a waiter and as a railway porter and has often said he was encouraged into a life of philanthropy when he received £40 from a Quaker charity with the help of a teacher at his school. In 1956, already a successful investment banker, Soros moved to the United States on what he expected to be a temporary assignment for his British company. He's been in the U.S. ever since.
Oh, and apparently he tried to kill Rudy Giuliani on the tarmac of an airport in Ukraine.
We know this because, as The Washington Post reports, Giuliani laid out the murder scheme on his podcast. Giuliani was back in Ukraine along with One America News "personality" Chanel Rion in 2019. That ran afoul of Soros' infinite network of agents, who apparently had the power to "cause trouble." That sent Giuliani in search of escape by private plane only to learn at the last moment (dum dum dum) that Soros owned the airport! As the plane is just getting ready to leave the runway, a sinister vehicle pulls up with Soros himself inside.
GIULIANI: "It's like right out of Casablanca, and his car—and, actually, she saw him.
Thankfully, Giuliani and Rion escape at the last moment from Soros' evil clutches. Though Giuliani thinks they have a picture of the car. Maybe.
This particular trip to Ukraine came months after Donald Trump had tried to extort Ukrainian President Volodymyr Zelenskyy into lying about then-candidate Joe Biden. Giuliani's claims about Biden's actions in Ukraine had already been debunked repeatedly by that point, but when you're knowingly trying to get people to lie, what difference does a debunking make?
We've all seen Rudy Giuliani. It makes perfect sense that he might be terrified of a physical confrontation with a 92-year-old. But of course, it's pretty easy to confirm that Soros wasn't there, doesn't own the airport, and also doesn't control the Ukrainian government. None of that matters, anyway.
Here are Donald Trump and dozens of other Republicans claiming that New York Attorney General Alvin Bragg is controlled by Soros.
Here's Texas Gov. Greg Abbott claiming that Soros is trying to take over the government of Texas.
Here's former Rep. David Brat claiming that Act Blue is a "Soros-funded resistance group."
Here's a San Diego prosecutor accusing Soros of "funding anti-fascists to increase crime," and specifically of being behind "antifa" protestors who brawled with Trump supporters at a rally.
Here's Candace Owens insisting that Soros owns Black Lives Matters and pays people to protest.
Here's The New York Post declaring Soros "the most dangerous man in America" and a whole stack of people, starting with Breitbart, claiming that Soros promised to "destroy America."
If that last one sounds like it should be the capper for all this, hang on, because transcripts of testimony released in January feature one of the founders of QAnon declaring that the right has been duped by … well, take it away, Jim Watkins:
A: Well, QAnon is a boogeyman that's invented by the propaganda wing of likely—you know, I don't know who's running it, but I know that George Soros finances it.
Watkins even insists there is a secret paragraph that if included in a story will guarantee a check from Soros. Frustratingly, he doesn't share that paragraph.
But wait! That's not all.
Here's Alex Jones also claiming that Soros and the Southern Poverty Law Center hired actors to "dress up as white supremacists" and stage the deadly racist march in Charlottesville, Virginia.
Seriously, it does go on. Including into claims that Soros was secretly a Nazi. Because of course it does. He's also been tied to the Rothschilds, the Freemasons, and the Illuminati, as well as that big Jewish shadow government that the right wing knows is out there.
Funding criminals, creating QAnon, running antifa and Black Lives Matter, just generally being very dangerous and Jewish … Soros is in more places than Savoir Faire. (You don't have to be as old as Soros to get that joke, but it helps.)
Which is all pretty amazing for a guy who up until 2003 was as likely to donate to a Republican candidate as a Democratic one. Soros—in spite of his increasing wealth—only sporadically gave a donation to candidates or organizations associated with either party. Instead, he concentrated on helping to fund nongovernmental organizations (NGOs) that brought assistance to countries emerging from authoritarian rule in Eastern Europe.
However, George W. Bush's invasion of Iraq spurred Soros to donate millions to organizations such as MoveOn.org and the Center for American Progress in an effort to defeat Bush's reelection. Since then, he's donated over $32 billion to nonprofit organizations, leaving himself with a net worth around $8 billion and earning him the title of "the most generous giver" on Forbes'list of philanthropists.
Most of that money has gone out through the Open Society Foundations, which primarily serve as a conduit for grants to NGOs in 37 countries. The stated goals are support of "advancing justice, education, public health and independent media." In practice, Open Society has provided donations to many groups seeking to help immigrants, promote racial equality, and to oppose authoritarian governments.
So put it all together and George Soros is a Jewish immigrant who is trying to help other immigrants, fight authoritarianism, end racism, and promote transparency. Little wonder he has become a boogeyman for the right.
New conspiracies featuring Soros pop up with such frequency that sites like Reuters have a running update on the latest Soros-themed claims. Wikipedia has not just a Soros page and an Open Society page, but a George Soros Conspiracies page. PolitiFact debunked no fewer than 92 Soros conspiracies—one for every year of his life.
If you're wondering what the right is going to do when Soros is gone, don't worry. To misquote Jeff Goldblum, antisemitism always finds a way.
In the meantime, if Soros could take the time out to fight the 78-year-old Giuliani, that would be quality television.
Reprinted with permission from Daily Kos.