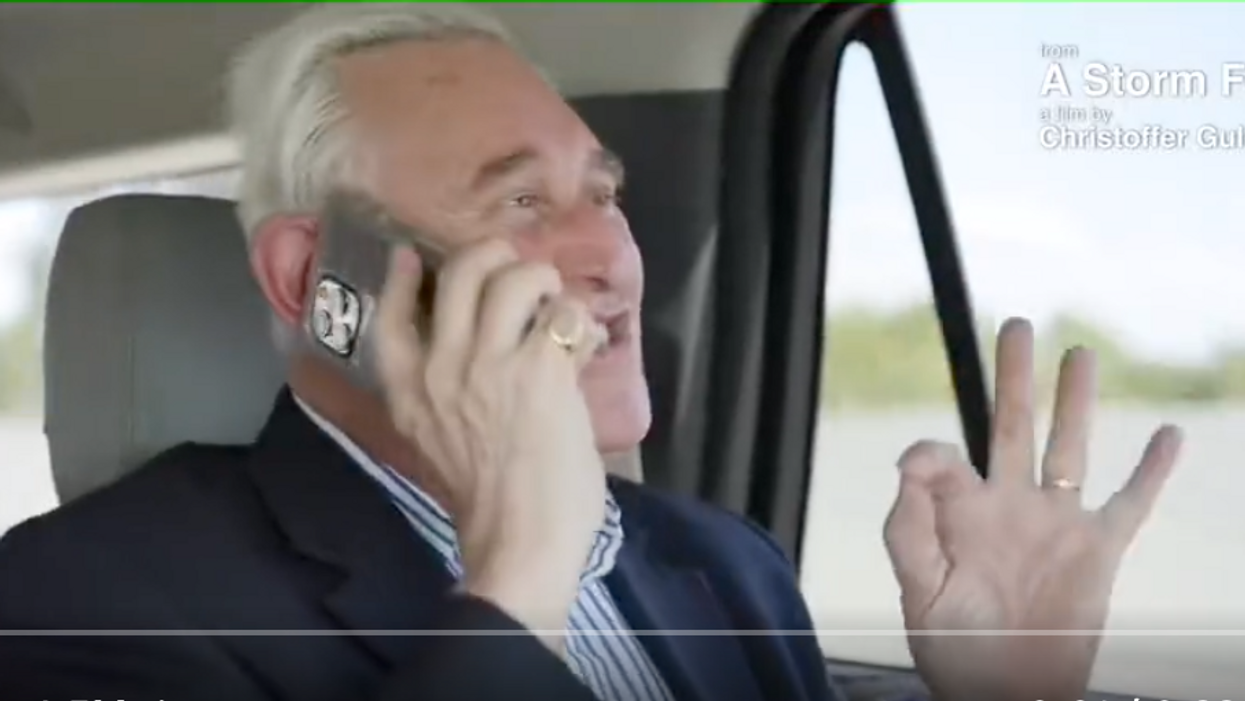 Longtime Trump ally and MAGA provocateur Roger Stone flew into a rage upon learning he wouldn't be granted a post-2020-election pardon despite extensive lobbying efforts and unleashed a flurry of expletives at former President Trump's family, newly released footage showed.
In the video — captured by the Danish film crew "The Ark" for its forthcoming documentary A Storm Foretold, and first published by The Daily Beast— Stone is seated in a moving vehicle, seething at the discovery that there would be no 11th-hour pardon to shield him from accountability for his role in the effort he helped lead to overturn Trump's loss in the 2020 election.
"Jared Kushner has an IQ of 70," Stone ranted on the phone on President Joe Biden's inauguration day, when then-outgoing President Trump could no longer grant pardons. "He's coming to Miami. We will eject him from Miami very quickly; he will be leaving very quickly," Stone said through gritted teeth. "Very quickly."
His anger rising rapidly, Stone segued into a threat of violence, warning, "He has 100 security guards. I will have 5,000 security guards. You want to fight. Let's fight. Fuck you."
The political "dirty trickster" ended his tirade with a jab at Ivanka Trump, saying, "Fuck you and your abortionist bitch daughter!"
\u201cUnreleased subpoenaed footage: Stone angry that Trump didn\u2019t grant him a second pardon melts down calling Ivanka Trump - abortionist bitch daughter.\u201d

— Christoffer Guldbrandsen (@Christoffer Guldbrandsen) 1665757454
The Beast noted it was unclear who Stone was speaking to on the phone, but the film crew's boss, Christoffer Guldbrandsen, confirmed to the publication there was "no doubt" it was Ivanka that Stone had called an "abortionist bitch."
Why Stone would refer to Ivanka — who, according to the HuffPost, "staunchly declared herself in a 2020 interview 'pro-life, and unapologetically so.' — is not yet clear; however, Guldbrandsen told the Beast that Stone blamed Kushner for his failed bid for a second pardon.
"Aside from Donald Trump, he also held Jared Kushner responsible as being the guy who was the point man on the pardon," Guldbrandsen said, noting that the beleaguered agitator's vulgar rant had taken place in Fort Lauderdale on January 20, 2021.
Stone, a self-proclaimed pro-life advocate, has had no misgivings in discussing violence, a trait prominent amongst the right-wing militias he's allegedly affiliated with, most notably the Oath Keepers and Proud Boys. (His first wife Elizabeth "Bitsy" Stone operated a "pro-choice Republican" nonprofit and PAC for many years in Washington, which he supported.)

"I say fuck the voting. Let's get right to the violence. We'll have to start smashing pumpkins, if you know what I mean," Stone said in a video clip released by the House Select Committee on Thursday.
\u201cRecently, the Select Committee obtained footage of Roger Stone before and after the election.\u201d

— January 6th Committee (@January 6th Committee) 1665682589
"Shoot to kill. See an Antifa? Shoot to kill. Fuck 'em. Done with this bullshit," Stone said in a video clip CNN obtained from the film crew last month.

Previous reporting by the Washington Post showed that vowing violence against Kushner is something Stone has done more than once.
"In two weeks [Kushner's] moving to Miami," Stone told a staffer on Inauguration Day, the Post reported in March, citing over 20 hours of Stone documentary footage it had reviewed. "He's going to get a beating. He needs to have a beating. And needs to be told, 'This time we're just beating you. Next time we're killing you.'"
Moments later, Stone rejected the staffer's urging to pass his threat off as a joke, saying, "No, no, it isn't joking. Not joking. It's not a joke."
In a car with the filmmakers that same day, the Post noted, Stone continued outlining plans for Kushner's demise; this time, on the phone with a friend named Tom.
"Stone said Kushner needed to be "punished in the most brutal possible way" and would be "brain dead when I get finished with him," the Post wrote in its report.
Stone accused the Post of attacking him using "a clever blend of 'guilt by association,' insinuations, half truths, anonymous claims, falsehoods and out of context trick questions."
Representatives for Ivanka and Kushner didn't return the Beast's request for comment.
Stone has levied personal attacks against Guldbrandsen and threatened to file a $25 million lawsuit against the filmmaker.