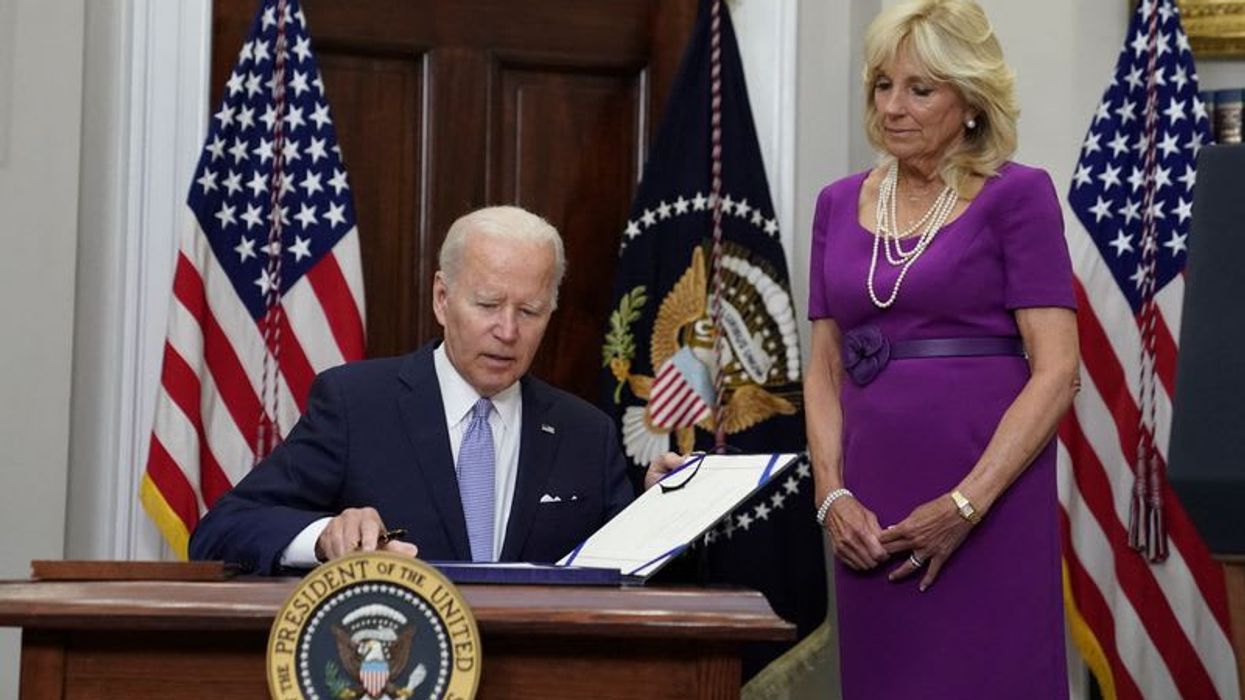 Back when Rep. James Comer previewed his committee's blockbuster probe of President Biden, the Biden family, and their allegedly corrupt connections with foreign investors, someone asked whether he also intended to investigate the Trumps.
"With respect to investigating President Trump, there have been so many investigations of President Trump," retorted Comer, who chairs the House Oversight Committee, during that interview last January. "I don't feel like we need to spend a whole lot of time investigating President Trump because the Democrats have done that for the past six years."
Yet perhaps now that the Kentucky Republican has dug around the First Family for several months and produced nothing but innuendo, he may wish to reconsider that free pass for the Trump family — whose money-grubbing on foreign shores is bigger than anything attributed to the Bidens by an order of magnitude.
Consider the humiliating spectacle of Comer's press conference on Wednesday, May 10, when the Indiana Republican excitedly presented what he has discovered about the Bidens, and specifically the president, whom he has accused repeatedly of "involvement" in tainted overseas business deals. Described in Politico as "highly anticipated," the big event was undeniably a bust. (Even Republicans said so.)
Despite a panting recitation of bank accounts held by the president's brother James Biden and his son Hunter Biden — as well as other family members who appear to have benefited from foreign partnerships and consultancies — Comer failed to produce any tiny scrap of evidence implicating Joe Biden. He could not show that any of the Bidens whose names he dragged had committed a single illegal act. He could not prove that the president knew or approved of any of his relatives' business or legal activities.
And Comer came up empty when asked what, if anything, those arrangements had to do with Joe Biden's official responsibilities as president or vice president — since all those deals appear to have occurred while he was no longer serving in the Obama administration, and before he ran for president in 2020.
Comer's performance provoked mocking reviews from Democrats and "the liberal media," as might be expected, but the response from the right was almost equally dismissive. Steve Doocy, the Fox & Friends anchor, complained that "you don't actually have any facts" to prove influence peddling by the president... of all those names, the one person who didn't profit is — there is no evidence that Joe Biden did anything illegally," as a visibly flustered Comer fumed.
Both Comer and Iowa Sen. Chuck Grassley, his ally in the Senate, have promised revelations from a "highly reliable source" who, according to them, has disclosed bad acts perpetrated by the Bidens to the FBI. Unable to obtain any such incriminating information, however, Comer had little to offer when queried by Fox Business anchor Maria Bartiromo, except that he and Grassley are determined to pursue "Plan B."
"What is Plan B?" she asked, then shot Comer an irritated glance when he replied, "Well, stay tuned, Maria. You'll be the first to know, I can assure you," and then descended into stuttering and muttering about "the deep state."
The plain fact is that these Republicans, like generations of their hackish ilk on Capitol Hill, spend enormous amounts of time and treasure fabricating conspiracy theories of corruption supposedly perpetrated by their political enemies, as they did with both Bill and Hillary Clinton. Remember Whitewater? Benghazi? Her emails? Actual corrupt conduct by powerful figures abusing public office for private gain seems to trouble them not at all.
We know that because as soon as Speaker Kevin McCarthy and his gang took control of the House, they put the boobish Comer in charge of government oversight. And Comer's first action as chair was to terminate the committee's ongoing probe of Trump's efforts to enrich himself as president and to release his accountants from their court-ordered obligation to produce the former president's tax records.
Even as the Biden "scandal" seems to fizzle, the Trump scandals may still sizzle. You will recall that the former president and his son-in-law Jared Kushner both have reaped juicy profits in their recent dealings with the Saudi regime, raising obvious implications for their conduct in the White House. Those questions may yet be examined in a broader probe to discover exactly how Trump violated the Constitution's emoluments clause during his presidential term.
Stay tuned, Maria.
To find out more about Joe Conason and read features by other Creators Syndicate writers and cartoonists, visit the Creators Syndicate website at www.creators.com.