A Year Later, Timeline Shows Trump Always Knew His Fraud Claim Was A 'Big Lie'
@DarrellLucus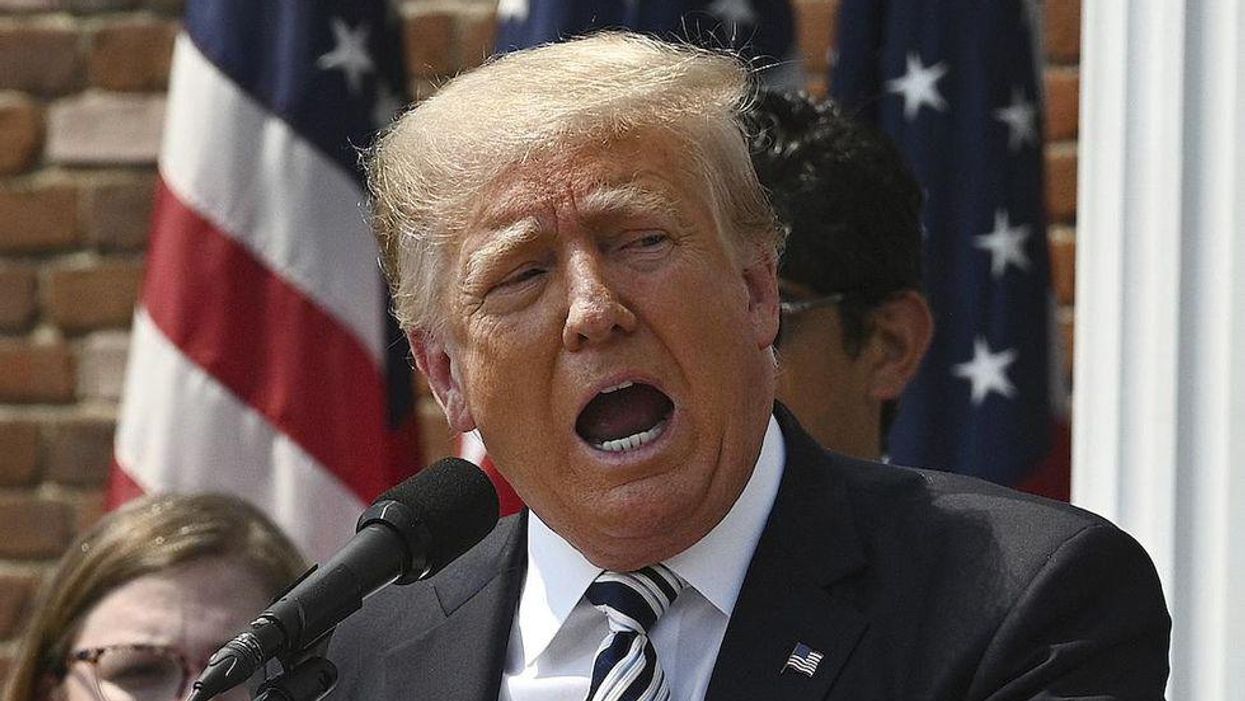 Over the past year, we have had to deal with Donald Trump shouting baseless claims that Joe Biden only denied him a second term because of massive fraud. He continues to promote the "Big Lies" despite his claims being debunked many times over in court, in Congress, in the press – and even by a three-month "audit" that his fervent supporters sponsored and conducted.
Believe it or not, Trump's attack on democracy is even worse than it seems. What's worse than repeatedly making "Four-Pinocchio" and "Pants on Fire" claims? Worse is repeating those allegations when you knew all along that they were false. And there is ample evidence in the published record that shows Trump was bleating and screeching about fraud when he knew full well that he had lost fairly and honestly.
This fundamental fact is important for several reasons. If you can put a firm date on the moment that Trump was well aware that he had lost, then every action taken to further those claims was in furtherance of an insurrection—one that began long before January 6. It means that we're no longer merely talking about the fine line between protected and unprotected speech. We're talking about seditious action.
If Trump always knew he had lost, then every one of those hair-on-fire emails urging people to donate to the effort to keep him in office was fraudulent. And if he knew he had lost when, for example, he tried to shake down Georgia secretary of state Brad Raffensperger, then it should be easier for Fulton County (Atlanta) District Attorney Fami Ellis to prove that effort was a racketeering offense. And if it can be proved that Trump's lawyers knew their arguments in court were false, it will be far easier to sanction them for doing so.
November 7, 2020: According to Axios, within hours of most major media outlets declaring Biden president-elect, Trump campaign manager Bill Stepien and deputy campaign manager Justin Clark tell Trump that his chances of staying in office are slim at best. He needs to win the outstanding absentee ballots in Arizona and Georgia by landslide margins, and also needs to win a legal challenge to Wisconsin's vote count. Clark tells Trump that even then, his chances were no better than five to ten percent. The Washington Post reports that Trump "signaled that he understood" the import of what Stepien and Clark were telling him.
November 10-13, 2020: Trump campaign lawyer Steffan Passantino tells The New York Times that the Trump legal team knew "within a week" of the election that there was no evidence Dominion Voting Systems-manufactured voting machines were switching votes in Georgia. Passantino tells the Times that his team conducted "a literal physical hand count" of all five million ballots cast in Georgia, and the votes "matched almost identically." Without Georgia, there was virtually no realistic path for Trump to stay in office.
November 12, 2020: Axios reports that when all remaining media outlets called Arizona for Biden, Trump's core campaign team told him that "his pathway is dead," since there was no politically viable path for Trump to win without Arizona. The Times reports that Trump's legal team was making plans to withdraw a legal challenge to Arizona's count because the 191 ballots they'd red flagged weren't even a fraction of Biden's 10,000-vote lead in the state. However, Trump was very receptive to Rudy Giuliani's claims that Dominion software was switching votes.
November 13, 2020: According to Axios, the Post and the Times, Giuliani suggests filing a lawsuit in Georgia alleging that the use of Dominion software allowed Biden to flip the state. Justin Clark replies that such a suit would be thrown out on procedural grounds, since Georgia hadn't certified its results yet. Giuliani calls Clark a liar, prompting Clark to call Giuliani "a fucking asshole." Trump sides with Giuliani, beginning what the Times calls "an extralegal campaign to subvert the election." On that same day, the Times reports that deputy campaign communications chief Sam Parkinson asked his legal team to "substantiate or debunk" claims percolating about Dominion in conservative circles.
November 14, 2020: On the same day Giuliani, Sidney Powell, and Jenna Ellis assume leadership of Trump's legal campaign to overturn the election results, Parkinson's team compiles a memo that thoroughly debunks the most outlandish claims about Dominion. Among other things, the memo states that there is no evidence Dominion and another voting systems maker, Smartmatic, presently have a relationship. Nor is there any evidence that Dominion has ties with George Soros, Venezuela, or antifa.
November 19, 2020: Giuliani, Powell, and Ellis hold a press conference alleging Dominion is at the center of a wide-ranging conspiracy to steal victory from Trump — repeating the same claims that were debunked by Trump's own communications team five days earlier. Later that night, Fox News' Tucker Carlson tears Powell to shreds for not offering any actual evidence of fraud. According to the Post, Trump is equally disappointed in Powell, and Carlson's takedown of Powell plays a major role in Trump's decision to cut formal ties with her.
Late November 2020: Axiosreports that Trump is losing patience with Powell by this time. Before picking up a call from Powell in the Oval Office, Trump tells staffers that he thinks Powell is "crazy," and muses that "no one believes this stuff."
November 20,2020: Michigan state house speaker Lee Chatfield and state senate majority leader Mike Shirkey meet with Trump at the White House. According to Reuters, they tell Trump that they know of no information that would overturn Biden's 154,000-vote lead in Michigan. Chatfield and Shirkey tell the Post that they traveled to Washington in order to give Trump information that "he wasn't hearing in his own echo chamber," and they left believing that "his blinders had fallen off." In other words, it appeared to Chatfield and Shirkey that Trump knew he'd lost Michigan — and with it, any politically realistic path to reelection.
December 1, 2020: Attorney General Bill Barr, with the support of White House Counsel Pat Cipollone, meets with Trump and dismisses Trump's claims of fraud as "bullshit" (per Axios) and "ridiculously false" (per the Times). When Barr pans the Trump legal team's performance, Trump concedes that "maybe" their arguments don't add up. According to the Times, before Barr even leaves the room, Trump tweets out a claim that a truck driver delivered thousands of pre-filled ballots to Pennsylvania—even though federal investigators had already concluded the driver had serious credibility problems.
December 14, 2020: Trump policy adviser Stephen Miller announces that the Trump campaign has organized alternate slates of electors in every battleground state won by Biden, ostensibly to keep Trump's legal options open. This includes Arizona, Georgia and Michigan—states that the Trump campaign likely knew for a month or more that it had lost.
December 18, 2020: According to Axios, Powell barrels into the White House along with Overstock.com founder Patrick Byrne to meet with Trump and peddle more claims that the election was stolen -- even though White House advisers who tried to vet these allegations found they didn't withstand serious analysis. At this meeting, Powell is grilled by White House senior adviser Eric Herschmann and staff secretary Derek Lyons, who note that Powell has repeatedly failed to deliver on promises to back up her arguments. Trump himself expresses doubt about Powell and Byrne's claims, but notes that unlike Herschmann and Lyons, they were at least offering him a shot at winning. As we now know, h
January 2, 2020: Georgia Secretary of State Brad Raffensperger's general counsel tells Trump during the now-infamous shakedown attempt that both the FBI and the Georgia Bureau of Investigation have been unable to find any evidence to back up Trump's claims of fraud. However, Trump keeps pressing Raffensperger to "do me a favor."
In short:
Trump knew as early as November 7 that he was shooting his last legal bolt to stay in office, and likely knew as early as November 12 that bolt had missed.
Trump knew at various points in November that he had lost at least three states that he needed to hold if he had any hope of winning a second term.
Giuliani, Powell, and Ellis' press conference aired arguments that the Trump campaign had known were baseless for at least five days.
Trump promoted baseless claims even after being told categorically by his own aides that they were false.
Trump himself expressed doubt about Sidney Powell's conspiratorial assertions, but had no qualms about using them to support his claims about fraud.