"Father Knows Best": A One-Act Play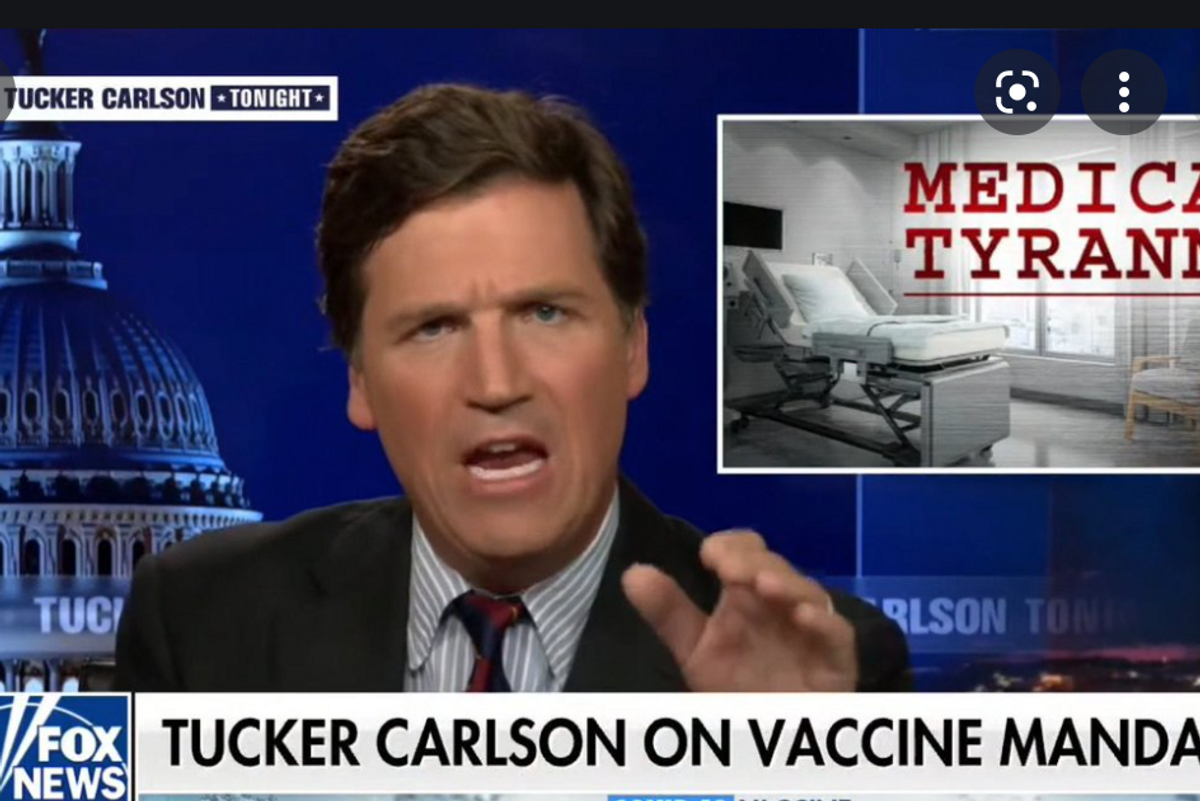 "MEDICAL TYRANNY" reads the screaming headline in large red letters behind Tucker Carlson as he broadcasts his show on Fox News.
CARLSON: It's purely about obedience, it's hardly about medicine. More than 150 health care workers in that Houston hospital system were fired just because they wouldn't be vaccinated, so remember that the next time they tell you there's a health care shortage in this country. This is lunacy. We should not go along with it. It has nothing to do with medicine. It is a terrifying precedent that, if we let solidify, we will deeply, deeply regret. This is not about Covid, this is about the existence of rational decision-making in this country and personal autonomy. Most people are going along with this because they are afraid. A few brave souls are not.
He shuffles his papers and puts them aside.
CARLSON: Ta-ta-da, da, da, da da! That's all folks!
VOICE OF PRODUCER: Thanks, Tucker! Another wrap.
CARLSON: Just a couple more weeks from this studio for the season. Love this place. Wish I could spend all my time here. On Bryant Pond. Maine. Bliss. A studio of my own, next to a summer place of my own. All my own.
VOICE: Florida, Tucker.
CARLSON: The studio will be up and running at my Florida house when I get there in September. Live, from Gasparilla Island in Grande Boca! Maine man becomes Florida man!
VOICE: Are we ever going to see you in D.C. or New York again?
CARLSON: Now why would I do that? Would that be quote rational decision-making unquote? Sold the big Washington house for that reason. They'd make me go into the Fox studio on the Hill. Half the technicians aren't vaccinated. It's a leprosy ward. Covid has made all my home studios possible. Who knew before the pandemic you could do this? What a breakthrough! And it's completely safe and sound. I owe this whole setup to Covid. It's a godsend. Plus, a tax write-off.
VOICE: We're all vaccinated now and we even have vaccine passports to get in the building.
CARLSON: I don't trust it. Some of those guys, I know them, would fake the passports. I'm in my studios so long as Lachlan says so.
Carlson leaves his custom studio in the cottage on his property, walks a short distance to his house and as he enters his daughter Hopie greets him.
CARLSON: Hopie!
HOPIE: Daddy, my girlfriends love what you brought me from Hungary. The dolls, the nesting dolls. What do they call them?
CARLSON: Matryoshka dolls. The prime minister Viktor Orban, gave them to me as a gift. And I told him that it had your name on it.
HOPIE: First, there's Putin. Then when you open him, there's Orban. And when you open Orban, there's Donald Trump. And then when you open Trump—surprise!—there's you, Daddy! I love you as a little doll. How did they know to put you inside all of the others?
CARLSON: They made that one in my honor. There's only one of these. It was like a state visit. And during state visits the leaders give each other presents. They always gave Trump paintings of himself. And this was the special gift for me. Only more clever.
HOPIE: Hand painted. It's the old you. With a bow tie.
CARLSON: So, are you almost ready to go back to school? Got all your clothes picked out?
HOPIE: Yes, Daddy.
CARLSON: And your proof of vaccination? I read the student vaccine requirement. "All students who live, learn, or work in person at the University of Virginia during the 2021-2022 academic year must be fully vaccinated." Don't forget your vaccination card.
HOPIE: (Exasperated) Daddy!
CARLSON: I'm just worried about you. I want you to be safe.
Enter Susan Carlson, Tucker's wife and Hopie's mother.
SUSAN: Tucker, there were two calls while you were broadcasting. Lachlan Murdoch and Donald Trump.
CARLSON: Susie, please make sure Hopie has her vaccination card to take to school.
SUSAN: All under control, right Hopie? Come with me, let's pack some more and leave Daddy to make his calls. Tucker, Trump seemed pretty urgent.
CARLSON: I've got to call Lachlan.
Susan and Hopie exit. Carlson punches in a number on his phone.
CARLSON: Lachlan!
LACHLAN: Tucker, so glad you called.
CARLSON: Everything cool down under?
LACHLAN: Swimming with the sharks at Bondi Beach, mate. Just checking in on my numero uno. The show on "Medical Tyranny," brilliant, mate. And brilliant about how we're going to be "invaded" by Afghan refugees. Turned that invasion bit inside out. We're being invaded! Heh, heh.
CARLSON: Heh, heh.
LACHLAN: The numbers remain spectacular, mate. Sky high. I'll take that instead of the woop woop to outer space with Richard Branson and Jeff Bezos. Now, about this Covid stuff, mate…
CARLSON: (Slightly anxious) I should stick with it, don't you think?
LACHLAN: You said there's no new variant killing people, zero chance. You said, Fauci is taking away our liberty, forcing people to take medicine they don't want. You said, college kids shouldn't get the shot, a bigger risk for them than Covid.
CARLSON: Is that a problem?
LACHLAN: It's a bloody beauty. No drama. Good on ya. Put another on the barbie. Keep going to never never. Never let the truth get in the way of a good story. Flat out. That's not me blowing smoke up your ass. The numbers never lie. You're Braveheart.
CARLSON: I'll ramp it up on Fauciism. How's Rupert? Where is he these days, London, Sydney, New York?
LACHLAN: When the Delta variant hit, Dad got the booster and went back to Bel Air in L.A., like he did in the first wave after he got an early shot. It's a world in itself there. The house is on the Moraga Vineyards, fourteen acres in the middle of Bel Air, up in the Santa Monica Mountains. Once owned by Victor Fleming, directed Gone With The Wind and The Wizard of Oz. Now who's the wizard from Oz? Makes ace wine. I'll ship you a case or two. Red or white?
CARLSON: Mix it up.
LACHLAN: Two cases of each. Make it three.
CARLSON: Send it to the Florida address.
LACHLAN: And I'm sending you a doctor to give you a booster to go along with the cabernet. Don't say no. You don't have a choice. The wine and the doctor will be there to meet you. Keep it going, mate.
CARLSON: Best to your father.
LACHLAN: Your biggest fan. Catch you later.
Carlson punches another number in his phone.
CARLSON: Mr. President?
TRUMP: Watched your show. Love "Medical Tyranny." How are the numbers? Still a winner, Tucker?
CARLSON: Top of the line, Mr. President.
TRUMP: I was just on Fox Business, told them that the booster sounded like a money-making operation for Pfizer and that the whole thing is just crazy. Why would you need another one? It's the Trump vaccine. It's good for life. I could see the dollar signs in their eyes—of that guy that runs Pfizer. You know, the guy that announced the day after the election that he had the vaccine. But we knew that, and I knew that, and the people knew that. A money-making operation, that's what it is. Yeah, a money-making operation.
CARLSON: You would know.
TRUMP: Who else would know better?
CARLSON: Great work, keep it up. So, what should I know, Mr. President?
TRUMP: I had Dr. Ronny come to Bedminster. Lined up everyone—Ivanka, Jared, Don, Jr., Eric, Lara---bing, bing, bing, bing. Everyone gets the booster. Oh, and that annoying Kimberley. Ivanka didn't want to tell her Dr. Ronny was there. Let her die out on the 9th hole.
CARLSON: Mr. President, what you said about the booster is perfect about the elites against the people.
TRUMP: Before I tell you what I think you should be saying, I want to tell you that you have to get the booster. You're vaccinated, Tucker, not like some poor schmuck, like the guy who wanted a shot when they were putting the ventilator on his face? He's begging, give me the shot and they're telling him it's too late, and they clamp on the ventilator. Please, please, the shot…
CARLSON: Pfizer, Mr. President.
TRUMP: Two shots, but maybe not enough. Booster. Take no chances. Take it and run. You're too valuable. You can knock that Pfizer CEO around like I did. It's a charm. My PAC fundraising, off the charts. You want me to send Dr. Ronny?
CARLSON: That's not necessary, Mr. President. I'm using the Murdoch doctor.
TRUMP: But promise me you'll get it.
CARLSON: I promise.
TRUMP: Father knows best.
Sidney Blumenthal, former senior adviser to President Bill Clinton and Hillary Clinton, has published three books of a projected five-volume political life of Abraham Lincoln:A Self-Made Man,Wrestling With His Angel ,andAll the Powers of Earth. His play This Town, about a scandalous White House dog, was produced in 1995 by LA TheatreWorks. This is the tenth in his "Trump Cycle" series of one-act plays published in The National Memo, including The Pardon, Epstein's Ghost, Ivanka's Choice, Sunset Boulevard, The Exclusive, The Role Model, A Modest Proposal, The Exit Interview, andThe Hitler Gospel.