Bannon Suggests Deadly Violence To Stop Biden Inauguration
@peltzmadeline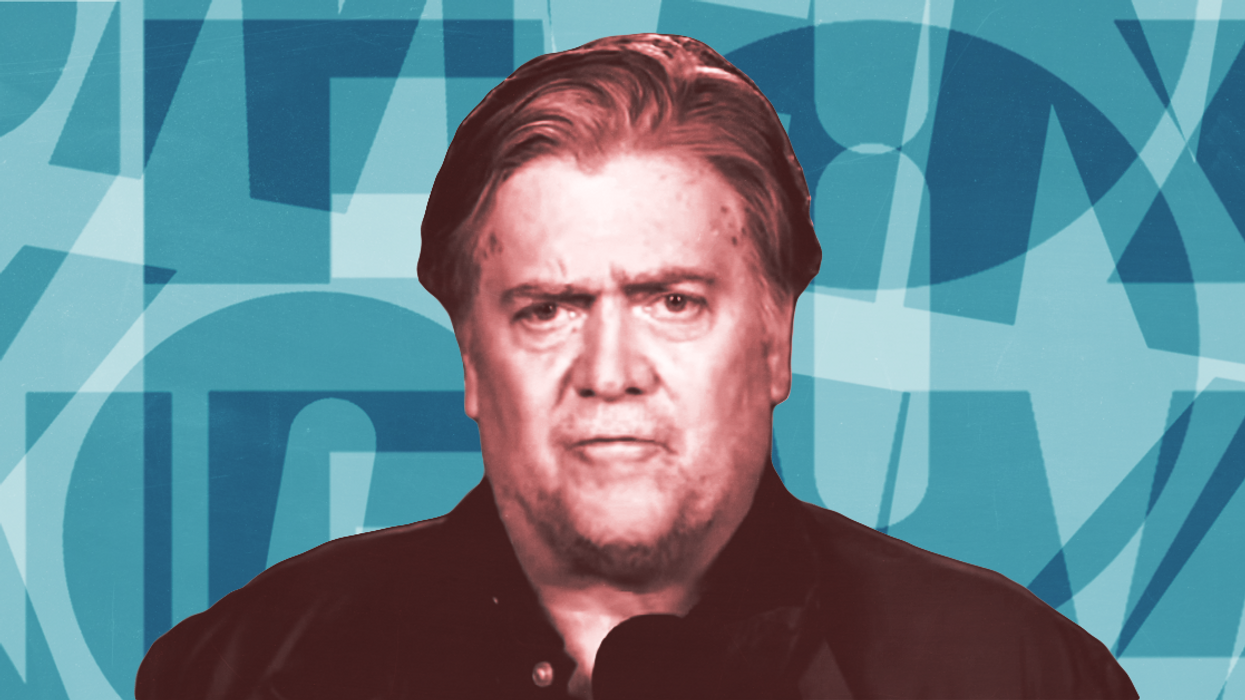 Photo by MediaMatters
Reprinted with permission from MediaMatters
On Veterans Day, former White House chief strategist Steve Bannon referred to a 19th century poem to surreptitiously call for Americans to fight and die for a second Trump term.
For years, Bannon has cloaked his extremist positions with obscure and pretentious references. In this case, his co-host Jack Maxey read an excerpt from Lays of Ancient Rome, a poem by 19th century British imperialist Thomas Babington Macaulay. The excerpt read by Maxey on the show describes the inevitability of death and the glory of dying for your country. Bannon connected the quote to the current crisis in the United States election, using the reference as a call to violence to President Donald Trump's supporters in Michigan, Pennsylvania, and Georgia.
---
From the November 11, 2020, edition of War Room: Pandemic

JACK MAXEY (CO-HOST): OK, we're cold opening here with Horatius at the gate and I'm going to give it to you from memory.
Then out spake brave Horatius,
The Captain of the Gate:
To every man upon this earth
Death cometh soon or late.
And how can man die better
Than facing fearful odds,
For the ashes of his fathers,
And the temples of his gods.
...
STEVE BANNON (CO-HOST): It wasn't the impeachment that was really going to cause a constitutional crisis, right? You could see how that was going to kind of play out. But it was this vote in 2020 and particularly as you saw the Democrats go to this mail-in vote -- ladies and gentlemen we're hurtling towards a real constitutional crisis and it's going to start -- this prairie fire is going to burn right up to the first week of December. And you're going to see some very interesting things. We're going to need a couple profiles in courage. We're going to need a couple of Horatius at the gate in the first week of December -- places like Michigan, Pennsylvania, Georgia. It's all coming.
The comments, which did not stream on Facebook or YouTube, came after Bannon was penalized across multiple social media platforms because he called for the beheading of infectious disease expert Dr. Anthony Fauci and FBI Director Christopher Wray, saying if it were up to him, he would "put the heads on pikes" as a "warning to federal bureaucrats."
Though the platform removed Bannon's video featuring comments about Fauci and Wray, Facebook CEO Mark Zuckerberg told employees in an all-staff meeting on November 12 that Bannon "had not violated enough of the company's policies to justify" a permanent suspension from the platform. A few days earlier, Facebook had also removed a network of pages associated with Bannon for pushing false claims about the presidential election. Bannon's Facebook page has been inactive since the beheading remarks.
Other social media platforms took action in response to Bannon's comments. Multiple accounts associated with Bannon and his podcast War Room: Pandemic were removed from Twitter, he was suspended from streaming on YouTube for "at least a week," and his Vimeo and MailChimp accounts were terminated. As of this writing, War Room: Pandemic has resumed streaming on YouTube.
Despite these penalties, Bannon continues to call for violence amid severe political volatility.