With Blood On His Hands, Bannon Loses YouTube Account
@peltzmadeline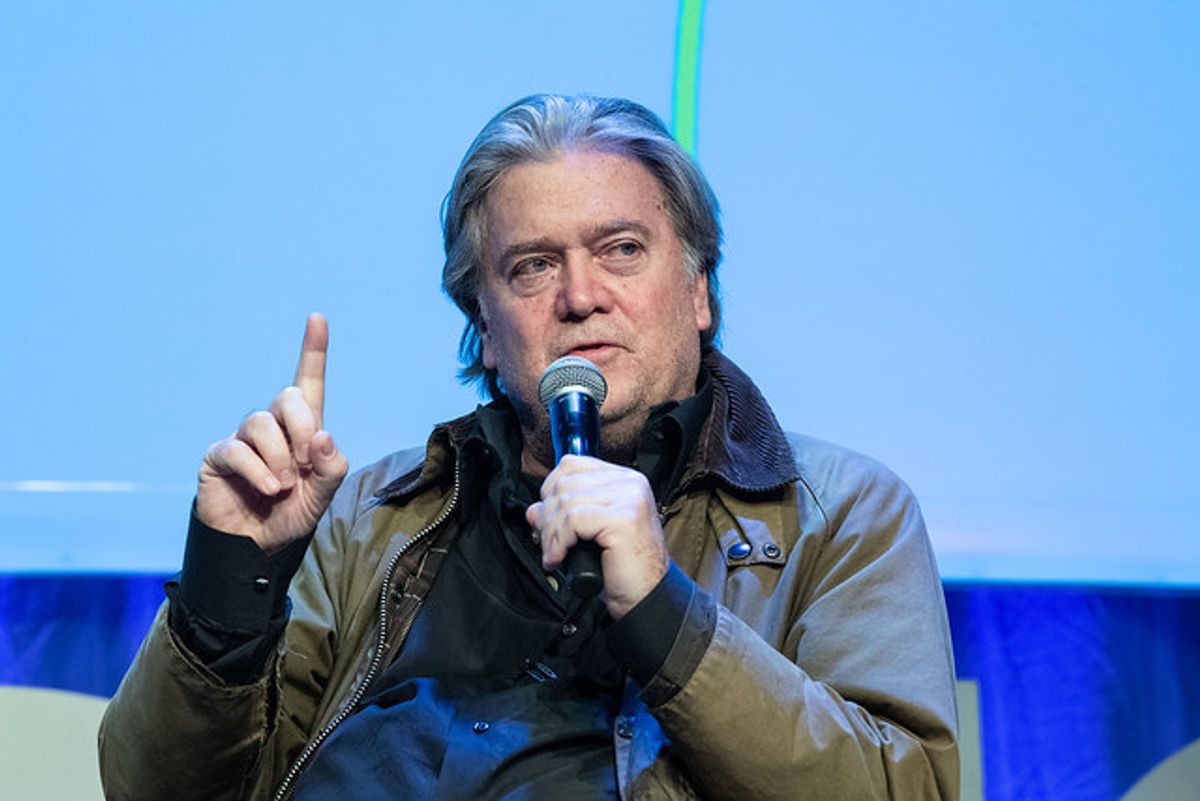 Photo by Nordiske Mediedage/ CC BY-SA 2.0
Reprinted with permission from MediaMatters
One of former White House chief strategist Steve Bannon's mantras is "action, action, action" -- a call to his followers to be engaged and ready for political fights. On January 8, YouTube finally acted, removing Bannon's War Room account, after months of Bannon calling for revolution and violence.
---
NEW: The YouTube account for Steve Bannon's "War Room" podcast "has been terminated for a violation of YouTube's Te… https://t.co/7AcUOqXLkT

— Daniel Chaitin (@Daniel Chaitin) 1610151958.0
On January 6, a group of pro-Trump insurrectionists took action, staging an attack on the U.S. Capitol to try to overturn the outcome of the 2020 presidential election and causing the deaths of five people. Some of the rioters described it as "the beginning of another American revolution."
During the insurrection itself, one of the insurrectionists directly echoed Bannon:
I'm speechless https://t.co/T8VUjMspdR

— Madeline Peltz (@Madeline Peltz) 1610147149.0
In the lead-up to the attack, Bannon used his YouTube channel to repeatedly call for violence and revolution around the 2020 election while spreading false claims that it was being stolen from President Donald Trump. I've compiled a noncomprehensive review of this rhetoric, from before and after the insurrection.
Two days prior to Election Day, Bannon compared the response to the 2020 election to the American Revolution and likened himself to the founders who were labeled "insurrectionists" -- what he called the "Bannon types" of the era. Co-host Jack Maxey reminded his listeners that the founders "pledged their lives and their sacred honor" to the cause, and Bannon asked, "What have you guys done out there in the audience?"
STEVE BANNON (CO-HOST): We're not backing off of this, are you kidding me? This is what we're built for, this is what we live for, right? Human fate, human destiny, all in your hands. Human action. You control your own fate. Your life, your country's life, is what you make it. You think those guys before the revolution had to make a decision -- we wouldn't have ever broken off from the British Empire.

…
JACK MAXEY (CO-HOST): Remember, those guys pledged their lives and their sacred honor.
BANNON: Sacred honor. Donald J. Trump took an oath to God on the Holy Bible. Took an oath to God before the world, right? An oath that's been passed down from time immemorial, from Washington — right? — in an unbroken chain. Took that oath. What have you guys done out there in the audience?
MAXEY: And a third of those guys who signed the Declaration of Independence kept that oath and gave their lives.
BANNON: Yep. I tell you -- had to fight for it. And by the way, they knew they were going to hang. That's what Franklin told them. Here's what happened: They tried to redress it with the commonwealth of Pennsylvania, Dickinson, John Dickinson, a Quaker, who I understand his argument. Hey, we're Englishman; let's try to work this out with Parliament.
They sent the bill of grievances, what they said, and Dickinson said, hey, we're going to go to the king and we're going to get this worked out. And I want John Adams, I want the hotheads, I want the Bannon types to shut up because they're stirring trouble, they're insurrectionists. I want them to shut up, I want to get them -- these Boston guys, that Sam Adams guy, this Hancock guy is nothing but a -- they're all gun runners, they're all making money bringing contraband in, they're all scumbags. Right? That's what they said. Hancock is a bad guy, Sam Adams is a bad guy, John Adams is a lawyer for the bad guys. Shut up because they're insurrectionists. We'll work this out.
And the king came back, he thought it -- they sent it to him, the bill of grievances from Dickinson, they got it, they reviewed it, sent it back, here it is, how about this. It's treason and if you keep it up you're all going to hang, right?
...
We've gone through this before, this is an inflection point, it's a fourth turning, this is an inflection point. Didn't tell you it's going to be easy, it's not going to be easy. All you have to do is have his back.
And the day before the violent pro-Trump mob overtook the U.S. Capitol, Bannon declared on his War Room: Pandemic podcast that "all hell is going to break loose tomorrow."
His violent talking points undermining the democratic process extend back to months before the election, and they continued in its aftermath:
Now that his persistent fantasizing has become a painful reality, Bannon suddenly doesn't want anything to do with it -- yet he also didn't want to lose the hardcore audience he's whipped up to violence. Since the events of January 6, Bannon has tried to walk a thin line:
After the Capitol insurrection, Bannon directed Trump supporters to "color inside the lines," meaning they should not resort to violence, and to "color boldy."
He also said that "you can't justify" the violence that took place at the Capitol because "we don't believe in taking matters into our own hands; we believe in the rule of law," then blamed Vice President Mike Pence and "feckless Republicans" for failing Trump and inviting the riot.
He also downplayed the violence after the fact, saying, "It looks like 99 percent of the people are really peaceful, staying in the plaza."
But his objections ring hollow, especially as he's continued to discourage his audience from changing course or reconsidering their support for Trump "because we know you're not summer soldiers or sunshine patriots."