The Conflicts Of Interest Hiding Behind Pro-Pipeline Op-Eds Around The Country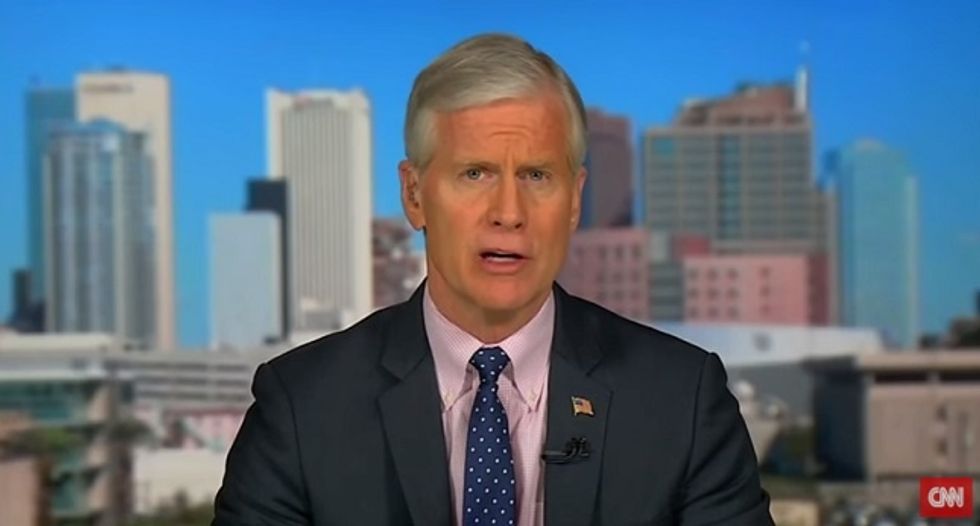 Reprinted with permission from MediaMatters.
A retired general wrote numerous op-eds attacking pipeline protesters without disclosing his financial ties to the pipeline industry, including to a security contractor that has used "counterterrorism measures" against those protesters. That deception has led at least one publication to prohibit him from writing in its pages in the future.
James "Spider" Marks serves as a CNN military analyst after retiring from the Army under the rank of major general. He is also the advisory board chair for the international security firm TigerSwan.
Energy Transfer Partners hired TigerSwan to provide security for the Dakota Access Pipeline. As The Intercept has documented in past months, TigerSwan used "military-style counterterrorism measures" against protesters and conducted "sweeping and invasive surveillance of" them. In interviews with Grist, several legal experts "described the contractor's tactics as highly disturbing and perhaps unprecedented."
The North Dakota Private Investigative and Security Board filed a lawsuit in June against TigerSwan for operating without a license in the state. In Louisiana, regulators cited that suit this month when they denied a license for the firm in their state, which is considering a proposed 162-mile Bayou Bridge pipeline.
A spokesperson for Energy Transfer Partners told Media Matters in a July 21 email that "TigerSwan is one of our security advisors." The company added that its specific work with TigerSwan in North Dakota has endedand declined to comment beyond that regarding the "details of our security efforts."
The internal documents given to The Intercept also revealed that in the past year, "TigerSwan agents stressed the need to change the public narrative established by protestors and to swing public support in favor of the pipeline."
Marks has been an integral part of a nationwide pro-pipelines P.R. effort to swing public support for pipelines, including writing numerous pieces for outlets across the country. Those pieces include:
None of those pieces included disclosures about Marks' position with TigerSwan. Both The Intercept and DeSmogBlog have reported that Marks' op-eds have run in media outlets without disclosures to readers.
John L. Micek, opinion editor for PennLive, said that Marks misled the publication and if he had disclosed his ties to TigerSwan, the piece never would have run.
"At no time did Gen. Marks nor his public relations people disclose their ties to TigerSwan," Micek told Media Matters on July 20. "Had I been aware of those ties, the piece categorically would not have run. PennLive is in the business of being transparent with its readers and we object strongly to this tie being obscured by Mr. Marks and his public relations firm."
PennLive posted an update to its piece on July 20 stating: "The author is advisory board chair to TigerSwan, a private security firm monitoring the pipeline's construction. He failed to disclose these ties to PennLive. His work will not appear on the website again."
Media Matters asked TigerSwan whether Marks should have disclosed his connection. A spokesperson responded via email: "Mr. Marks was not representing TigerSwan."
Marks has also worked as a paid adviser for the Midwest Alliance for Infrastructure Now (MAIN), whose members include oil and gas companies. According to DeSmogBlog, that organization has "morphed into a national effort known as Grow America's Infrastructure Now (GAIN)," which also includes Marks as an adviser and oil and gas interests as members. (Both MAIN and GAIN have been fronted by Craig Stevens, who is vice president of the Republican public relations firm DCI Group.)
The Daily Caller and Examiner's July 1 piece included disclosures that Marks works for GAIN but they did not disclose that the coalition includes oil and gas interests. The World-Herald, Examiner on November 18, Daily Advertiser and PennLive (originally) just identified Marks as a retired major general and the head of the consulting firm The Marks Collaborative.