DeSantis Shifts $95M In Pandemic Relief To Megadonor's Highway Project
@alexvhenderson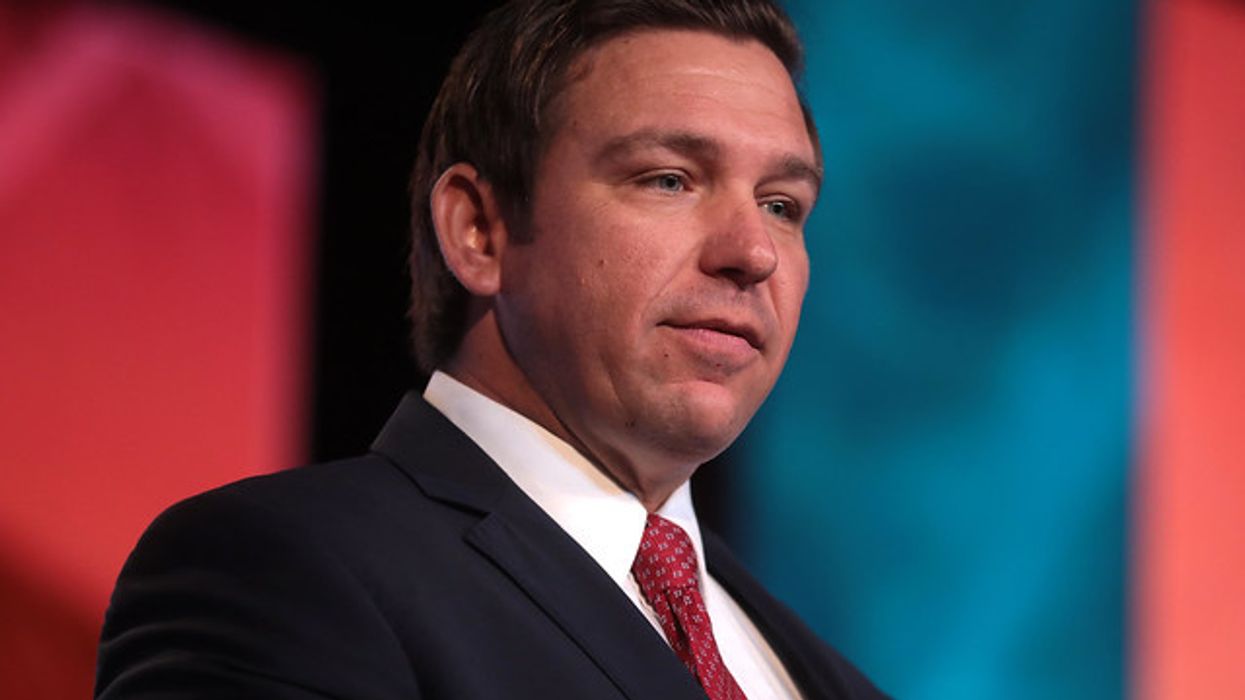 When President Joe Biden signed the American Rescue Plan Act of 2021 into law, countless MAGA Republicans angrily railed against it. The COVID-19 recovery package didn't receive any GOP votes in the U.S. House of Representatives, and it narrowly passed in the U.S. Senate when Vice President Kamala Harris cast a tie-breaking vote.
But the fact that so many Republicans reflexively attacked the Rescue Plan Act as "socialism" hasn't prevented them from taking advantage of it. According to the Washington Post, the Florida Department of Transportation under Gov. Ron DeSantis used Rescue Plan funds for an I-95-related project near Daytona Beach involving housing developer and DeSantis donor Mori Hosseini.
In an article published on June 28, Post reporters Michael Scherer, Isaac Arnsdorf ,and Josh Dawsey report that the DeSantis Administration, in 2022, "steered $92 million" in "leftover federal coronavirus stimulus money" to a "controversial highway interchange project that directly benefits a top political donor, according to state records."
"The funding through the DeSantis Administration, approved shortly after the governor's reelection, expedited the project by more than a decade, according to state documents," the Post journalists report. "Hosseini plans to develop the land — which includes a sensitive watershed once targeted for conservation by the state — into approximately 1300 dwelling units and 650,000 square feet of nonresidential use, including an outdoor village shopping district."

Government records, they add, "show a steady relationship between DeSantis and Hosseini in recent years."
"The governor's office occasionally received requests for DeSantis to attend events or support proposals from Hosseini," Scherer, Arnsdorf and Dawsey explain, "and DeSantis extended invitations to Hosseini in return for events in Tallahassee…. In the 2022 campaign cycle, companies controlled by Hosseini gave at least $361,000 to political groups that benefited the DeSantis reelection campaign, according to state campaign finance records. Hosseini's plane has been repeatedly used by DeSantis, according to a Post analysis."
Hosseini's project has raised environmental concerns. Former Florida Gov. Charlie Crist, an ex-Republican turned Democrat who ran against DeSantis in 2022 and lost by 19 percent, adamantly opposed the project.
In an op-ed published by the Dayton Beach News-Journal on August 12, 2022, Crist argued, "This is a project Florida does not need and is one the community does not want — the state should not keep pushing for it. Powerful developers want the interchange so they can more easily build on nearby land they own."
Reprinted with permission from Alternet.