'Disgraced' Judge Cannon Initially Assigned To Trump Case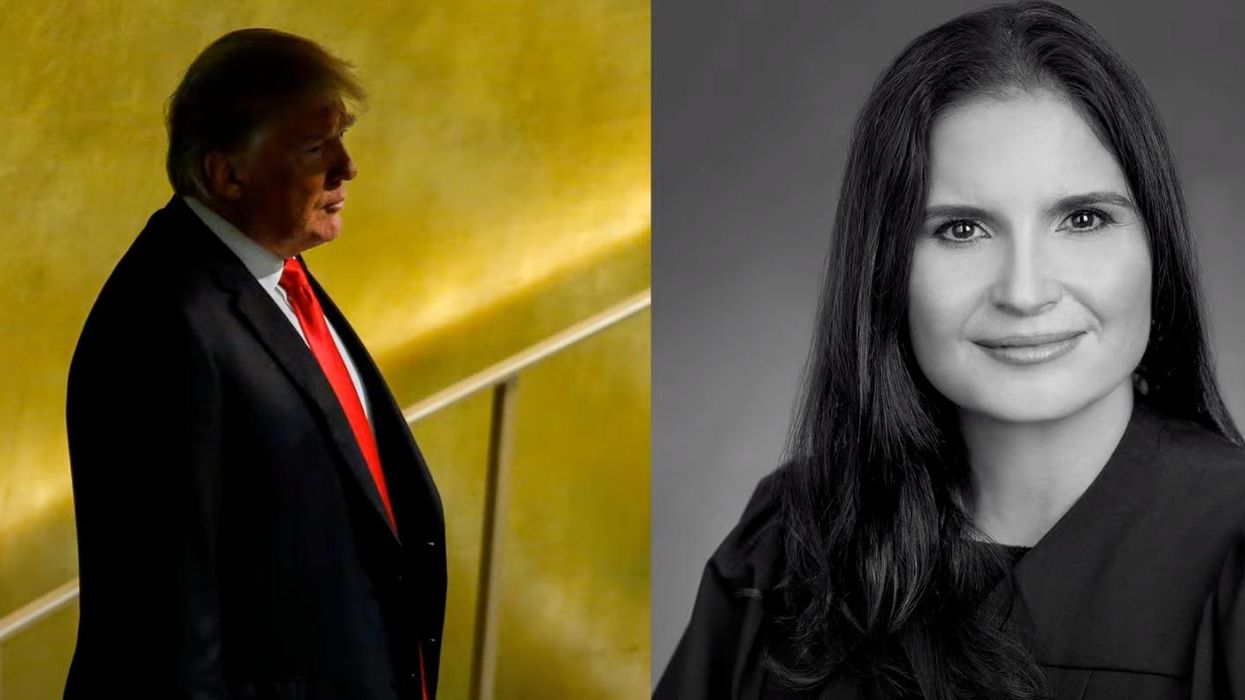 A federal judge whose highly-controversial rulings favoring Donald Trump were derided by legal experts and judges on a higher court, has been initially assigned to the Justice Department's criminal case against the ex-president, who appointed her to the bench three years ago.
U.S. Judge Aileen Cannon, known for agreeing to Trump's request by assigning a special master to review the entirety of federal government documents the FBI retrieved from Mar-a-Lago last summer during the execution of a search and seizure warrant will, at least for now, oversee the government's case charging Donald Trump with seven different felony categories in its classified documents probe, according to ABC News.
"The summons sent to former President Donald Trump and his legal team late Thursday indicates that U.S. District Judge Aileen Cannon will be assigned to oversee his case, at least initially, according to sources briefed on the matter," ABC News reports.
"Cannon's apparent assignment would add yet another unprecedented wrinkle to a case involving the first federal charges against a former president: Trump appointed Cannon to the federal bench in 2019, meaning that, if Trump is ultimately convicted, she would be responsible for determining the sentence – which may include prison time – for the man who elevated her to the role."
Cannon, agreeing to Trump's request to appoint a special master last September, also halted the Dept. of Justice's use of those materials, which included at least one hundred classified documents, in its criminal investigation into Trump.
Lawrence Tribe, Harvard University professor emeritus of constitutional law, called Judge Cannon's special master decision "utterly lawless," and said : "She has disgraced her position as an Article III judge."
ABC News notes that "Legal experts [had] accused Cannon of handing Trump a series of head-scratching victories over the course of those proceedings," and added, "Cannon's order was ultimately thrown out in its entirety by an 11th Circuit Court of appeals panel, which found she overstepped in exercising her jurisdiction in the probe."
The 11th Circuit issued a scathing rebuke of Judge' Cannon's decision to appoint the special master. One week later, without explanation or reasoning, she overruled the special master's decision and extended deadlines – decisions which favored Donald Trump.
Cannon is not the only judge whose name appears on the summons.
"In addition to Cannon, Magistrate Judge Bruce Reinhart's name also appeared on the summons sent to Trump on Thursday, the sources said," ABC adds. "Reinhart, who was sworn in as a magistrate judge in 2018, is also familiar with the proceedings against Trump: he signed off on the initial search warrant of Mar-a-Lago last year and later ruled to unseal the search affidavit – decisions that made him the target of antisemitic jabs on the internet."
The New York Times in August 2022 reported, "in a segment on Fox News, a host showed a manipulated photo that appeared to show Judge Reinhart seated on a plane with Ghislaine Maxwell, Mr. [Jeffrey] Epstein's companion who had been convicted last year of aiding Mr. Epstein in sexually abusing minors."
Brian Kilmeade, the Fox News host, the following day tweeted: "Last night while subbing for Tucker Carlson, we showed you an image of Judge Bruce Reinhart w/ Ghislaine Maxwell that was sourced on screen to a meme pulled from Twitter & wasn't real. This depiction never took place & we wanted to make clear that we were showing a meme in jest."
The Times noted "the scrutiny of Judge Reinhart has also prompted the local authorities to step up security. His synagogue canceled a Friday night Shabbat service last week in response to multiple antisemitic threats , and the police in his neighborhood said officers had intensified patrols near his house."
Law professor Joyce Vance, an NBC News/MSNBC contributor and former U.S. Attorney responded to the news of Cannon's assignment. Pointing to an earlier case as precedent, Vance says : "This is persuasive authority that Judge Cannon must step aside if the case falls to her as a permanent assignment. Her court & certainly the 11th [Circuit] won't tolerate the damage it would do to their credibility if she failed to voluntarily recuse."
Reprinted with permission from Alternet .