Gunman Kills 50, Injures Scores More In Shooting Rampage At Florida Gay Club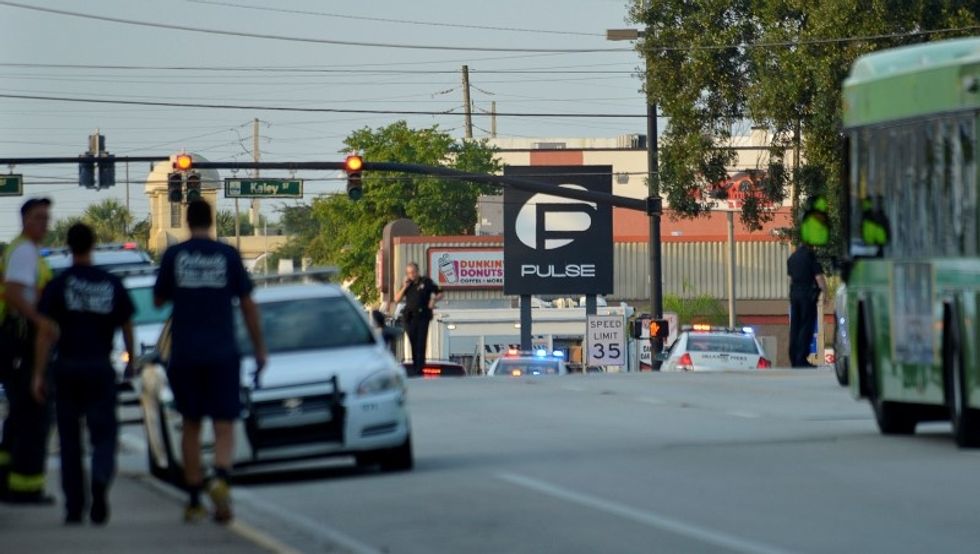 This article was updated at 4:31 PM. 
A man armed with an assault rifle killed 50 people at a packed gay nightclub in Orlando, Florida on Sunday in the worst mass shooting in U.S. history, which President Barack Obama described as an act of terror and hate.
Police killed the shooter, who was identified as Omar Mateen, 29, a Florida resident and U.S. citizen who was the son of immigrants from Afghanistan.
Mateen called 911 on Sunday morning and made comments saying he supported the Islamic State militant group, officials said.
"It has been reported that Mateen made calls to 911 this morning in which he stated his allegiance to the leader of the Islamic State," said Ronald Hopper, the FBI's assistant special agent in charge on the case.
U.S. officials cautioned, however, that they had no conclusive evidence of any direct connection with Islamic State or any other foreign extremist group.
"We know enough to say this was an act of terror, an act of hate," Obama said in a speech from the White House. "As Americans, we are united in grief, in outrage and in resolve to defend our people."
U.S. officials have reached no definitive judgment on the killer's precise motives, Obama added.
"We must spare no effort to determine what, if any, inspiration or association this killer may have had with terrorist groups," he said.
Fifty-three people were wounded in the rampage. It was the deadliest single U.S. mass shooting incident, eclipsing the 2007 massacre of 32 people at Virginia Tech university.
Pulse was crowded with some 350 revelers at a Latin music night when the attack happened.
Clubgoer Joshua McGill described in a posting on Facebook how he fled the attack.
"I hid under a car and found one of the victims that was shot," McGill said, describing trying to bandage the victim with his shirt and quietly dragging him to a nearby police officer. "Words cannot and will not describe the feeling of that. Being covered in blood. Trying to save a guy's life."
A hostage situation developed, and three hours later a team of SWAT officers used armored cars to storm the club before shooting dead the gunman. It was unclear when the victims were killed.
The number of dead shocked local officials, who had initially put the death toll at 20.
"Today we're dealing with something that we never imagined and is unimaginable," Orlando Mayor Buddy Dyer said. He said 39 people died inside the club, two outside, and nine others died after being rushed to hospital.
Orlando Regional Medical Center Hospital said it had admitted 44 victims, including nine who died, and had carried out 26 operations on victims.
PRIOR FBI INTERVIEWS
Mateen had twice been interviewed by FBI agents, in 2013 and 2014, after making comments to co-workers indicating he supported militant groups, but neither interview lead to evidence of criminal activity, the FBI's Hopper said.
As police tried to determine what motivated Mateen's rampage, about a dozen unmarked police cars had gathered around a Port Saint Lucie house that appeared to be linked to the gunman. Police on the scene declined to comment, and neighbors said they didn't  much activity in or around the white stucco home
"I've never seen anyone come in or out," said Aryne Rackley, who has lived three doors away for the past three years. "Nobody is ever in the backyard."
U.S. Representative Adam Schiff, the top Democrat on a congressional intelligence committee, said there were indications of "an ISIS-inspired act of terrorism," referring to Islamic State.
Likely Republican presidential nominee Donald Trump, who has called for a temporary ban on Muslims entering the United States, said he was "right on radical Islamic terrorism."
He called in a tweet on Sunday for "toughness and vigilance." Democratic candidate Hillary Clinton tweeted a brief statement after the attacks, but did not speculate on the motives of the gunman.
Florida Governor Rick Scott called for Americans to hold a moment of silence at 6 p.m. ET (2200 GMT) to commemorate the dead. World leaders including Pope Francis, Britain's Queen Elizabeth and the leaders of Canada and Afghanistan condemned the attack.
Mateen was born in New York of parents who were immigrants from Afghanistan, according to a federal official who spoke on the condition of anonymity.
If confirmed as an act of terrorism, it would be the deadliest such attack on U.S. soil since Sept. 11, 2001, when al Qaeda-trained hijackers crashed jetliners into New York's World Trade Center, the Pentagon and a field in Pennsylvania, killing some 3,000 people.
Mateen also referenced the ethnic Chechen brothers who killed three people in a bombing attack at the Boston Marathon in 2013, according to law enforcement officials.
The Orlando attacker was carrying an AR-15 style assault rifle and a handgun, Orange County Sheriff Jerry Demings said. He also had an unidentified "device", said Orlando Police Chief John Mina.
The choice of target was especially heart-wrenching for members of the U.S. lesbian, gay, bisexual and transgender community, said LGBT advocacy group Equality Florida.
"Gay clubs hold a significant place in LGBTQ history. They were often the only safe gathering place and this horrific act strikes directly at our sense of safety," the group said in a statement. "We will await the details in tears of sadness and anger."
Orlando has a population of more than 270,000 and is the home of the Disney World amusement park and many other tourist attractions that drew 62 million visitors in 2014.
Also on Sunday, a man was arrested in California with assault weapons and possible explosives and told authorities he was in the Los Angeles area for the gay pride festival, the Los Angeles Times reported.
(Additional reporting by Letitia Stein in Tampa, Zachary Fagenson in Port Saint Luice, Fla., Colleen Jenkins in Winston-Salem, North Carolina, Mark Hosenball in Washington and Chris Michaud in New York; Writing by Scott Malone and Daniel Wallis; Editing by Mary Milliken and Alistair Bell)