WATCH: Biden's Powerful Acceptance Speech Delights Democrats -- And Stuns Republicans
@nationalmemo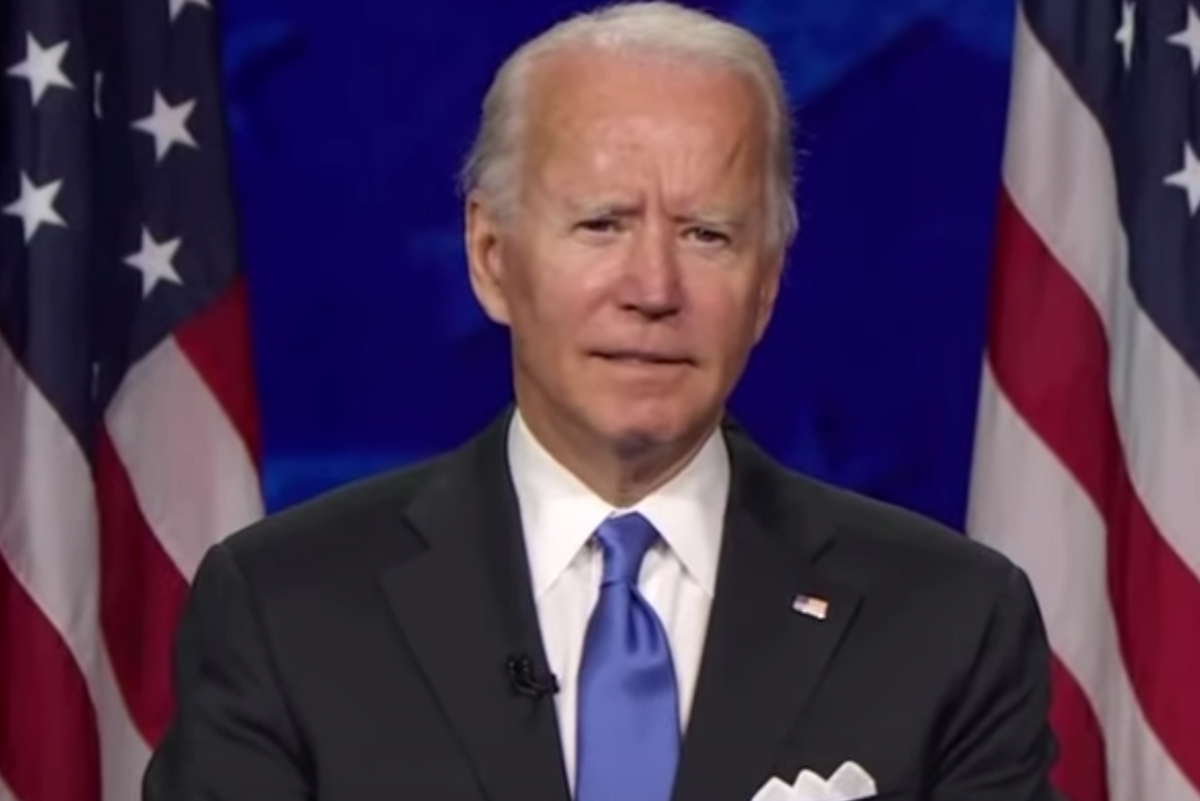 Screenshot from C-SPAN video
Accepting the Democratic nomination for president, Joe Biden told Americans that they face a stark choice between "the dark and the light" in the coming election. Without deigning to say the name of the man he repeatedly called "the current president," Biden condemned the failures and deceptions of the Trump administration – and depicted a brighter future if he is given the chance to govern.
Delighting his supporters and certainly disappointing his adversaries, Biden delivered the speech of his lifetime with confidence, energy, and nearly flawless diction. His message could not have been clearer, beginning with a damning portrait of Trump's failed presidency in the starkest terms.
"The current president has cloaked America in darkness for much too long," he said. "Too much anger. Too much fear. Too much division." He contrasted that hateful penumbra with a quote from civil rights leader Ella Baker, who said, "Give light and people will find the light."
"Here and now, I give you my word," Biden said. "If you entrust me with the presidency, I will draw on the best of us, not the worst. I'll be an ally of the light, not the darkness." He pledged to serve as a president of all Americans, who will "work hard for those who didn't support me, as hard for them as I do for those who did vote for me."
"America isn't just a collection of clashing interests, of red states and blue states. We're so much bigger than that. We're so much better than that." Biden warned that if Trump is re-elected, coronavirus infections will continue unabated, leading to thousands of deaths every day – and he promised that on the day he enters the White House, he will implement drastic policy changes to end the pandemic. He went on to detail a domestic platform of investment and reform that represents the most progressive program since the New Deal.
"This is a life changing election. This will determine what America is going to look like for a long, long time," said Biden. "Character is on the ballot. Compassion is on the ballot. Decency, science, democracy. They're all on the ballot."
While Biden's speech was powerful, following an evening of testimonials extolling his personal grit, integrity, and compassion, perhaps the most affecting moment belonged to a young friend of Biden named Brayden Harrington. The 13 year-old bravely told the story of how the Democratic nominee met him in New Hampshire – and explained how he tamed the stuttering that has plagued Brayden all his life. "He told me we were members of the same club. We stutter," he said, struggling for a moment with that very word. "It was really amazing to hear that someone like me became vice president."
In his courageous moment on national television, Brayden Harrington stood for Biden's closing promise, which the Democratic nominee framed with a passage from a beloved poem by Seamus Heaney:
History says,
Don't hope on this side of the grave,
But then, once in a lifetime
The longed-for tidal wave
Of justice can rise up,
And hope and history rhyme"
"This is our moment to make hope and history rhyme. With passion and purpose, let us begin -- you and I together, one nation, under God -- united in our love for America and united in our love for each other.
"For love is more powerful than hate. Hope is more powerful than fear. Light is more powerful than dark.
"This is our moment. This is our mission.
"May history be able to say that the end of this chapter of American darkness began here tonight, as love and hope and light joined in the battle for the soul of the nation.
"And this is a battle that we, together, will win. I promise you."