"One Of The Weirdest": Tucker Carlson Interviews Gaetz About Sex Crime Probe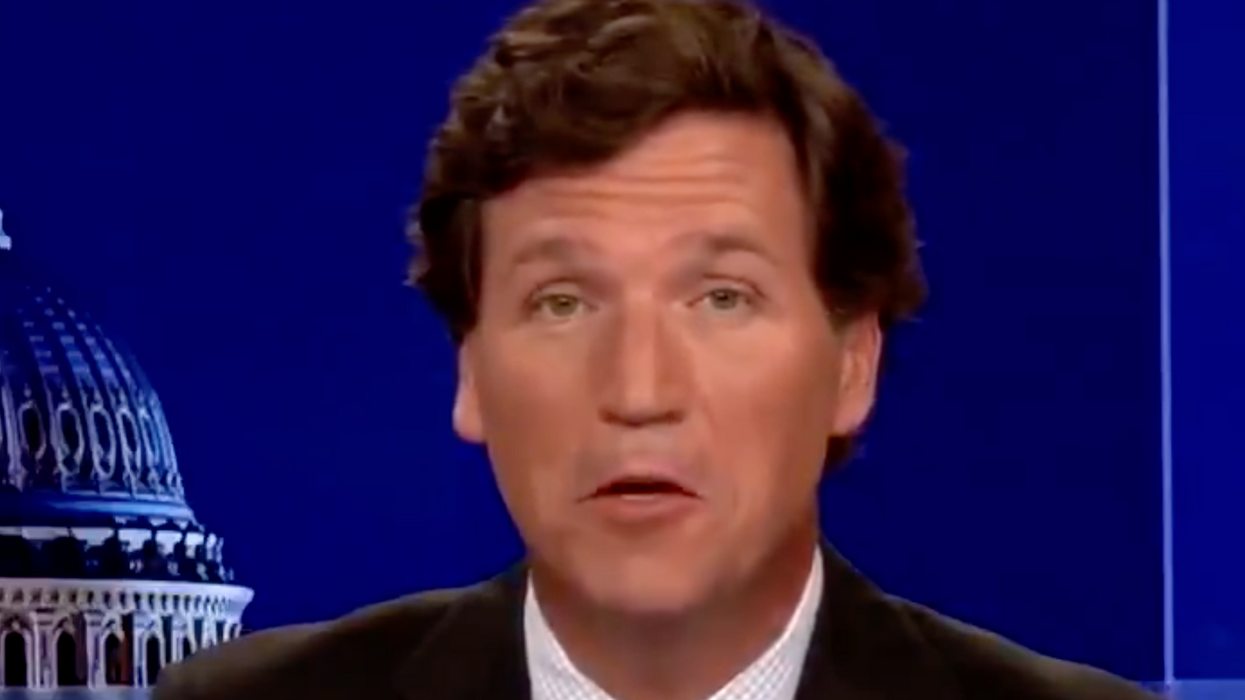 Screenshot from Fox News
After the New York Times reported that Rep. Matt Gaetz is under federal investigation on the suspicion of sex trafficking a 17-year-old girl, the Florida Republican found himself seeking a safe space to fight back against the allegations in Fox News' prime time hour with host Tucker Carlson. But after the interview, Carlson himself told viewers he was left flummoxed by the exchange and didn't know what to think about the story.
"If you just saw our Matt Gaetz interview, that was one of the weirdest interviews I've ever conducted," Carlson told his audience. "That story just appeared in the news a couple of hours ago. And on the certainty that there's always more than what you read in the newspaper, we immediately called Matt Gaetz and asked him to come on and tell us more. Which as you saw, he did. I don't think that clarified much. But it certainly showed that this is a deeply interesting story. And we'll be following it. Don't quite understand it. But we'll bring you more when we find out."
So what was so "weird" about the interview for Carlson?
For one thing, Gaetz made the interview uncomfortably personal. Gaetz claimed that a woman he had dated, and who had met Carlson and his wife at a dinner a few years back, had been "threatened" by the FBI as part of the investigation. Carlson seemed a bit taken aback and didn't welcome being brought into the narrative.
"I don't remember the woman or the context at all honestly," Carlson told Gaetz.
Gaetz also claimed that he was being falsely smeared by people at the Justice Department, and he tried to commiserate with Carlson over an allegation the host had previously faced. Carlson didn't seem to welcome this anecdote, etiher.
"You just referred to a mentally ill viewer who accused me of a sex crime 20 years ago," Carlson said. "And of course it wasn't true. I had never met the person."
Gaetz's story about the investigation is a bit hard to parse. He accused a former DOJ official of trying to extort him for money over the allegations, citing a March 16 text message to his father that led to an in-person meeting with the alleged extortionist. And he said that he had worked with the FBI in an investigation into the extortion, which led to his father wearing a wire. Gaetz called on the FBI and DOJ to release the tapes, claiming they would exonerate him.
But he also seemed to suggest that people currently in the FBI were trying to set him up, apparently separately from the former DOJ official who is trying to extort him. And he was much more eager to talk about the supposed extortion plot than about the FBI investigation. When Carlson asked Gaetz when he first became aware of the FBI investigation into the suspicion of sex trafficking, Gaetz awkwardly refused to answer. He only referred back to the March 16 text message. He even named a person, David McGee, who used to work for the DOJ as the person who has been extorting him, though this claim has not been corroborated. Katie Benner, who broke the story for the Times, later argued that Gaetz is trying to distract from the fact that the investigation into his conduct began under Attorney General Bill Barr — making it less likely that it arose as a partisan plot against him.
The New York Times story, Gaetz said, was planted to "quell" the extortion investigation.
He also unprompted brought up an allegation that there were pictures of him with child prostitutes, a claim that had not appeared in the New York Times article about the investigation.
Gaetz again suggested, as he had already in response to the Times reporting, that he pays for trips and travel for his girlfriends (none of whom, he said, were underage) and that this spending was being distorted into a sex trafficking claim.
"I have not had a relationship with a 17-year-old," he said.