Top Bannon Associate Guo Wengui Busted In Alleged Billion-Dollar Fraud
@johnknefel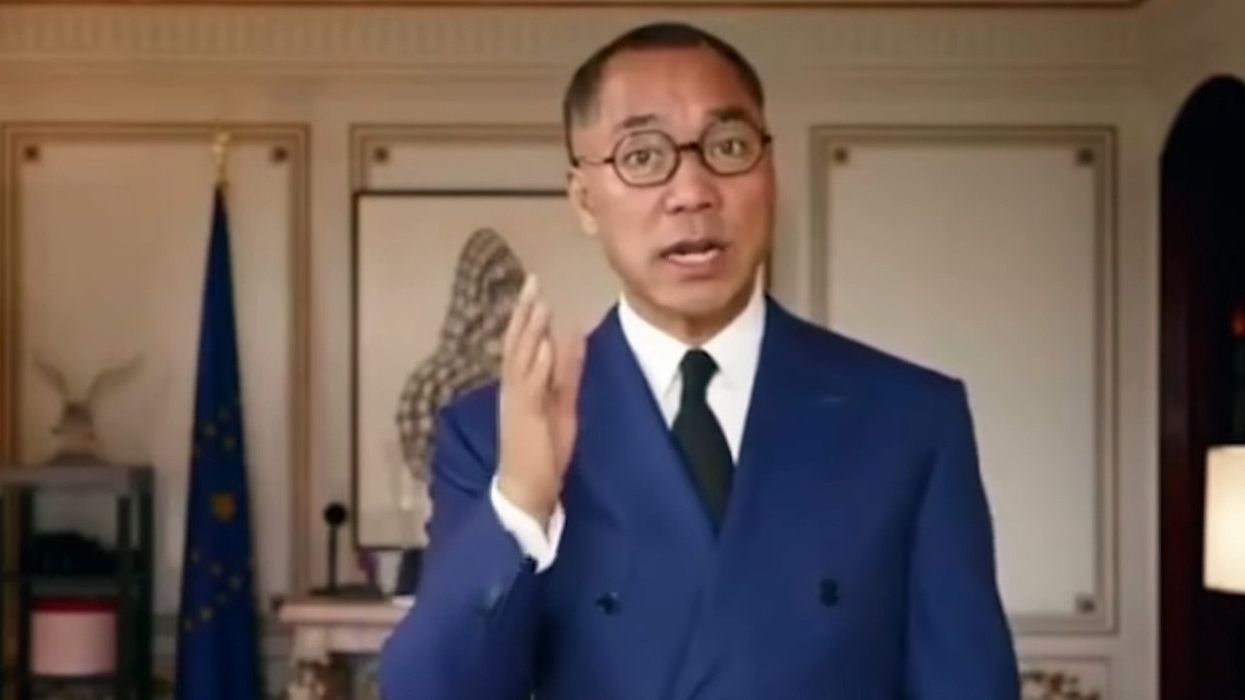 Former Trump adviser Steve Bannon promoted a cryptocurrency and other properties created by his longtime associate and Chinese businessman Ho Wan Kwok, also known as Miles Guo -- who is now under federal indictment for charges related to a digital coin scheme as well as other allegations of fraud and money laundering.
Guo's relationship with Bannon goes back at least to 2017. A New York Times report from the time stated that Bannon would head "the so-called Rule of Law Fund" — the $100 million effort that Guo was financing — to criticize the Chinese government. The Southern District of New York's indictment indicates that Guo used two nonprofits — the Rule of Law Foundation and the Rule of Law Society — founded in 2018 to "amass followers who were aligned" with his purported policy objectives in China and who were also inclined to believe his "statements regarding investment and money-making opportunities." Guo began funding Bannon in 2018, though the current state of their financial ties isn't publicly known.
Guo then leveraged his followers to launch a number of different allegedly fraudulent ventures. The newly unsealed indictment alleges that Guo and others "fraudulently obtained more than approximately $262 million in victim funds through the Himalaya Exchange, a purported cryptocurrency 'ecosystem' accessible on the internet."
Himalaya Exchange included a digital coin used for trading called the Himalaya Coin, or H Coin, and a so-called stablecoin that was purportedly backed by U.S. federal reserves and had a fixed exchange rate of one Himalaya Dollar to one U.S. dollar.
Guo debuted the exchange around April 2021, and Bannon praised the coin in an interview the following November on GTV, another venture in Guo's alleged fraudulent scheme, just days after the coin's initial offering.
"It's monumental," Bannon said in response to the coin's release.
"I think if you look at it, the pieces are coming in place," he added. Bannon then listed a series of projects that he and Guo were jointly involved in, including "G News, GTV, there's Gettr, there's now H Coin, there's the Himalaya Exchange."
"If you look at the institutionalization of the counteroffensive to the Chinese Communist Party, it's pretty impressive," Bannon continued.
In fact, as laid out in the indictment, the purported crypto scheme wasn't cryptocurrency at all, but rather a series of "credits" that could only be used on the Himalaya Exchange or ultimately converted to dollars (which the exchange could deny). Guo and his named co-conspirator, Kin Ming Je, aka William Je, later extracted a $37 million "loan" from Himalaya Exchange to cover the costs of Guo's luxury yacht.
Bannon was arrested by Postal Service agents on the yacht in August 2020, on allegations of his own fraudulent scheme. In that case, federal prosecutors accused Bannon and others of defrauding contributors to his so-called "charity" "We Build the Wall" out of more than $15 million for personal expenses.
Federal investigators are also allegedly interested in a Bannon-linked cryptocurrency called FJB.
Bannon and Guo have many links to one another and have long praised each other in public.
In October 2020, two of Guo's media properties lavished praise on Bannon, to which he responded by returning the favor.
"G News and GTV, great article today, comes out that GTV, Miles Guo, Steve Bannon, saving western civilization," Bannon said. "Hey, I don't know if I'd go that far but let's say this: I'm so proud of G News and GTV for stepping up."
Reprinted with permission from Media Matters.