Congressional Republican 'Feared For Their Lives' If They Supported Impeachment
@alexvhenderson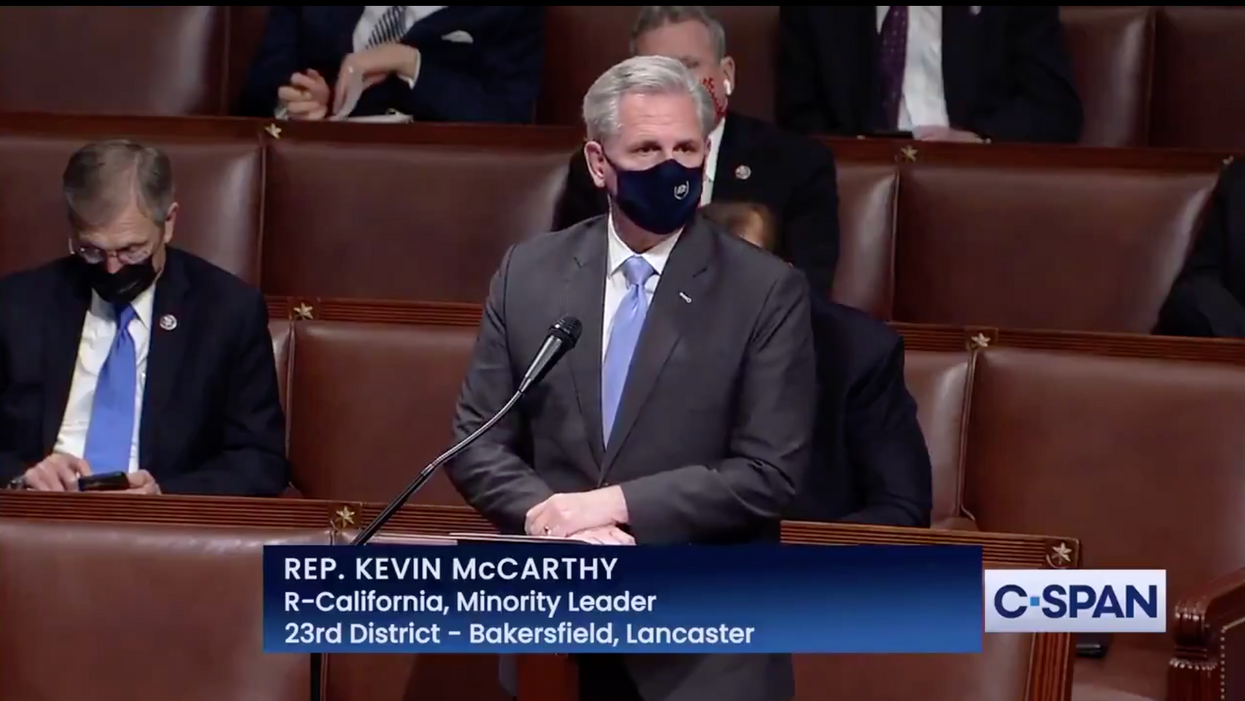 Screenshot from Rep. Kevin McCarthy's Twitter, C-SPAN clip.
Reprinted with permission from Alternet

Numerous Republicans in Congress have been afraid to publicly criticize President Donald Trump or challenge his debunked and baseless election fraud claims because they don't want to face a GOP primary challenge or be voted out of office in 2022. But according to Rep. Jason Crow, a Colorado Democrat, their fears go beyond their political interests — some of them feared being targeted for violent attacks if they voted in favor of any articles of impeachment against the president.
Interviewed by NBC News' Chuck Todd on Wednesday, Crow discussed impeachment proceedings against Trump and said, "A number of things are happening on the Republican side. A very small handful, I think, are kind of morally bankrupt individuals who have given in to these conspiracy theories and are too far gone to be redeemed. But the majority of them are actually paralyzed with fear. You know, I had a lot of conversations with my Republican colleagues last night. A couple of them broke down in tears, talking to me and saying that they are afraid for their lives if they vote for this impeachment."
Crow continued, "My response was, not to be unsympathetic, 'Welcome to the club.' That's leadership. Our country is in a very challenging time. Many of us have felt that way for a long time because we've stood up for our democracy, and we expect them to do the same."
Right-wing pundit Guy Benson — a Townhall editor who is also known for his radio show and Fox News appearances — responded to Crow's comments and tweeted that some House Republicans are, in fact, fearing for their "lives/physical safety":
It isn't hard to see why members of Congress are worried about political violence during the final days of Trump's presidency. Crow's comments during his interview with Todd came a week after a mob of pro-Trump insurrectionists stormed the Capitol in the hope of preventing Congress from certifying President-elect Joe Biden's Electoral College victory — and a week after extremists hoped to murder Vice President Mike Pence and House Speaker Nancy Pelosi.

Trump demanded that Pence overturn the Electoral College results, which he didn't have the power to do, during the joint session of Congress held on Wednesday last week. Groups of extremists, believing that Pence had betrayed Trump, could be seen chanting "Hang Mike Pence" in Washington, D.C. And some of them set up a hangman's noose near the Capitol Building.
Also quite disturbing is a statement by Rep. Alexandria Ocasio-Cortez, who said that when the Capitol Building was under siege, she feared for her life and feared that "QAnon and White supremacist sympathizers" in the House of Representatives would tell people in the mob where to find her.