Facebook Groups Worldwide Pushing Livestock Medications For Covid-19
@ohhkaygo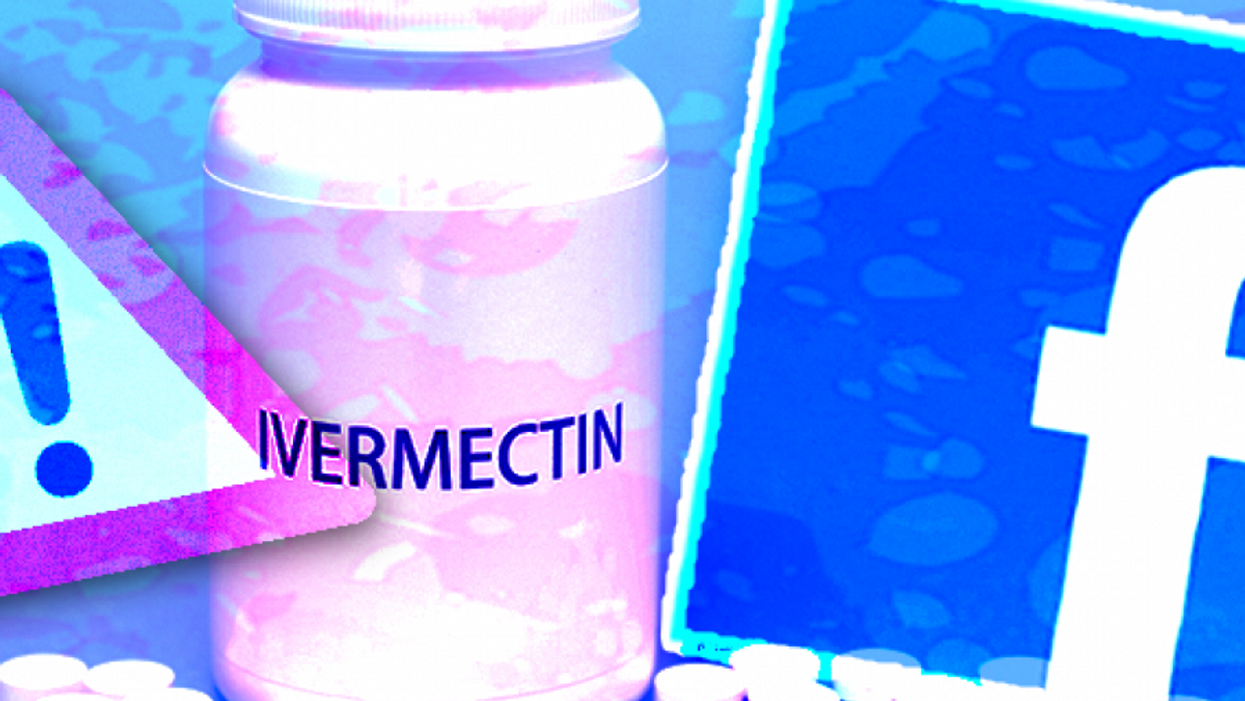 Photo by Molly Butler / Media Matters
Reprinted with permission from Media Matters
Facebook is allowing groups on its platform to promote the use and sale of ivermectin -- a drug typically prescribed to fight parasites in humans and large animals -- to prevent and treat COVID-19, even though the social media company claims that it removes such content as part of its policy against medical misinformation.
In the last week, the Food and Drug Administration and the Centers for Disease Control and Prevention bothwarned against unapproved use of ivermectin to treat or prevent COVID-19, after increased reports of patients harmed by self-medicating with ivermectin intended for horses. The drug is used to treat intestinal conditions caused by parasitic worms in both animals and people, but the large doses typically prescribed for veterinary use are dangerous for humans.
Despite these warnings -- as well as Facebook's own policy against promoting the purchase, sale, or other misinformation about ivermectin -- users on the platform are sharing ways to use ivermectin for COVID-19, with some even recommending methods for other users to acquire the drug. In fact, Media Matters has found 47 active Facebook groups with nearly 65,000 combined members centered around ivermectin and its use for COVID-19. The majority of these groups were created in 2021, and they're based around the world, including in the United States, South Africa, Malaysia, Australia, and the United Kingdom.
Facebook has taken little action against these groups, despite otherreporting on violative content about ivermectin on the platform. At the time of publication, Facebook has taken down one public group, "The People's Medicine: Ivermectin; Safe Effective Economical (S E E)," that had already garnered roughly 17,000 members, and some posts promoting the use of ivermectin have been flagged with a banner warning users that "unapproved COVID-19 treatments may cause serious harm." Upon clicking on the banner, users are redirected to Facebook's COVID-19 Information Center, but they receive no other immediate information on the drug.
Dozens of other ivermectin-focused groups are still active and promoting violative content on Facebook. Group members frequently ask where to acquire a prescription for ivermectin and for information on dosage and drug combinations, and other members point them to fringe outlets such as America's Frontline Doctors or veterinarian supply stores.
In one private group -- IVERMECTIN MD TEAM -- over 27,000 members have access to this harmful misinformation. Facebook has often struggledto properlyenforce its policies against COVID-19 misinformation, particularly within private Facebookgroups, which can be moredifficult for the platform to moderate.
Other pro-ivermectin Facebook groups are spreading similar misinformation on the platform.
In addition to ivermectin-specific groups, other anti-vaccination and pro-Trump private Facebook groups are also exchanging information on where to buy the drug, how to dose it, and sharing testimonials.
The unchecked promotion of yet another unproven treatment for COVID-19 more than a year after the disease first emerged -- particularly given the effectiveness of vaccines developed specifically to fight it -- highlights Facebook's continued failure to protect its users from dangerous medical misinformation in the midst of a deadly pandemic.