FBI Warns Against Far-Right Violence In Every State Over Coming Weeks
@DavidNeiwert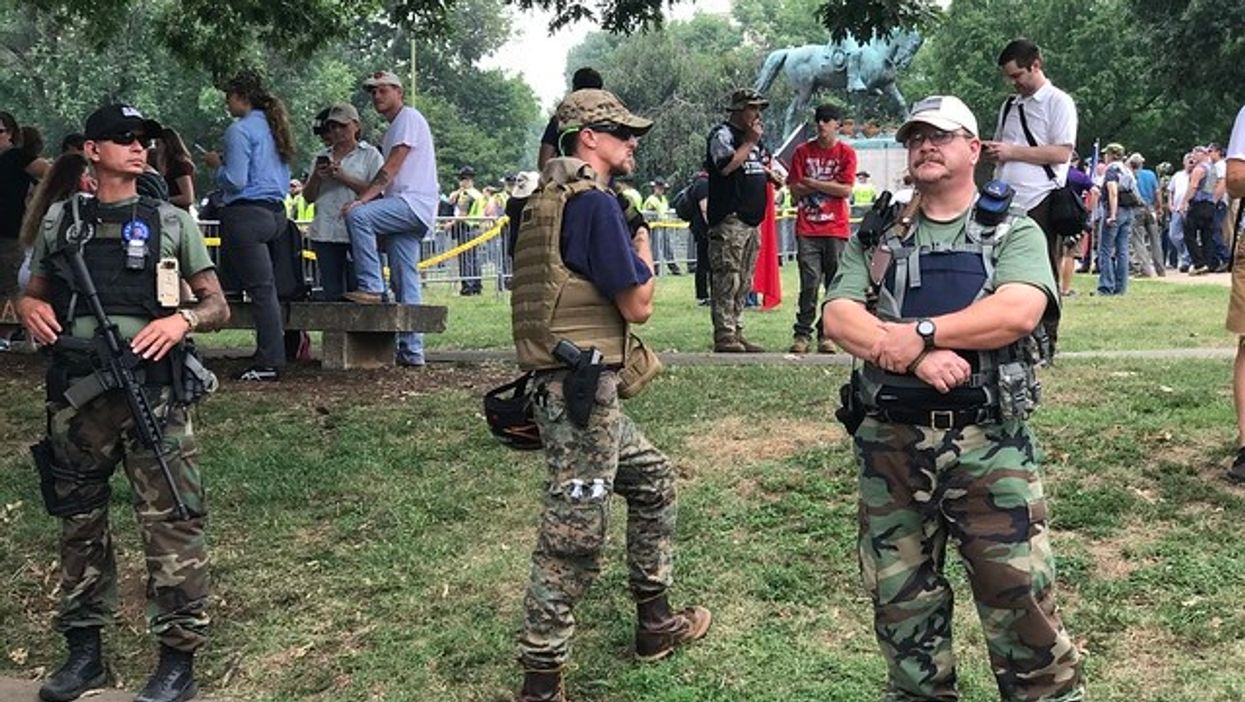 Reprinted with permission from DailyKos
The insurrection at the U.S. Capitol last week may have been just the beginning of a flash tide of violent far-right insurgency in America—probably culminating around the time of Joe Biden's inauguration on Jan. 20—if the internet pronouncements of the ideologues fomenting the insurgency are anything to judge by.
Even as the conspiracist far right promoting Donald Trump's false claims that he lost the election fraudulently was massively de-platformed this week—with Trump himself being suspended from Twitter and Facebook and the right-wing social media platform Parler losing its internet service—the seditionist rhetoric and open organizing of armed resistance to Biden's inauguration has spread and intensified, including plans for armed takeovers of state Capitol buildings in various states as well as in Washington, D.C. Law enforcement agencies are on full alert in some of those states, especially as intelligence has been gathered indicating a high likelihood of "Boogaloo" civil war movement-inspired violence in the next two weeks.
---
An FBI assessment distributed to the nation's law enforcement agencies this week warns that far-right extremists plan violence at a series of protests around the nation. Issued by the Minneapolis field office prior to Wednesday's insurrection in Washington, on Dec. 29 the office warned that "some followers indicated willingness to commit violence in support of their ideology, created contingency plans in the event violence occurred at the events, and identified law enforcement security measures and possible countermeasures."
The report is based on information from "collaborative sources," the FBI said, and focuses on far-right Boogaloo movement rallies planned for cities around the country on Jan. 17—specifically, it cites evidence of "credible threats" around events at state Capitol buildings in Lansing, Michigan, and St. Paul, Minnesota.
Disturbing QAnon video promotes Trump-led national insurrection for Jan. 20 www.youtube.com
QAnon conspiracy cultists in particular have been actively spreading insurrectionist propaganda. A slickly produced video by QAnon activist Matthew Scarboro—posted on Parler Sunday and shared 60,000 times before the platform went dark—featured an amalgamation of previous Trump speeches edited to sound as though he was urging his followers to join a "great reawakening" on Inauguration Day.
"The time for empty rhetoric is over," Trump says in the video. "Now arrives the hour of action. Today, you end one chapter, but you are about to begin the greatest adventure of your life. January 20 will be remembered as the day the people became the rulers of this nation again."
The video concludes with a narrator reciting the Lord's Prayer over a view of the United States seen from space at night, with the lights of American cities changing to red and blue. The last shot reads: "January 20, 2021: WWG1WGA" (the acronym is for the QAnon slogan, "Where We Go One, We Go All").
"I'm being labeled as a domestic terrorist via Twitter for my pro-Trump videos that I made for all of you patriots," Scarboro posted on Parler after the clip went semi-viral. "Facebook just banned my channels and accounts, I'm getting death threats on all platforms, even ones where I haven't posted any Trump content. I will not be bullied, I will not bow, I will not submit, I will not retreat, I will not apologize, and I will NOT SURRENDER!"
Another QAnon video on YouTube by an ex-Navy SEAL named Michael Jaco—who has some 130,000 subscribers—claimed that Trump had secretly signed the Insurrection Act and that mass arrests (beginning with Vice President Mike Pence, deemed a traitor for refusing to follow Trump's plan to object to the Electoral College ballots in the Senate on Wednesday) were about to occur. Jaco also claimed that Pope Francis had been arrested at the Vatican on child molestation charges.
"So all of this stuff is popping," Jaco says. "It's going to come at you very hard and fast, guys. We've been talking about and preparing you guys for this. And, uh, here it is."
The TeamTrumpUSA account on Parler—which many Parler users assumed was actually written by Trump himself—also claimed that Trump had signed the Insurrection Act, reading: "I have invoked the Insurrection Act of 1807, to address the treasonous rebellion conducted by Democrat & Republican lawmakers, CCP agents, the FBI, DOJ, CIA & others to undermine, corrode and dismantle the United States of America and its constitution. These entities pose a direct threat to national security. I will remain president indefinitely until all domestic enemies are arrested."
Reuters, however, reported that TeamTrumpUSA is not an authentic Trump account and that the outgoing president had not in fact created an account on the platform, noting that "there has been no confirmation from any official sources, including the relevant state departments, lawmakers, the military or the White House itself."
While the insurrectionist rhetoric is primarily emanating from conspiracists whose grasp of reality is minimal at best, the high levels of disinformation being circulated among Trump's far-right following make clear that the extremist violence is likely to grow more intense in the coming weeks.
As The Washington Post's Greg Sargent explains, Wednesday's insurrection was a huge propaganda coup for the radical right, demonstrating that it has moved beyond the fringes of society and become enmeshed within the mainstream Republican Party —and that, moreover, its high-pitched seditionist rhetoric has moved beyond talk to concrete action.
"By all measurable effects, this was for far-right extremists one of the most successful attacks that they've ever launched," Jared Holt of the Atlantic Council told Sargent. "This will be lionized and propagandized on likely for the next decade."
Holt added: "These communities are discussing the attack as some sort of validation that it actually is possible for them to exert their power like this and achieve results. They're talking about this as the first stab in a greater revolution."
Domestic terrorism expert Daryl Johnson, a former Department of Homeland Security analyst, warned Mary Harris at Slate that the violence has probably only just begun.
"As Michigan and Idaho have learned, as well as the State Capitol in Oregon, as well as what happened last week in the U.S. Capitol, we need to take this chatter seriously," Johnson said. "And resources and physical security measures need to be put in place to mitigate the threat."