Texas Attorney General Admits Voter Suppression Saved State For Trump
@alexvhenderson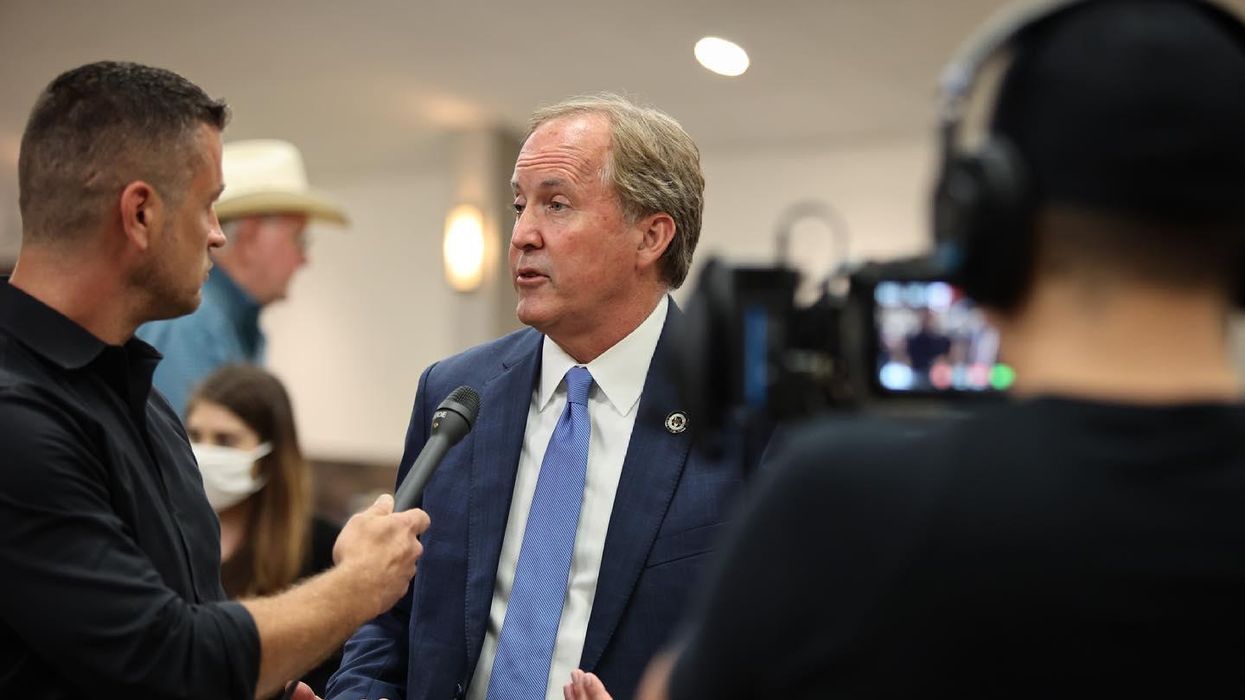 Photo from @TexasAttorneyGeneral's official Facebook
Reprinted with permission from Alternet
One need only compare now-President Joe Biden's losses in Texas in 2020 to his losses in Idaho or Wyoming to see that Texas has gone from deep red to light red. Biden lost Texas by six percent; he lost Wyoming by 43 percent, Idaho by 30 percent, and North Dakota by 43 percent. Nonetheless, the Democratic Party has, historically, had a turnout problem in the Lone Star State; Democrats are going to need a heavier turnout in the Democrat-leaning parts of the state if they are going to win statewide races (presidential, gubernatorial or U.S. Senate) in the future. And Texas Attorney General Ken Paxton, during a June 4 appearance on Steve Bannon's podcast, essentially admitted that voter suppression helped former President Donald Trump win Texas in 2020.
Paxton told Bannon, who served as White House chief strategist in the Trump Administration in 2017 following his years as chairman of Breitbart News, that had his office not blocked Harris County from sending out mail-in ballot applications to its residents, Trump would have lost Texas in 2020. Harris County includes Democrat-leaning Houston.
"Trump won by 620,000 votes in Texas," Paxton told Bannon. "(The) Harris County mail-in ballots that they wanted to send out were 2.5 million. Those were all illegal, and we were able to stop every one of them."
What Paxton described as "mail-in ballots" were mail-in ballot applications. There's a difference between sending out 2.5 applications for mail-in ballots and actually sending out 2.5 mail-in ballots. And there was nothing evil or sinister about the applications that Harris County officials wanted to send out, as Paxton claimed.
Nonetheless, Paxton's comments were revealing, as they underscore the fact that far-right Republicans like Paxton and Texas Gov. Greg Abbott are scared to death of the possibility of Democrats ramping up voter turnout in the more Democratic parts of the state — which include not only Houston (which hasn't had a Republican mayor since the early 1980s), but also, Austin, El Paso, Dallas and San Antonio. However, the Texas GOP has a very strong ground game in countless rural counties in North Texas and Central Texas, and they really know how to turn out the Republican base in those areas of the state.
Journalist Sharon Zhang, reporting on the interview in Truthout on June 7, stresses that it's "unclear" whether or not Trump "would have actually won the state if Harris County had been allowed to follow through on its plan to make voting more accessible."
"While President Joe Biden won the county by a 13-point margin or nearly 220,000 votes, with record-breaking voter turnout, Trump carried the state with over 600,000 votes," Zhang explains. "Regardless of whether the results would have been any different for Biden had Harris County been able to send out mail-in ballot applications, Paxton's statement about the election results seven months after the fact is revealing of how conservatives view elections and voting rights. Rather than ensuring that elections are conducted fairly, they openly support blocking access to the ballot by any means necessary — especially among voters in more Democratic leaning and non-White areas."
Zhang continues, "Paxton, after all, is the same person who sued to disenfranchise millions of voters in battleground states following Biden's victory in the 2020 elections. Regardless of whether Paxton's lawsuit against the mail-in ballot applications handed Trump his victory in Texas, it was certainly one more tool in the GOP's voter-suppression toolbox for the state."