Stop Calling The Arizona Recount Charade An 'Audit'
@EricBoehlert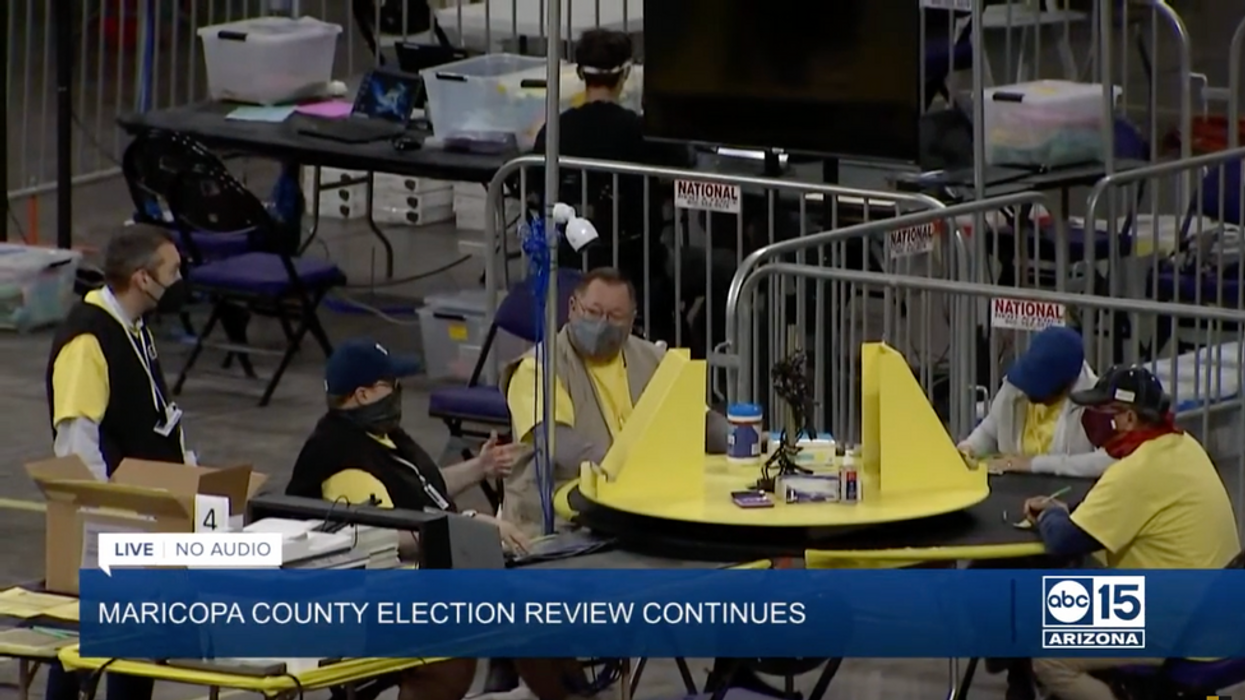 Screenshot from KNXV-TV livestream
Reprinted with permission from Press Run
Now in its seventh week, the pointless review of two million ballots in Maricopa County, Arizona's most populous outpost, has not only emerged as a dishonest, partisan circus, it's also a blueprint for how right-wing conspiracists want to treat future GOP election losses. Along the way, they're deliberately destroying faith in the democratic process.
As the " fraudits " spread to other states, and as it becomes clear that hard-core Republican fanatics will stop at nothing in their pursuit of overturning the 2020 election, it's imperative the press undertake a course correction and stop calling these partisan sham events "audits." They're not going away and the press needs a better, more exact way to describe them. By adopting GOP "audit" language, journalists are doing the right wing's bidding and undermining confidence in U.S. elections.
Once again, the GOP's radical and dangerous behavior in the age of Trump ought to prompt news outlets to change the language they use to cover American politics. There is no precedent for a former U.S. president to barnstorm the country insisting his election loss was fraudulent and claiming "Indians" were paid to vote in 2020. And there's no precedent for the mockery that's being made out of ballot-counting in Arizona, a charade that even local Republican election officials have dismissed as a "grift disguised as an audit."
The question is, how does the media cover the Grand Canyon State's slow-motion train wreck? By using " audit " without including qualifiers, such as "so-called," "alleged," or "absurd," the press lends an undeserved air of legitimacy to the clown proceedings. The language use becomes especially problematic when "audit" is deployed in headlines, which is what most people end up reading, instead of the body of the article. A New York Times front-page, print headline yesterday read, "Arizona's Vote Audit Is Scorned. Republicans Press On, Anyway."
On Twitter, Washington Post editors were promoting an article about "the national push by Trump allies to audit 2020 ballots." (The Post constantly refers to the disinformation campaign as an "audit.")
For casual news consumers, the assumption is that Republicans are simply conducting an audit of the votes, and may start doing them in other states. And what's wrong with an "audit," right? "Audit" sounds serious and precise.
By contrast, NPR took a smart approach with a recent headline , putting the word in quotation marks to signal the dubious nature of the Arizona sham: "Experts Call It A 'Clown Show' But Arizona 'Audit' Is A Disinformation Blueprint." And a recent CNN report referred to the Arizona effort as a "so-called audit" and a "partisan ballot review."
Another good description for the ongoing shenanigans might be an "unofficial review," since the ballot exercise carries no legal weight and cannot change the vote outcome. " Partisan inquisition " is also an accurate offering, as well as "boondoggle," "charade," "farce," and "sham." Using those terms means journalists would have to stand up to Republicans and not be afraid of "liberal media bias" cries that would certainly follow.
The truth is, "Most certified auditors contacted by The Arizona Republic, including accountants, internal auditors, and forensic auditors, say this is not an audit," the state's largest recently newspaper reported .
The ongoing process in the Southwest clearly fails to meet any of the standards required for official recounts or audits by state law. With financial support from My Pillow CEO Mike Lindell and a nonprofit set up by a reporter for One America News Network, which has been given exclusive access to livestream from the audit site, Arizona partisans have reportedly scanned ballots with UV lights to look for secret watermarks that fanatics think Trump's Department of Homeland Security placed on legitimate ballots to differentiate them from fake ones. They're also inspecting ballots for traces of bamboo to determine if they were snuck into to the country from Asia.
Note that a legitimate post-election audit of Maricopa County was conducted one week after last year's election. That is to say, a multiparty audit board conducted a hand count of ballots from a sample of randomly selected voting precincts and compared them with the results from voting machines. For Arizona's largest county, the audit uncovered not a single ballot discrepancy. The county also hired two separate, independent firms to perform a forensic audit of the voting equipment used and found nothing amiss.
What's happening in Arizona is not a recount, either. Recounts typically occur when there's an infinitesimal margin of victory, but Joe Biden won Arizona by 10,000 votes. "In the recount and audit space, 1,000 votes is, for all intents and purposes, a landslide," David Becker, the executive director of the nonpartisan nonprofit Center for Election Innovation & Research, told FiveThirtyEight . "A margin of 10,000 votes is an off-the-charts landslide" for a recount.
The Arizona ballot charade is a perfect example of conservative extremists trying to create their own reality and their own set of facts, and hoping the mainstream media helps them by adopting misleading language, like an Arizona "audit."