Why Trump Tweeted A Conspiracy Smear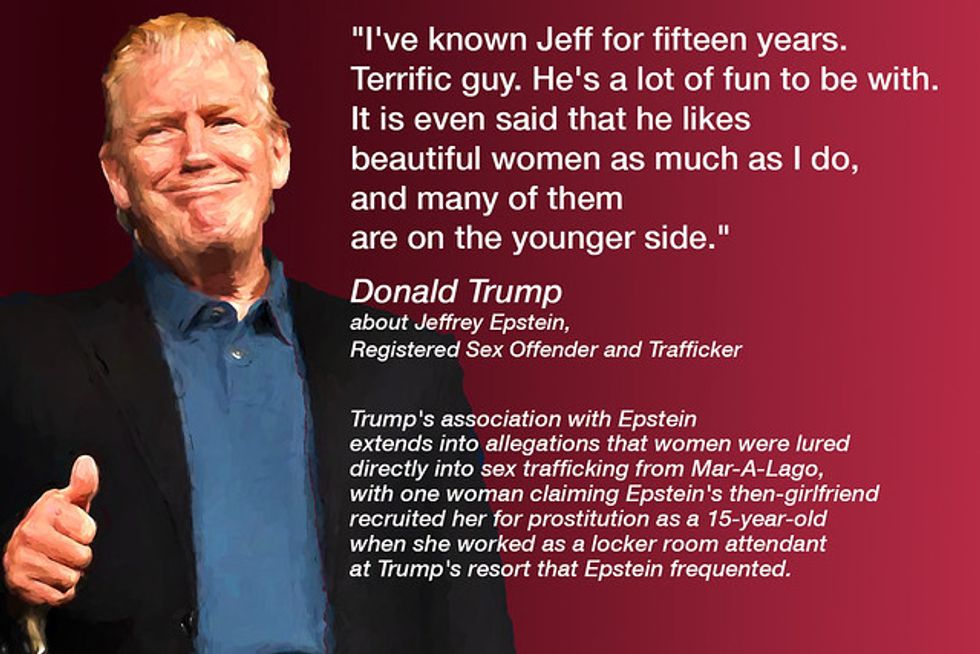 When Donald Trump retweeted a malicious fantasy about the apparent suicide of imprisoned pedophile Jeffrey Epstein, he wasn't merely entertaining his deluded fans. Trump's conspiratorial canard — with attendant promotion by Russian bots, American alt-rightists and far-right media — was plainly designed to deflect attention from his own embarrassing associations with Epstein.
For him to insinuate the Clintons are responsible for Epstein's demise was brazenly absurd. Were Bill and Hillary supposed to have sent a team of ninjas to lower Manhattan? In reality, the dead financier was an inmate of the Metropolitan Corrections Center, a facility overseen by Trump's Justice Department, headed by Attorney General William Barr. And while an outraged Barr shifts responsibility down the chain, he is the nation's top law enforcement official, with the means to prevent the suicide of the most notorious prisoner in federal custody.
It isn't clear whether Barr and Trump had motive as well as means. While Trump had well-documented connections with Epstein, and perhaps financial ties, let's stipulate that no evidence has emerged implicating the president in the abuse of underage girls. Indeed, author James Patterson, who wrote a book on the Epstein case, says his investigators cleared Clinton and Trump.
Yet the president is obviously very worried by what might be revealed about the nature of his relationship with Epstein.
Let's forget for the moment Trump's quote about his friend Epstein's penchant for women "on the younger side." Let's forget as well the videotape of him and Epstein ogling models at a party. And never mind his boasts about invading the dressing rooms of Miss Teenage America when he owned the pageant. Those snippets of Trump's legendary vulgarity are distasteful but not necessarily incriminating.
Less than a week before Epstein died, however, the U.S. edition of the conservative Spectator of London published a column claiming that Epstein kept pictures of himself and Trump with young girls — and that he had showed them to a "mutual acquaintance" in 2016. That individual described the pictures to the Spectator columnist, a respected journalist who uses the nom de plume "Cockburn," as follows: "'Jeffrey had a set of these pictures that had been taken, probably 2003, 2004, of Trump with a variety of the same girls that Jeffrey got in trouble for. They're vaguely suggestive, but not overtly sexual. I think maybe in one picture a girl was sitting on his lap. … There were maybe a dozen of these pictures.'"
The man who claimed to have seen those pictures told "Cockburn" that he didn't know the age of the "girls," but at least one was a witness to Epstein's sexual abuses who had been interviewed by police. Should those photos exist in the archives Epstein reportedly maintained, they are probably in the hands of law enforcement authorities today.
Beyond any photographic evidence, a serious investigation of the nexus linking Trump and Epstein would delve into the infamous "catch and kill" operation conducted by the National Enquirer, which paid off Stormy Daniels and Karen McDougal (and ended up with Trump attorney Michael Cohen in prison, taking the fall for "Individual 1"). Reporters who worked on that Enquirer scheme kept records of the women they interviewed about Trump, who received payments for signing nondisclosure agreements. Were any of those women involved with Epstein as well? Then there is the matter of Epstein's financial consultancy, which many analysts believe was actually a massive money-laundering and tax-avoidance enterprise. The Trump Organization is accused of evading millions in federal taxes and is widely suspected of laundering millions. Did it ever do business?
Even in death, Epstein remains the subject of at least three federal investigations. Prosecutors in the Southern District of New York are still considering what to do about his alleged procurer Ghislaine Maxwell and anyone else who enabled his criminal conduct. (Interestingly, the case is under the purview of the public corruption unit.) Justice Department lawyers also are looking at Epstein's lenient Florida plea deal, approved by former Labor Secretary Alex Acosta when he served as U.S. attorney in 2008. And the Bureau of Prisons is probing the lax circumstances surrounding Epstein's death.
Barr should recuse himself from all these probes, since he has proved untrustworthy in criminal matters potentially concerning the president. But Trump may not be able to rely on the attorney general to orchestrate a cover-up as he attempted with the Mueller report. One of the Southern District prosecutors working on the Epstein case is Maurene Comey, daughter of the former FBI director. Oversight by the appropriate congressional committees is essential if we are ever to learn the full truth about Epstein, his crimes and his untimely death.
Until then, conspiracy theories can cut in any direction — and smearing Clinton won't dispel suspicion of the Trump Justice Department and White House.