DeSantis Vows To Appoint His Anti-Vax Surgeon General To Top Health Post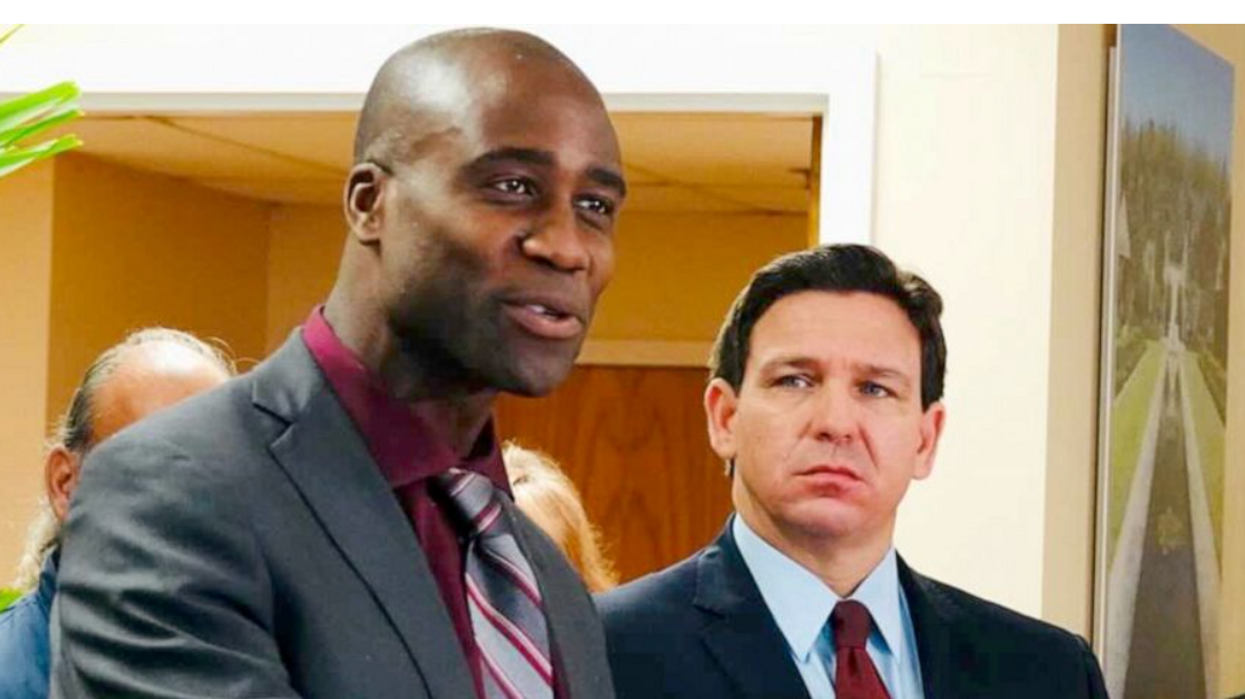 Ron DeSantis
Governor Ron DeSantis is pledging to "clean house" at the Centers for Disease Control and Prevention (CDC) and says he will install his current, highly controversial Surgeon General at the nation's top public health agency, should the Florida Republican win the White House.
Dr. Joseph Ladapo, who DeSantis hired away from the University of California, Los Angeles, is known as an anti-vaxxer who claims his opposition to the life-saving COVID vaccines is God's plan. As DeSantis' Surgeon General, Ladapo has pursued a campaign of vaccine misinformation, and been accused of scientific fraud after he "personally altered" critical results of a COVID vaccine study.
"Ladapo's changes," Politico reported in April, "presented the risks of cardiac death to be more severe than previous versions of the study. He later used the final document in October to bolster disputed claims that Pfizer-BioNTech and Moderna vaccines were dangerous to young men."
"The surgeon general, a well-known Covid-19 vaccine skeptic, faced a backlash from the medical community after he made the assertions, which go against guidance from the Centers for Disease Control and American Academy of Pediatrics. But Ladapo's statements aligned well with Gov. Ron DeSantis' stance against mandatory Covid-19 vaccination."
In May, the Orlando Sentinel reported, "Ladapo says anti-vaccine crusade was God's plan."
In its deep profile of Ladapo, the Sentinel quotes the Florida Surgeon General saying the COVID-19 vaccine "has a terrible safety profile," and, "At this point in the pandemic, I'm not sure anyone should be taking them."
The newspaper adds, "In a December interview with Republican politician Dr. Ben Carson, Ladapo said his wife encouraged him to speak out about the COVID-19 vaccine."
"Even though I'm chatting with you here, it's really a mom-and-pop operation. It's my wife and I," Ladapo told Carson, the Sentinel reported. "… She has been so vocal against these things for kids since … it was just a twinkle in the eyes of the CEOs of Pfizer and Moderna. She just knew that they were up to absolutely no good and she was right."
Dr. Ladapo's wife, Brianna Ladapo, "is also the one who convinced Ladapo to go to the counseling that he believes was God's plan to give him the courage to speak out against COVID-19 policy."
Before becoming Surgeon General, "Ladapo signed the Great Barrington Declaration along with 47,000 other medical practitioners, which called for people to build an immunity to COVID through natural infection when possible in order to reach herd immunity, rather than isolating or wearing face masks."
Governor DeSantis' crusade against scientifically-accepted public health measures, measures that Ladapo also opposes, has impacted Florida's COVID-19 response, with disastrous results.
Although a report last year found Florida neglected to report thousands of COVID deaths during the pandemic, the Sunshine State still had poor results battling the deadly virus.
Florida ranked tenth-worst in per-capita COVID deaths, and eight-worst in COVID cases per capita.
That performance continues to this day.
"By state, Hawaii and Florida saw the highest rates of new COVID-19 hospitalizations," U.S. News and World Report reported last week, "more than twice the national rate."
Speaking to Fox News Thursday night, behind a chyron that read "Liberals Bring Back COVID Hysteria," Governor DeSantis adamantly insisted his COVID polices are the right ones, as he praised Dr. Ladapo and pledged to install him at the Centers for Disease Control (CDC).
"We're going to clean house in places like the CDC," DeSantis said, "they didn't follow the science during COVID they followed the narrative during COVID and that was very, very destructive."
"So we will clean house with personnel. You're gonna have people in with me like my surgeon general in Florida, Dr. Joseph Ladapo," DeSantis continued.
"These are people that were right about COVID from day one. They were pilloried by a very politicized scientific establishment but they stood their ground, and they've been proved right. Those are the people that need to be in positions, not the political actors that we've seen over the last four or five years."
Watch at this link.
Reprinted with permission from Alternet.