'The Gold Medal Winner': A One-Act Play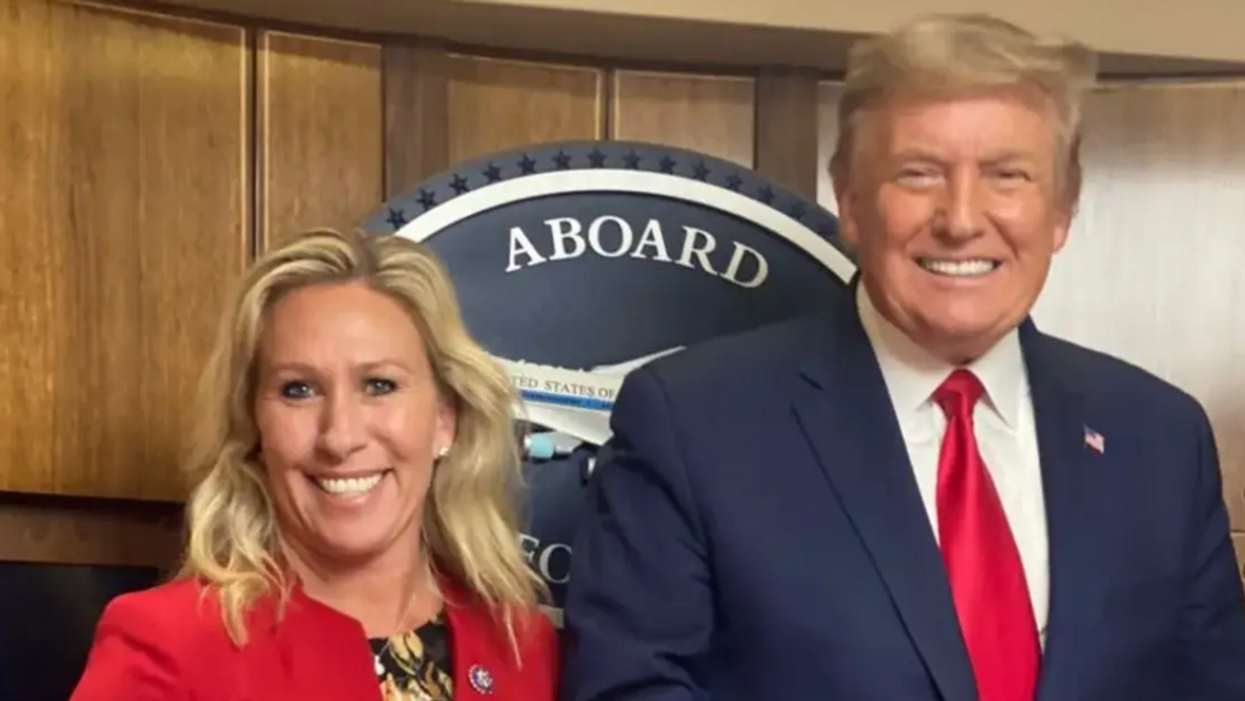 Donald Trump is in his study at Mar-a-Lago on the telephone.
TRUMP: Marjorie?
MARJORIE TAYLOR GREENE: Mr. President!
TRUMP: Could you speak a little louder?
GREENE: Mr. President!
TRUMP: I called to hear your voice.
GREENE: Kevin McCarthy has me still stripped of my committee assignments.
TRUMP: Terrible, just terrible, but love when you say that. So, remember the last call, when I told you to demand that Kevin strip those nasty Republicans who voted for the infrastructure bill of their assignments?
GREENE: Strip them RINOs!
TRUMP: Can't wait for that cartoon. Loved you in Gosar's cartoon carrying the big sword.
GREENE: Me and Lauren Boebert, right alongside Paul Gosar. Off with their heads!
TRUMP: You're my super-heroes.
GREENE: They censured Gosar—stripped him of his committee assignments.
TRUMP: Now he's almost up there with you. But see how Kevin had to crawl. He promised you and Gosar would get your assignments back if he's Speaker. He didn't start out there when he took yours away. He's moving. Just not on two feet. Crawling.
GREENE: But he made Lauren apologize for that joke about that towelhead Omar being a terrorist with a backpack.
TRUMP: She hit it out of the park.
GREENE: McCarthy made her apologize about Islamophobia.
TRUMP: If you can't have that phobia, what phobia can you have?
GREENE: Vaccine Nazis! Mask mandates! You know, we can look back at a time in history where people were told to wear a gold star, and they were definitely treated like second class citizens, so much so that they were put in trains and taken to gas chambers in Nazi Germany. And this is exactly the type of abuse that Nancy Pelosi is talking about. This woman is mentally ill.
TRUMP: When I ripped off my mask on the Truman Balcony after returning to the White House after having Covid it was a Clark Kent into Superman moment.
GREENE: Super-hero, Mr. President!
TRUMP: And they jumped all over you about the gold star.
GREENE: The same ones who voted for the infrastructure bill.
TRUMP: First they came for you, then they voted for the infrastructure bill.
GREENE: They made me apologize—and they made me go to the Holocaust Museum. OK, there's no comparison to the Holocaust. I believe that forced mask and forced vaccines or vaccine passports are a type of discrimination, and I'm very much against that type of discrimination. It's more like Jim Crow than the Holocaust.
TRUMP: Speaking of Black Lives Matter, that was genius of you and Matt Gaetz to compete about which one of you would hire Kyle Rittenhouse as an intern. Genius.
GREENE: Matt started it.
TRUMP: Kyle, I got to know him a little bit. Really a nice young man. He wanted to know if he could come over and say hello because he was a fan.
GREENE: I went Matt one better. I nominated Rittenhouse for the Congressional Gold Medal.
TRUMP: If that's not self-defense, nothing is! How can that not be a Gold Medal?
GREENE: I looked it up. George Washington, Winston Churchill, Harry Truman, Jackie Robinson. And--can you believe it--the Capitol Police who supposedly "protected" the Capitol on January 6. So, yeah, Kyle Rittenhouse. Gold Medal, not gold star, Gold Medal.
TRUMP: Think about adding Ashli Babbitt for a Congressional Gold Medal. Truly incredible person. I did a video for her birthday. She just wanted Make Pence to do the right thing. If this happened to the 'other side,' there would be riots all over America.
GREENE: Matt wouldn't get on board with the Gold Medal. He put out a statement: "We are concerned that awarding Kyle with a Congressional Gold Medal will give him a big head during the internship with our office." Yeah, he's going to be in my office. We're going to have to flip a coin.
TRUMP: Keep it all up. It's working.
GREENE: The apologies? Or the Gold Medal?
TRUMP: Every time Kevin makes you apologize, or Boebert apologizes, or Gosar is censured, he loses. You gain, he loses. It's all working. The Gold Medal works. Everything you do works. They're making you the martyr. Everyone's a martyr. That dead Ashli, that nice Kyle, Gosar with his cartoon, Boebert with her phobia, and you with your Holocaust. And that just means you're like me because nobody is a bigger martyr. Watch closely. You know why Kevin said he'd get you and Gosar your assignments back? Flop sweat. Fear. Panic. Angst.
GREENE: What's angst?
TRUMP: It's your perfume. I can smell it a thousand miles away. Maybe getting Covid even helped my sense of smell.
GREENE: Yeah, own the libs.
TRUMP: It's really about owning the Republicans. When they crucify you, you're Jesus. When you're the martyr, they follow you.
GREENE: Only you're not Jesus.
TRUMP: The meek do not inherit the earth. Nice guys finish last. Suckers get what they deserve.
GREENE: You have a way with words.
TRUMP: Take Kevin—the more he's frightened, the more he's our slave. He knows you're me. If he makes you a martyr, he gives you power over him. Just because I'm there. You're my little terrorist. That's how we are going to keep him as "My Kevin."
GREENE: But what about Mark Meadows saying you should be Speaker?
TRUMP: Marjorie, sweetheart, that was Mark having a little fun with Kevin. Dance, Kevin, dance. I don't need to be Speaker to be Speaker. Not when I have you. You win the medal. You're the Speaker.
GREENE: Mr. President!
Sidney Blumenthal, former senior adviser to President Bill Clinton and Hillary Clinton, has published three books of a projected five-volume political life of Abraham Lincoln:A Self-Made Man,Wrestling With His Angel ,andAll the Powers of Earth. His play This Town, about a scandalous White House dog, was produced in 1995 by LA TheatreWorks. This is the eleventh in his "Trump Cycle" series of one-act plays published in The National Memo, including The Pardon, Epstein's Ghost, Ivanka's Choice, Sunset Boulevard, The Exclusive, The Role Model, A Modest Proposal, The Exit Interview, The Hitler Gospel, and Father Knows Best.