MyPillow Conspiracy Guy Pulls Ads From Fox News
@existentialfish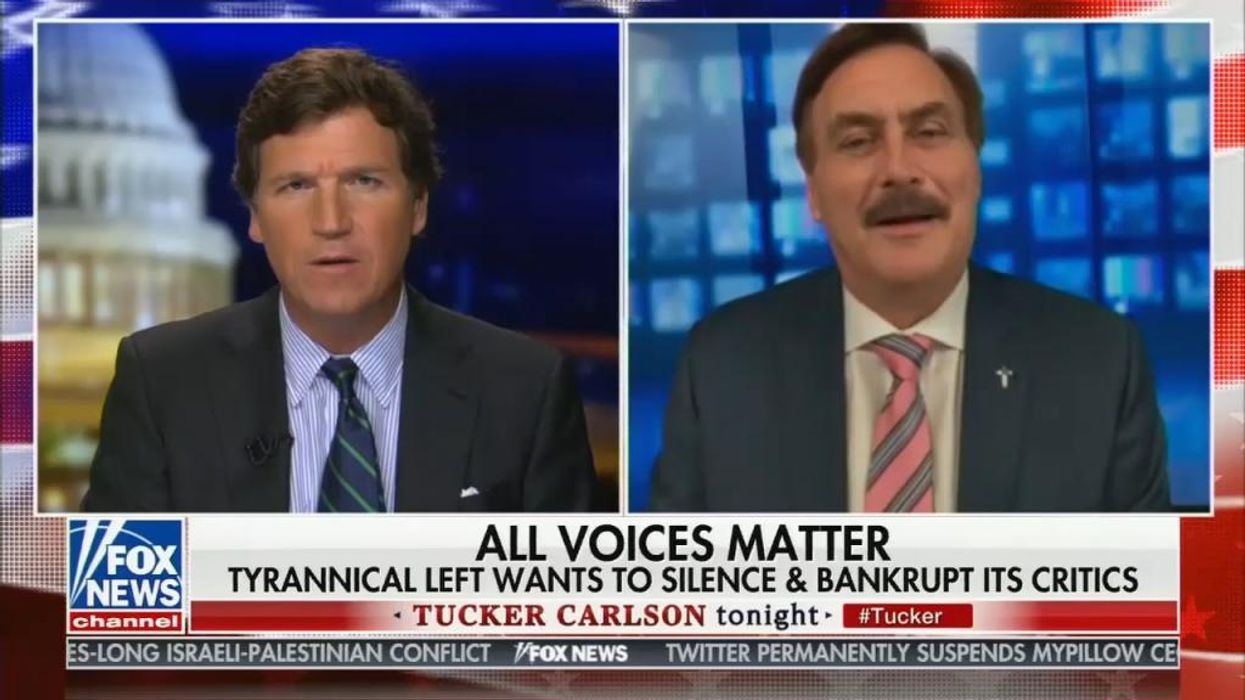 Screenshot from Fox News
Reprinted with permission from Media Matters
MyPillow CEO and conspiracy theorist Mike Lindell is reportedly pulling his company's ads from Fox News after the network allegedly rejected an advertisement for his cyber symposium scheduled for mid-August. As The Wall Street Journal reported, Lindell "has said the symposium will prove the 2020 election was stolen from then-President Donald Trump through manipulation of election machines."
MyPillow is Fox News' single largest advertiser, after other companies have dropped ads over the years due to the network's bigotry and conspiracy theories.
Media Matters President Angelo Carusone laid out the details, including that MyPillow accounted for 18 percent of all ads on Fox News' Tucker Carlson Tonight in the first half of 2021. In 2020, there were periods when MyPillow accounted for 41 percent of that show's ad inventory.
As Carusone noted, the situation on Fox News prime time is so dire that Fox Corporation, the channel's parent company, is one of the largest paid advertisers. And now that situation goes from bad to worse, with MyPillow apparently dropping out.
(Also, for the record: MyPillow is not the only Fox News prime-time advertiser steeped in controversy. The Federal Trade Commission has charged that Balance of Nature, another top advertiser on Fox, made bogus claims that its products could ward off the coronavirus. As Media Matters has reported, such ads featured prominent right-wing media personalities, including current California gubernatorial candidate Larry Elder.)
Fox Welcomed Lindell's Deranged Conspiracy Theories — Until Now
As Media Matters and others have documented since his rise to prominence in right-wing circles during the Trump years, Lindell is a major backer of extremist conspiracy theories, ranging from calling COVID-19 vaccines the "mark of the beast" to claiming that Trump won the 2020 presidential election in a landslide (including in California).
Lindell is now trying to "prove" that the election was stolen from Trump by hosting what he calls a "cyber symposium" in Sioux Falls, South Dakota, in mid-August. He's been lashing out at Fox News recently for not promoting the event, telling Salon's Zachary Petrizzo a week ago that he was going to force the issue by placing ads on the network.
One such ad that Petrizzo highlights:
Lindell Ad, Fox News - SALON.COMwww.youtube.com
Ironically, Lindell has been welcome on Fox News until recently. Even after Tucker Carlson derided Sidney Powell's "Kraken" conspiracy theories about the election (and even after the January 6 attack), the Fox host still welcomed Lindell on his show to push the very same conspiracy theories.
As my colleague Matt Gertz wrote in February:
Since Lindell lost access to Twitter, Fox, Newsmax, and OAN have all eagerly provided him with access to their audiences. Fox star Tucker Carlson hosted him on the evening of his banning, giving the MyPillow CEO a sympathetic platform to push his Dominion conspiracy theories. In fact, Carlson, whose show's commercial blocks are a barren wasteland overwhelmingly reliant on the pillow company's advertisements, has repeatedly given Lindell pathetically sycophantic treatment.
Right-wing media have certainly welcomed the pillowman's money, and many of them are apparently still going to do the same when it comes to this ad. Just look anywhere and you'll see the sycophantic treatment, from Steve Bannon to Infowars to One America News Network to Newsmax to many others. But it's Fox News that has given Lindell his biggest perch -- and now it is reaping what it has sowed.
Fox news can't get enough of pillow czar Mike Lindellwww.youtube.com