Raging Battles Over Trump And Debt Ceiling Split GOP Senate Leadership
@kerryeleveld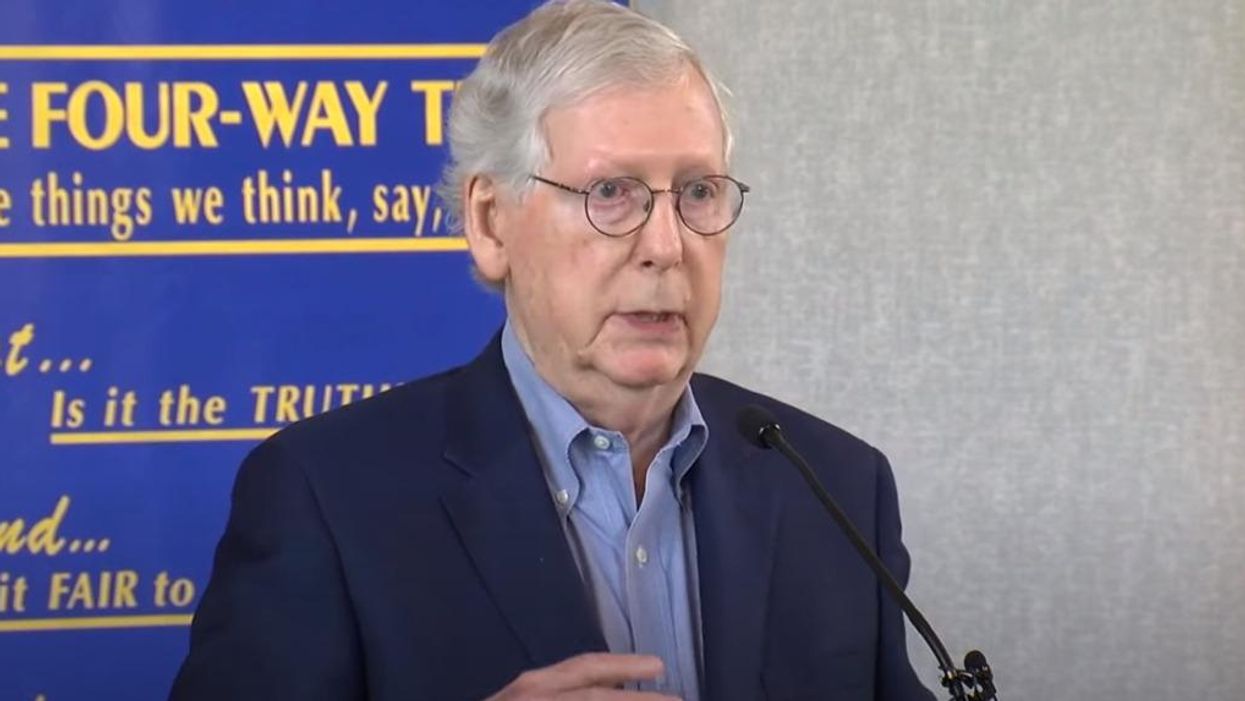 Youtube Screenshot
Percolating behind the scenes of the spectacular House Republican train wreck is a Senate Republican battle royal over leadership of the conference that promises to drag out over the next couple of years.
Sen. Rick Scott of Florida, who already lost one bid last November to unseat Minority Leader Mitch McConnell, plans to continue nipping at the longtime leader's heels despite only garnering 10 votes to McConnell's 37 last fall.
Echoing Donald Trump's perennial criticism of McConnell, Scott told The Hill he's "tired of caving" on raising the debt limit and plans to lobby against McConnell making a deal with Democrats to avert a GOP-manufactured economic meltdown.
"I'm not going to back down," Scott told The Hill.
Scott's declaration comes in the wake of news that McConnell ousted him and Sen. Mike Lee of Utah from their powerful positions on the Senate Commerce Committee, where they have sought to block agreement on fundamental congressional business—such as keeping the government's lights on. Specifically, Scott took aim at the $1.7 trillion year-end spending package that funds the federal government through September and ultimately passed with 18 votes from Senate Republicans.
Lee tried to torpedo the $1.7 trillion bill by offering an anti-migrant poison pill amendment aimed at reinstating Title 42. Trump also jumped into the fray, releasing a video urging "every single Republican" to vote against the spending package.
McConnell eventually hailed the passage of the bill as a win for Republicans because it increased defense spending above the rate of inflation while nondefense, non-veteran spending increased below that rate of inflation.
Scott and Lee are both part of a pro-Trump Senate GOP group that is promising to dog McConnell throughout the coming cycle. Ejecting them from the Commerce Committee sends a clear signal to other Senate MAGA enthusiasts—Sens. Ron Johnson of Wisconsin, Ted Cruz of Texas, Mike Braun of Indiana, Rand Paul of Kentucky, and Lindsey Graham of South Carolina—that kicking up too much dust will come with consequences.
On the other hand, Scott and Lee have very little to lose now by becoming perpetual thorns in McConnell's side—which, frankly, they would have been anyway.
In April 2021, Scott pushed a policy through the Senate Republican Conference stating their opposition to any debt-ceiling increases unless they were accompanied by "cuts in federal spending of an equal or greater amount" or otherwise "meaningful structural reform."
Last month, Scott and Lee spearheaded a letter to President Biden signed by a total of 24 Senate Republicans who pledged to stick by that Senate GOP policy.
Scott, at the urging of Trump, spent much of the 2022 cycle attempting to poke holes in McConnell's armor. While boosting his fundraising network as chief of the National Republican Senatorial Committee, Scott also released an 11-point plan promising to raise taxes on tens of millions while sunsetting Social Security and Medicare. It was a polling disaster, and McConnell devoted a lot of energy to shooting the plan down so it wouldn't kneecap Senate Republicans' effort to retake the upper chamber.
Now it's clear that the McConnell-Scott skirmish is anything but settled in what will continue to be the biggest challenge to McConnell's leadership position since he assumed the post in 2007.
Reprinted with permission from Daily Kos.