Attempt To Censure Adam Schiff Fails In House With 196 GOP Votes
@jeisrael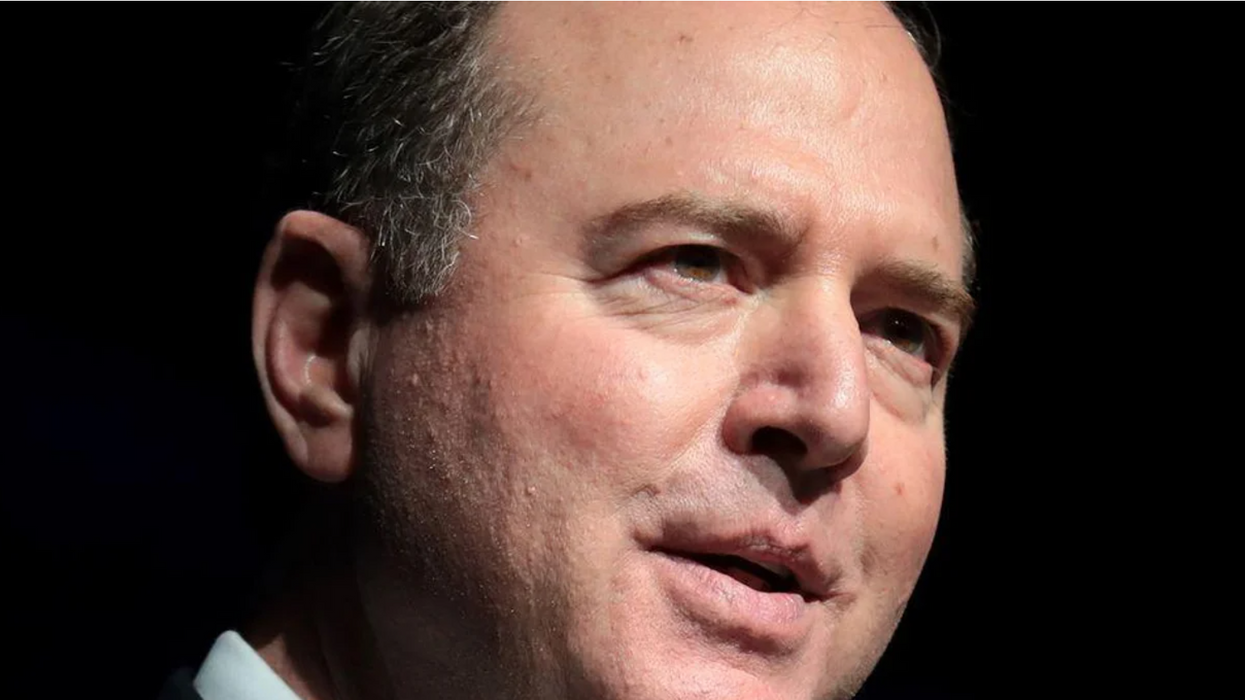 One hundred and ninety six House Republicans voted on Wednesday to advance a resolution censuring Rep. Adam Schiff for his criticisms of former President Donald Trump's ties to Russia. The resolution, which was tabled on a 225-196 vote, falsely claimed that Schiff lied about Russia's meddling in the 2016 election in support of Trump and recommended that the California Democrat be fined $16 million. Seven members voted present.
Rep. Anna Paulina Luna (R-FL) introduced the resolution "censuring and condemning Adam Schiff" with 10 Republican co-sponsors on Friday. On Tuesday, she brought it to the House floor for consideration.
"Schiff just hit the fan," she tweeted.
The resolution reads in part:
Whereas Representative Adam Schiff, who served as ranking minority member and then Chairman of the Permanent Select Committee on Intelligence of the House of Representatives (HPSCI), occupied positions of extreme trust, affording him access to sensitive intelligence unavailable to most Members of Congress;
Whereas for years Representative Schiff abused this trust by citing evidence of collusion that—as is clear from reports by Special Counsel Robert Mueller, Department of Justice Inspector General Michael Horowitz, and Special Counsel Durham—does not exist;

Whereas, by repeatedly telling these falsehoods, Representative Schiff purposely deceived his Committee, Congress, and the American people.
It also would order an ethics investigation into Schiff, stating, "Whereas if it is determined by an investigation conducted by the Committee on Ethics that Representative Schiff lied, made misrepresentations, and abused sensitive information, he should be fined in the amount of $16,000,000."
Mueller's March 2019 report did not actually exonerate Trump or his campaign of working with Russian President Vladimir Putin's regime to win the 2016 U.S. presidential election.
In fact, it documented several suspicious interactions and connections, finding that "while the investigation identified numerous links between individuals with ties to the Russian government and individuals associated with the Trump Campaign, the evidence was not sufficient to support criminal charges" and that "several individuals affiliated with the Trump Campaign lied to the Office, and to Congress, about their interactions with Russian-affiliated individuals and related matters."
Schiff, who was chair of the House Permanent Select Committee On Intelligence at the time the report was issued, documented numerous examples of improper contacts between Russia and Trump's campaign in a speech at a committee hearing that month:
My colleagues might think it's okay that the Russians offered dirt on the Democratic candidate for president as part of what's described as the Russian government's effort to help the Trump campaign. You might think that's okay. My colleagues might think it's okay that when that was offered to the son of the president, who had a pivotal role in the campaign, that the president's son did not call the FBI, he did not adamantly refuse that foreign help. No, instead that son said he would love the help of the Russians. You might think it was okay that he took that meeting.
The resolution garnered the backing of House Republican leadership. "I support @RepLuna's resolution to censure Adam Schiff, and I'm working with her on the best timing to bring it to the House Floor to help it pass," House Majority Leader Steve Scalise tweeted Tuesday.
But Kentucky Republican Rep. Thomas Massie objected to the language urging a massive fine, calling it unconstitutional. "The Constitution says the House may make its own rules but we can't violate other (later) provisions of the Constitution," he tweeted on Wednesday. "A $16 million fine is a violation of the 27th and 8th amendments."
Schiff made note of the timing of the resolution, tweeting Tuesday: "On the day of Trump's arraignment, MAGA Republicans introduced a resolution to censure and fine me to the tune of $16 million. Their problem with me — I hold them accountable and I'm effective. They don't go after people they're not afraid of."
Since becoming a member of Congress in January, Luna has filed four pieces of legislation; three of them have been resolutions against Schiff, including one to expel him from the House of Representatives.
On Friday, after Trump was indicted on 37 federal felony counts, she told Fox Business, "It's very likely that this president is going to be impeached — and by that I mean Joe Biden."
Reprinted with permission from American Independent.