WATCH Rep. Raskin's Powerful — And Tearful — Summation At Impeachment Trial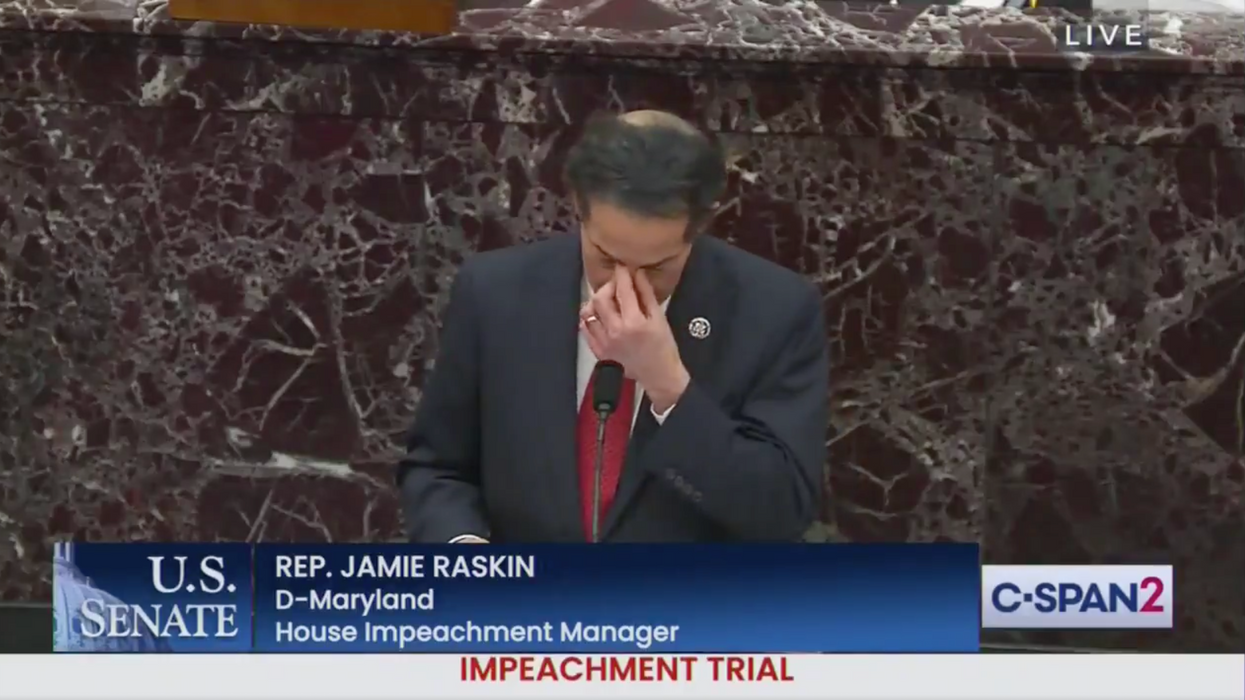 Screenshot from C-SPAN 2
Reprinted with permission from Alternet
Rep. Jamie Raskin's voice broke, and he wiped tears from his eyes, as he delivered an emotional speech on Tuesday during the first day of former President Donald Trump's Senate impeachment trial.
As the lead impeachment manager, Raskin opened the proceedings Tuesday afternoon with a discussion about why the proceedings are constitutional. The Maryland Democrat showed a powerful clip of the violence Trump is charged with inciting on Jan. 6, interspersed with footage of the then-president's speech that. And he spoke about what the American founders intended in the Constitution and why the impeachment power is important for accountability in a democracy.
But perhaps the most personally powerful moment came when Raskin discussed his own experience on Jan. 6 when the Trump-inspired mob stormed the Capitol. Raskin, who had lost his son to suicide just a week before, was at the Capitol with his family, including his daughter, Tabitha. He said the sound of the mob pounding on the door "like a battering ram" was the "most haunting sound I ever heard, and I will never forget it."
Once he reunited with his family, who had feared they would die in the attack, he said he told his 24-year-old daughter: "It would not be like this again the next time she came back to the Capitol with me."
He continued: "And you know what she said? She said: 'Dad, I don't want to come back to the Capitol.'"
At this point, Raskin's voice cracked with emotion. He looked down and brought his hand to his eyes, clearly overwhelmed and wiping away tears.
"That one hit me the hardest," he said. "That, and watching someone use an American flag pole with the flag still on it to spear and pummel one of our police officers, ruthlessly, mercilessly. Tortured by a pole with a flag on it that he was defending with his very life. People died that day."
Watch the clip below:
Raskin breaks down recounting how his daughter told her she doesn't want to come to the Capitol again after she was… https://t.co/vDFrBXkfME

— Aaron Rupar (@Aaron Rupar) 1612899804.0