Did Ted Cruz Really Fly To Cancun As Texas Froze? Yes.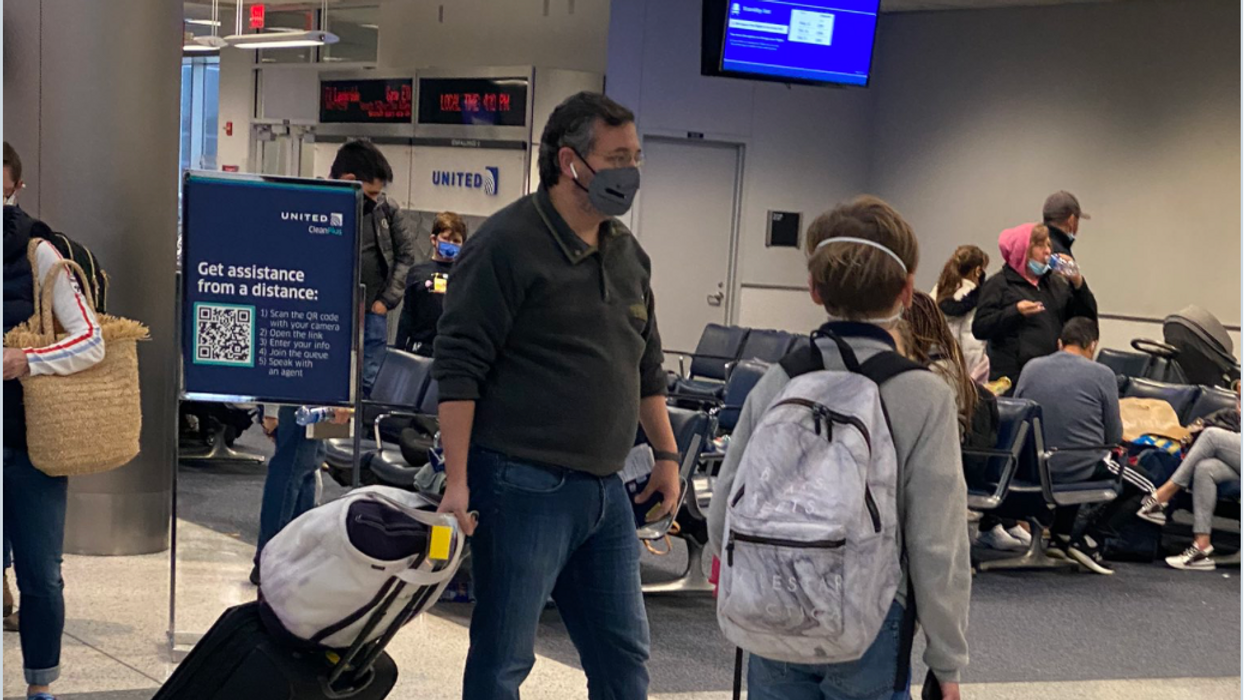 Screenshot from Alternet
Reprinted with permission from Alternet
Texas state Republican lawmakers have been under intense scrutiny all week for their handling of the bitter and deadly winter storm still battering the Lone Star state. Sen. Ted Cruz is facing backlash after photos showed him on a flight from Houston in the middle of a growing humanitarian crisis. [UPDATE: Following hours of silence, Cruz confirmed that he had gone to Cancun with his family, supposedly intending only to stay overnight.]
The scandal erupted after photos surfaced on Twitter of a couple bearing a striking resemblance to Cruz and his wife, Heidi. The two were at George Bush Intercontinental Airport preparing to board a flight to Cancun, Mexico.
According to KSAT, Keith Edwards, who worked for Sen. Jon Ossoff's campaign in Georgia, had "multiple people" confirming the man in the photos was Cruz.
Residents all over Texas are still suffering the unprecedented storm that swept the state this week. Millions of Texans also remain without power and food as the Electric Reliability Council of Texas (ERCOT), the state's privatized and deregulated power grid, struggles to get power back on.
In a nutshell, the state of Texas is facing a historic moment of chaos caused by the latest natural disaster to hit the state. So Twitter users are all asking the same question: "Did Ted Cruz really fly to Cancun during Texas' state of emergency?" Internet sleuths on Twitter even compared the mask worn by the man in the picture to Cruz's mask worn in the Senate chambers.

As a result of the photos, Cruz is facing a litany of critical tweets.
Texans: "Let's burn the babies blocks to stay warm." Ted Cruz: "See ya, losers! It's margarita time!" https://t.co/SNgjkzB0nC

— The Lincoln Project (@The Lincoln Project) 1613651146
Some even pointed to the stark difference in Cruz's approach to the state's natural disaster in comparison to former rival Beto O'Rourke's proactive response to the crisis.
O'Rourke himself weighed in Cruz's travel, slamming the GOP senator on MSNBC Thursday morning.