Far-Right Republicans Back Boebert Bill To Repeal Gun Safety Laws
@jeisrael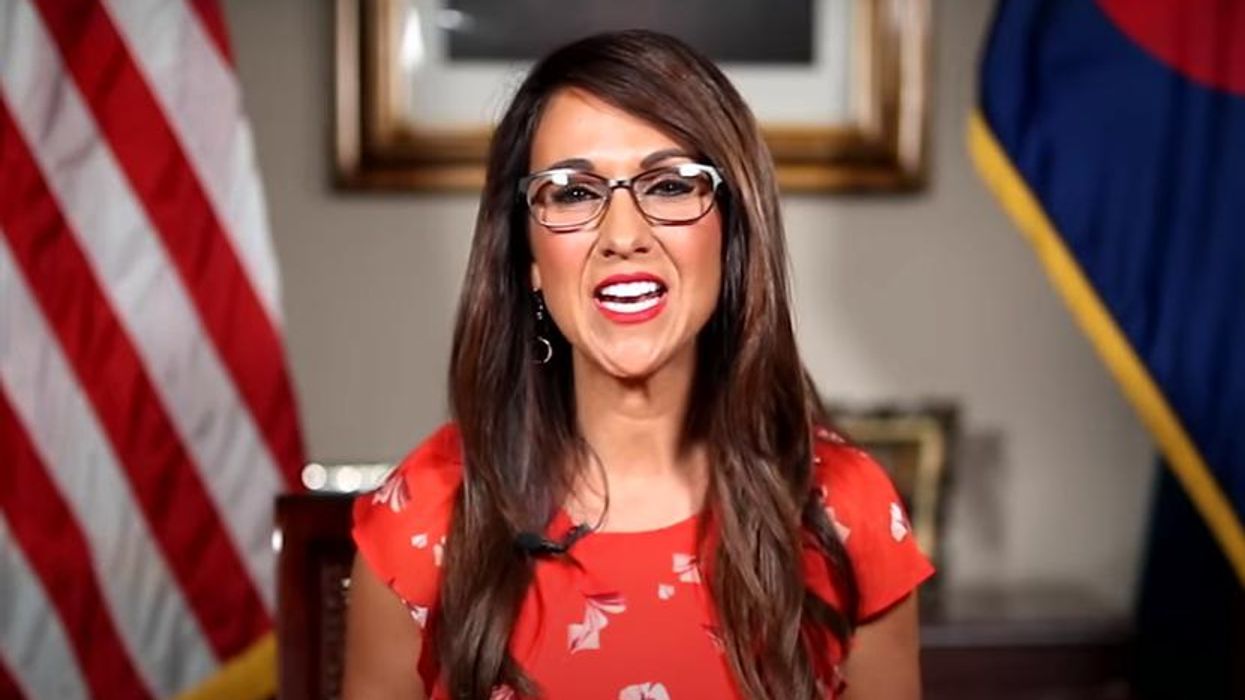 For years, gun rights activists have opposed new safety restrictions on firearms, arguing that the government needs to enforce the laws already on the books. A group of 20 House Republicans, led by Colorado Rep. Lauren Boebert, now wants to repeal several of the existing laws, including most of a bipartisan law passed in the wake of the 2022 mass shooting at a school in Texas.
On May 11, Boebert introduced the Shall Not Be Infringed Act, which would repeal every gun safety measure enacted between 2021 and 2022. In a press release announcing the introduction of the bill, Boebert notes that the bill has the support of the far-right organizations Gun Owners of America and the National Association for Gun Rights. The Southern Poverty Law Center has called the Gun Owners of America "a more radical alternative to the National Rifle Association."
In the press release, Boebert says:
I unapologetically support the Second Amendment. No amount of gun control will ever eliminate evil in our society, and unsurprisingly, the data has shown time and again that gun control does not decrease gun violence. Just look at Chicago or New York, where gun control has created criminal safe havens since evildoers know their victims will be unarmed. It is ironic that the same people who are calling to defund the police also want to leave everyday Americans defenseless. I will always stand against this nonsense and stand for law-abiding Americans and the Constitution.
The bill would eliminate the bulk of the 2022 gun safety compromise law as well as provisions in an appropriations package, a Defense Department authorization law, and the Violence Against Women Reauthorization Act.
In the aftermath of a May 2022 mass school shooting in Uvalde, Texas, in which 19 elementary school kids and two teachers were killed by an 18-year-old gunman, a bipartisan group of senators agreed on a small package of gun safety measures.
The lawmakers agreed to measures that would disarm people convicted of domestic abuse, fund implementation of red flag laws that would temporarily disarm those adjudicated to be a danger to themselves or others in states that voluntarily adopt them, and expand background checks for gun purchasers under age 21. The Bipartisan Safer Communities Act passed by votes of 234-193 in the House and 65-33 in the Senate, and was signed into law by President Joe Biden in June 2022.
While key Republican senators, including Minority Leader Mitch McConnell, supported the package, Boebert was among 193 House Republicans who opposed it. Of the 14 GOP representatives who voted for the bill, just five are still serving.
According to her press release, Boebert's bill would eliminate enhanced background checks, lift the ban on gun ownership by domestic abusers who are not convicted of felonies, slash all funding for red flag law implementation, cut funding for the Bureau of Alcohol, Tobacco, Firearms and Explosives, eliminate safe storage requirements, and curb local law enforcement's ability to enforce federal gun laws. It would also eliminate a law requiring criminal investigations for those who fail background checks.
Boebert's co-sponsors so far are all Republicans, including Reps. Andy Biggs (AZ), Dan Bishop (NC), Josh Brecheen (OK), Eric Burlison (MO), Eli Crane (AZ), Warren Davidson (OH), Jeff Duncan (SC), Byron Donalds (FL), Paul Gosar (AZ), Diana Harshbarger (TN), Doug LaMalfa (CA), Mary Miller (IL), Alex Mooney (WV), Troy Nehls (TX), Ralph Norman (SC), Andrew Ogles (TN), Scott Perry (PA), Matt Rosendale (MT), and Randy Weber (TX).
Boebert filed a similar bill in July 2022, focused only on repealing the Bipartisan Safer Communities Act, and picked up 35 co-sponsors before the end of the session.
Four months later, a gunman shot and killed five people and injured 17 more at Club Q, a gay nightclub in her home state of Colorado.
While it may pass in the House, the bill is unlikely to advance in the Democratic-controlled Senate.
Republicans have already filed more than a dozen bills aimed at repealing gun safety laws and making it cheaper and easier to buy firearms.
According to the Gun Violence Archive, there have been 227 mass shootings in the United States in the first five and a half months of 2023, including a May 6 mass shooting at an Allen, Texas, shopping mall, where a white supremacist with an AR-15 style semi-automatic rifle killed eight people and injured seven.
Boebert and four other GOP lawmakers signed on to a bill earlier this year that would designate the AR-15 "the National Gun of the United States."
Reprinted with permission from American Independent.