Goodbye, CGI: A Moral Victory For Bill Clinton — And Many Others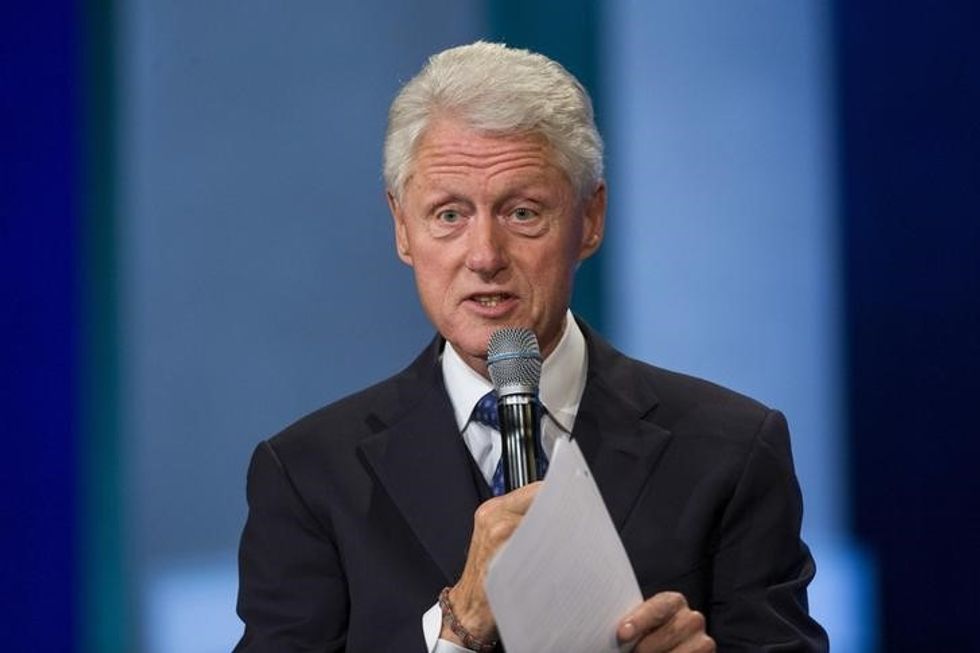 Late on the afternoon of September 21 — almost exactly eleven years after Bill Clinton inaugurated the annual Clinton Global Initiative conferences in New York City — the former president offered closing remarks there for the very last time. Having watched this innovative organization grow from a casual idea into a formidable entity credited for delivering quality health care, clean water, modern education, disaster relief, and other essential benefits to millions of people around the world, he told its members and supporters gathered in a midtown hotel ballroom that "CGI has worked out better than I ever dreamed."
It was understandable and probably wise for Clinton to declare victory this year, after profoundly changing the mindset and practice of modern philanthropy. But even as John Lennon's "Imagine" filled the room, it was impossible to ignore another aspect of CGI's conclusion — the angry, exaggerated, and almost entirely inaccurate attacks on CGI from political adversaries of Bill and Hillary Clinton, bristling with accusations of "corruption" and favoritism."
Such shrill assaults were never heard until Hillary Clinton became the favored candidate to succeed Barack Obama in the White House. Over the years since CGI began, in fact, its membership and operations were resolutely non-partisan, with the participation of many Republicans and independents who shared the desire to do some good in the world. Republican businessmen like John Chambers of Cisco Systems joined CGI, provided financial support, and undertook the "commitments to action" that were at the heart of its mission. Republican politicians like John McCain, Mitt Romney, and even Carly Fiorina came to the annual conference and offered high praise for its work.
But that was then — and now, with Hillary Clinton as the historic nominee of the Democratic Party, what Republicans once lauded as a font of good works is denounced as a sewer of venality. While scarcely a word of the criticism is true, that doesn't matter as much as the opportunity to smear the Clintons for political advantage. The most illuminating example was a widely-publicized press release that falsely depicted a 2005 CGI "commitment" by Bahrain's crown prince as a bribe to sway the Secretary of State in 2010. Like so many other slanders surrounding the Clintons' philanthropy, that "exposé" from the right-wing claque called Judicial Watch was a clumsy fraud, yet damaged reputations anyway.
Both Bill and Hillary Clinton are accustomed to such attacks after a quarter-century under the national spotlight. He has occasionally observed that "politics ain't beanbag." But the vicious attacks on the Clinton Foundation and the Clinton Global Initiative don't only injure those two battle-hardened politicians. The collateral damage includes many decent, hardworking people who have toiled for years on foundation and CGI projects, including thousands of volunteers, whose pride in helping humanity has been turned to ashes by this sustained propaganda campaign.
Pouring abuse on people who do hard work to save lives is vile — and as James Carville said recently, "Somebody is going to hell for this."
If there is a just God, Carville is surely right. While the liars and slanderers contemplate eternal damnation, the rest of the American people — and indeed, people around the world — ought to learn something about what the Clinton Foundation and in particular the Clinton Global Initiative have actually achieved during the past decade or so.
Much of the story is told, from the beginning, in my new book Man of the World: The Further Endeavors of Bill Clinton
, in which I try to apportion credit to at least a few of the many people who have worked with him over the years. Two years ago, on CGI's tenth anniversary, the data-processing giant Palantir released a study of its commitments that reached some startling conclusions — and that report is very much worth reading on the foundation website. That website provides detailed information on many of the individual commitments undertaken by the nonprofits, corporations, trade unions, and universities that have joined with CGI — such as Procter & Gamble's massive project that has delivered billions of gallons of potable water to families in the developing world.
Not everything tried by CGI members has succeeded, as Clinton and his staff are quick to acknowledge. But as he said at the end, at least they got caught trying to improve the world. They deserve to be thanked and congratulated rather than shamed.
That is much more than anyone can say for their mean-spirited and mendacious critics.
For those with shorter attention spans, this brief video that preceded Clinton's final CGI address is uplifting and instructive, if frankly promotional  — and showcases a few of the individuals who nobly assisted in that organization's work.
IMAGE: Former U.S. President Bill Clinton speaks during the Clinton Global Initiative's annual meeting in New York, September 29, 2015.  REUTERS/Lucas Jackson