In Brutal Mattis Resignation Letter, No Praise For Trump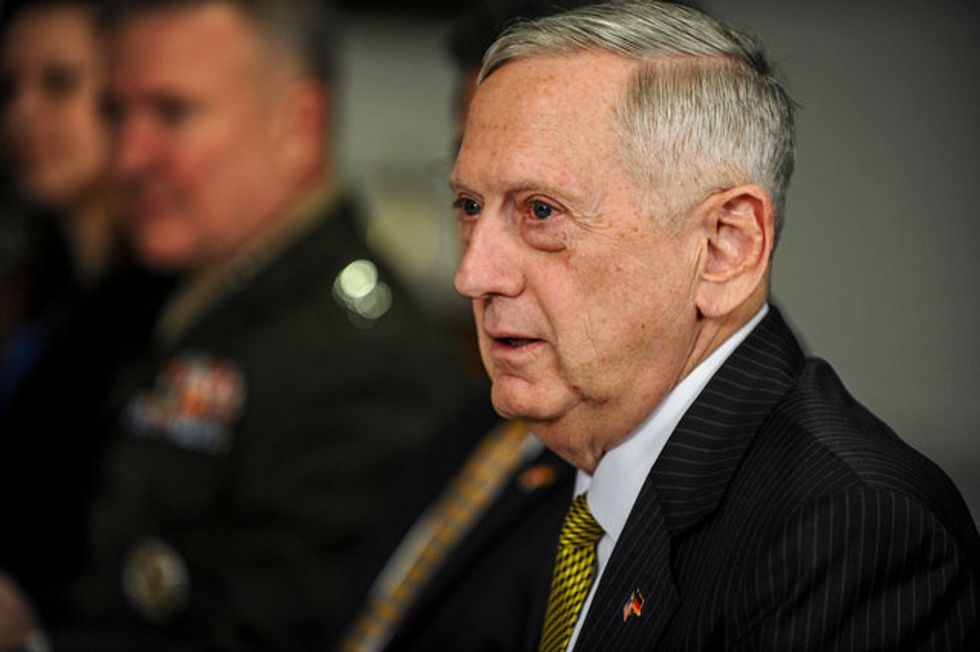 Reprinted with permission from AlterNet.
President Donald Trump stunned observers Thursday evening when, in the midst of a tense government shutdown fight and the day after he announced an unexpected U.S. withdrawal from Syria, he said on Twitter that Defense Secretary Jim Mattis will be retiring at the end of February. In reality, it was clear Mattis quit.
"General Jim Mattis will be retiring, with distinction, at the end of February, after having served my Administration as Secretary of Defense for the past two years," Trump wrote. "During Jim's tenure, tremendous progress has been made, especially with respect to the purchase of new fighting……equipment. General Mattis was a great help to me in getting allies and other countries to pay their share of military obligations. A new Secretary of Defense will be named shortly. I greatly thank Jim for his service!"
Many observers and critics of the president had long believed that Mattis was one of the key figures in the administration protecting the country from Trump's worst ideas and plans.
And despite Trump's claim that Mattis was retiring, the general's resignation letter made it clear he was leaving because of fundamental disagreements with the preident, not because he is aging out of the position.
"Because you have the right to a Secretary of Defense whose views are better aligned with yours on these and other subjects, I believe it is right for me to step down from my position," Mattis wrote.
This line was particularly devasting because of what preceded it. In describing his own views that differ from Trump's, Mattis emphasized how important the country's relationships with allies are in preserving national security. Even more pointedly, he said that it is important to be "resolute and unambiguous" in standing up to authoritarian countries with interests that conflict with our own — naming China and Russia in particular. It made clear that Mattis believes Trump hasn't been resolute or unambiguous with these countries and hasn't stood against them up for American national security interests.
The decision to withdraw from Syria was believed to be against the desire of Trump's military advisers, including Mattis. And earlier on Thursday, it was reported that Trump was looking to withdraw more than 10,000 troops from Afghanistan, which is also believed to be contrary to Mattis' views.
So it was clear that Mattis had come to view himself as lacking influence in the White House, and that he would be better off quitting than sticking around.
And as CNN reporter Kaitlan Collins observed, there wasn't "a single word of praise for Trump" in the letter Mattis sent.
Defense Secretary James Mattis has resigned. Here's the letter: pic.twitter.com/e2PulyXpXZ
— Elizabeth McLaughlin (@Elizabeth_McLau) December 20, 2018
Cody Fenwick is a reporter and editor. Follow him on Twitter @codytfenwick.