Let's Not Confuse Civility With Surrender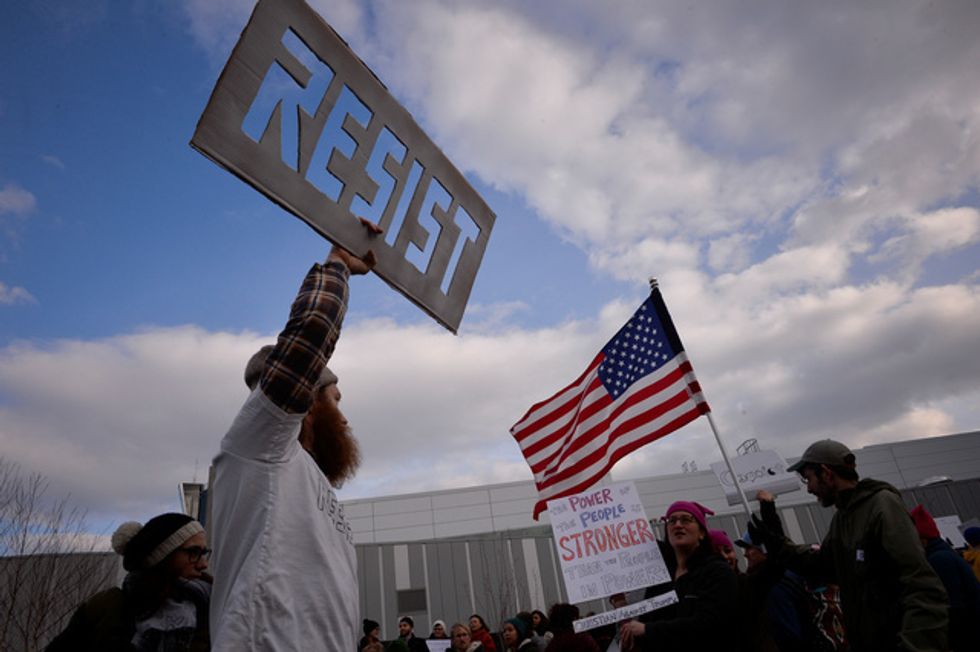 Reprinted with permission from Creators.
Before I sat down to write this column about what it means to be civil in today's political climate, I took my dog for a walk through our neighborhood.
We live in the largest development built in the city of Cleveland since World War II. It's diverse, racially and economically, and home to many LGBTQ families, too. On most days, you can't walk half a block without talking to a neighbor. This morning, that neighbor was Kenn Johnson, who shared a recent story about what it's like to be a 56-year-old black man shopping in a drugstore in today's America.
Johnson has his master's in psychology and has spent much of his career supervising those who work with people with disabilities. More recently, he has started his own consulting business, and he's also a political organizer.
He uses a skin product that is available, in our neighborhood, at only two drugstores of the same chain. At one of those stores, he was scanning the shelves in the cosmetics aisle, when a voice on the loudspeaker announced, "Customer needs assistance in the cosmetics aisle."
He looked around. "Nobody but me in the aisle," he said. "I didn't ask for help."
The store didn't have what he was looking for, so he drove to the other one. Again, he was the only person in the aisle. Again, after a few minutes, he heard over the loudspeaker, "Customer needs assistance in the cosmetics aisle."
"It was code," he said. "I was a black man shopping."
And for that, a security guard was alerted.
Kenn told the story in the calmest of voices, but what he said next made me rethink my opinion of what happened to White House press secretary Sarah Sanders at a restaurant called The Red Hen.
"You can tell me you understand how I feel," Kenn said, "but until you're there with me and you are treated like me, you really aren't walking in my shoes."
So much has already been said about what happened to Sanders after she and her party of eight walked into that little restaurant in Lexington, Virginia. As always, the facts matter.
Several Red Hen employees are gay, which is one of many groups of people targeted by the Trump administration. They were uncomfortable to see the president's chief propagandist in their midst, so they called the owner, Stephanie Wilkinson, who drove in from home.
"Tell me what you want me to do," she said to her staff.
They wanted Sanders to leave. Wilkinson did not attempt to publicly embarrass Sanders. She asked her to step out on the patio, where she explained why she wanted her to leave.
"I'm not a huge fan of confrontation," Wilkinson told The Washington Post. "I have a business, and I want the business to thrive. This feels like the moment in our democracy when people have to make uncomfortable actions and decisions to uphold their morals."
The reason Wilkinson was interviewed by the Post — and why millions of Americans know about what happened at her restaurant — is that Sanders used her government Twitter account, which has more than 3 million followers, to try to ruin The Red Hen, which seats 26 people.
Sarah Sanders is a bully. Any discussion about her that raises the issue of civility is nothing but an intellectual exercise by people who aren't worried enough about the harm her boss, the bully in chief, is inflicting on this country. Trump attacked The Red Hen on Twitter, too. Of course he did.
Civility requires mutual respect. The Red Hen employees apparently understood this. If someone spends her days making clear her disregard for you and her willingness to harm you by parroting her boss's bigotry, no one should expect you to act as if it doesn't matter when she's not talking into a microphone.
Anyone who argues otherwise is most likely not feeling the tremor of finding himself or herself in the crosshairs of this administration. Lucky you.
If you, like me, are white and straight and were born an American citizen, it may be hard to understand why someone who isn't white or straight or wasn't born a U.S. citizen might not feel like being friendly to one of the architects of his or her demise.
That's our problem, this lack of empathy, and it sure is a small one compared with the terror seizing entire groups of people who aren't like us. Except they are. They're just like us, in so many ways.
Most caring people understand this, but insisting that good manners are the only route to the high road is to confuse civility with surrender.
Compassion is doing whatever is necessary to heighten awareness. It's not always comfortable, and sometimes it can feel downright rude.
Connie Schultz is a Pulitzer Prize-winning columnist and professional in residence at Kent State University's school of journalism. She is the author of two books, including "…and His Lovely Wife," which chronicled the successful race of her husband, Sherrod Brown, for the U.S. Senate. To find out more about Connie Schultz (con.schultz@yahoo.com) and read her past columns, please visit the Creators Syndicate webpage at www.creators.com.