Rubio: 'I'm Done' With Immigration Reform If Bill Includes LGBT Protections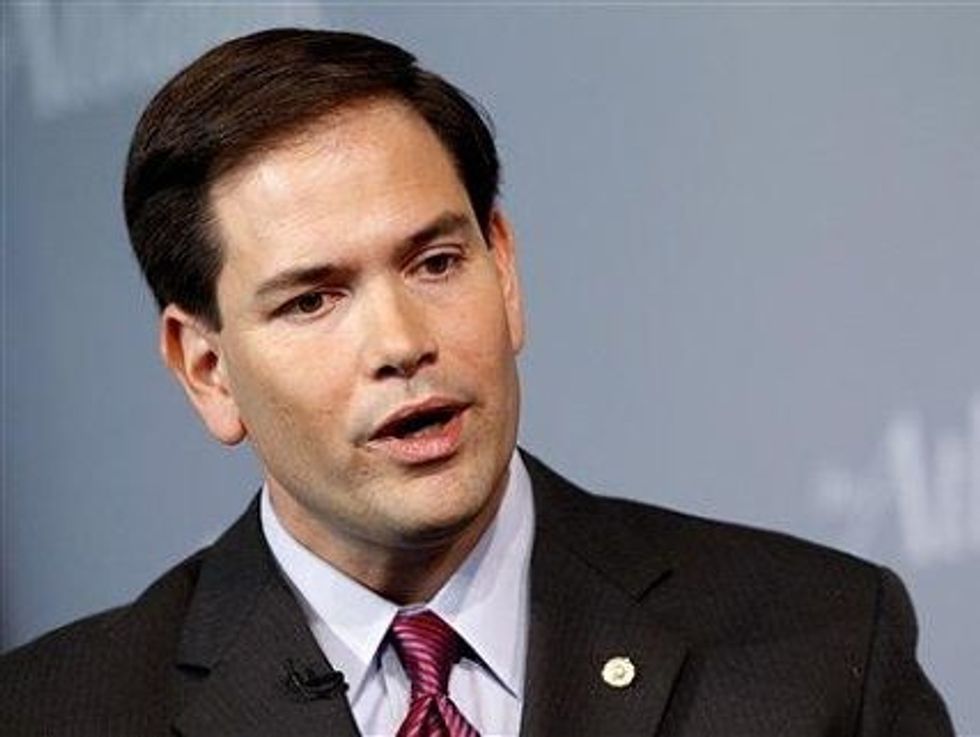 Senator Marco Rubio (R-FL) said that he would abandon the Senate "Gang of Eight" immigration bill if it includes protections for LGBT couples, marking the senator's latest threat to torpedo the legislation he co-authored.
Rubio made the threat during a Thursday appearance on The Andrea Tantaros Show. While discussing Senator Patrick Leahy's (D-VT) proposed amendment to the immigration bill — which would grant same-sex couples the same protections as heterosexual couples by making the law recognize "any marriage entered into full compliance with the laws of the State or foreign country within which such marriage was performed" — Rubio insisted that he could not abide by such a rule.
"If this bill has something in it that gives gay couples immigration rights and so forth, it kills the bill. I'm done," Rubio said, according to Yahoo! News."I'm off it, and I've said that repeatedly. I don't think that's going to happen and it shouldn't happen. This is already a difficult enough issue as it is."
Leahy introduced the amendment on Tuesday, after previously withdrawing it under pressure from Republicans while the Senate Judiciary Committee was reviewing the bill.
"Seeking equal protection under our laws for the LGBT community is the right thing to do," Leahy said. "I withheld my anti-discrimination amendment during the Senate Judiciary Committee markup. As the entire Senate turns to debate the immigration bill, the fight for equality must go on."
Despite Rubio's past rhetoric painting immigration reform as an urgent humanitarian issue, it's hardly surprising to learn that he's happy to scrap the whole thing unless it discriminates against LGBT couples. After all, if Rubio does indeed pursue the presidency in 2016, he will need to significantly shore up his right flank to survive a Republican primary.
Plus, this is not even the first time that Rubio has threatened to kill his own bill. In February, Rubio suggested that the White House's leaked immigration proposal — which was nearly identical to Rubio's own plan — could kill the reform process. In March, Rubio demanded that the Senate slow down the legislative process. Rubio eventually backed off both threats. Additionally, during Thursday's interview with Tantaros, Rubio warned that the bill has "no chance" of passing without stricter border enforcement regulations.
"If the border situation is not improved in this bill, this bill won't pass," he said. "It won't pass the Senate and it has no chance in the House. It won't become a law and we're wasting our time."
Even if Rubio walks away from the Senate bill, it's unclear whether or not he could prevent it from winning 60 votes and passing the Senate. Without the political cover of Rubio's support, however, the bill's odds of passing through the Republican-dominated House of Representatives would become incredibly remote.
AP Photo/Haraz N. Ghanbari, File