WATCH: Rand Paul Throws Mitch McConnell Under The Bus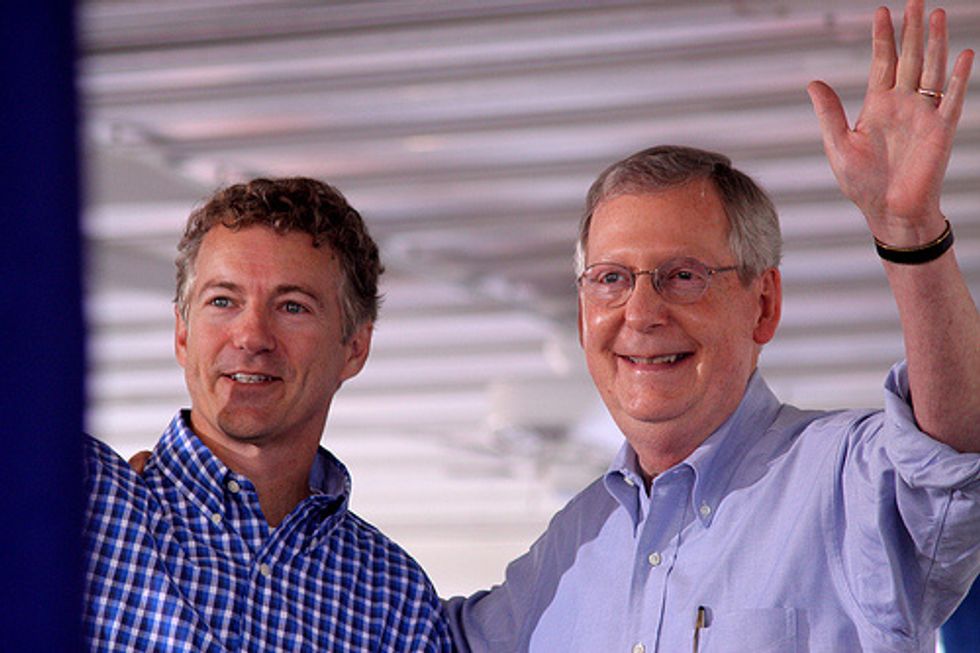 Senator Rand Paul (R-KY) wants you to vote for Senate Minority Leader Mitch McConnell (R-KY) in the upcoming midterm elections. He just can't think of a single good reason why.
Paul all but walked back his endorsement of McConnell during an interview with right-wing radio host Glenn Beck, which was posted to YouTube on Saturday.
"Can we start with the hardest question that I have for you, and it is this," Beck began. "Why are you endorsing Mitch McConnell?"
Paul paused for several seconds, before trying to change the subject. "Um…I'm here in Texas today to endorse Don Huffines," Paul said.
Beck immediately began laughing, while Paul attempted to summon an answer to the question.
"Uhh, because he asked me," Paul offered. "He asked me when there was nobody else in the race. And I said yes."
That answer is probably not the ringing endorsement that McConnell had in mind when he jumped headfirst into an alliance with his fellow Kentucky Republican. Although McConnell and Paul got off to a rocky start — Paul won election to the Senate in 2010 by winning a Tea Party-fueled challenge to McConnell's favored candidate, Trey Grayson, and spent much of his early time in the Senate criticizing party leadership — they have since formed a close partnership. Many observers see a quid pro quo, in which Paul keeps the Tea Party at bay in McConnell's difficult 2014 re-election battle, and McConnell lends Paul mainstream credibility in a hypothetical 2016 presidential campaign.
Paul has helped McConnell's quest for re-election, endorsing him — apparently, quite reluctantly — over his Tea Party-backed opponent, Matt Bevin. Additionally, the Paul family's longtime political advisor, Jesse Benton, is serving as McConnell's campaign manager.
Benton does not seem much happier with the arrangement than Paul does. Last year, he was caught on tape describing his true feelings about his boss, saying, "I'm sorta holdin' my nose for two years, cause what we're doin' here is going to be a big benefit for Rand in '16."
McConnell's campaign manager is not the only one holding his nose at the prospect of a sixth term for the minority leader. The latest polling of McConnell's re-election campaign finds him trailing Democrat Alison Lundergan Grimes by 4 percent, and boasting just a 32 percent approval rating in the Bluegrass State.
Photo: Gage Skidmore via Flickr
H/t: Talking Points Memo