Automotive Program Drives Students To Higher Learning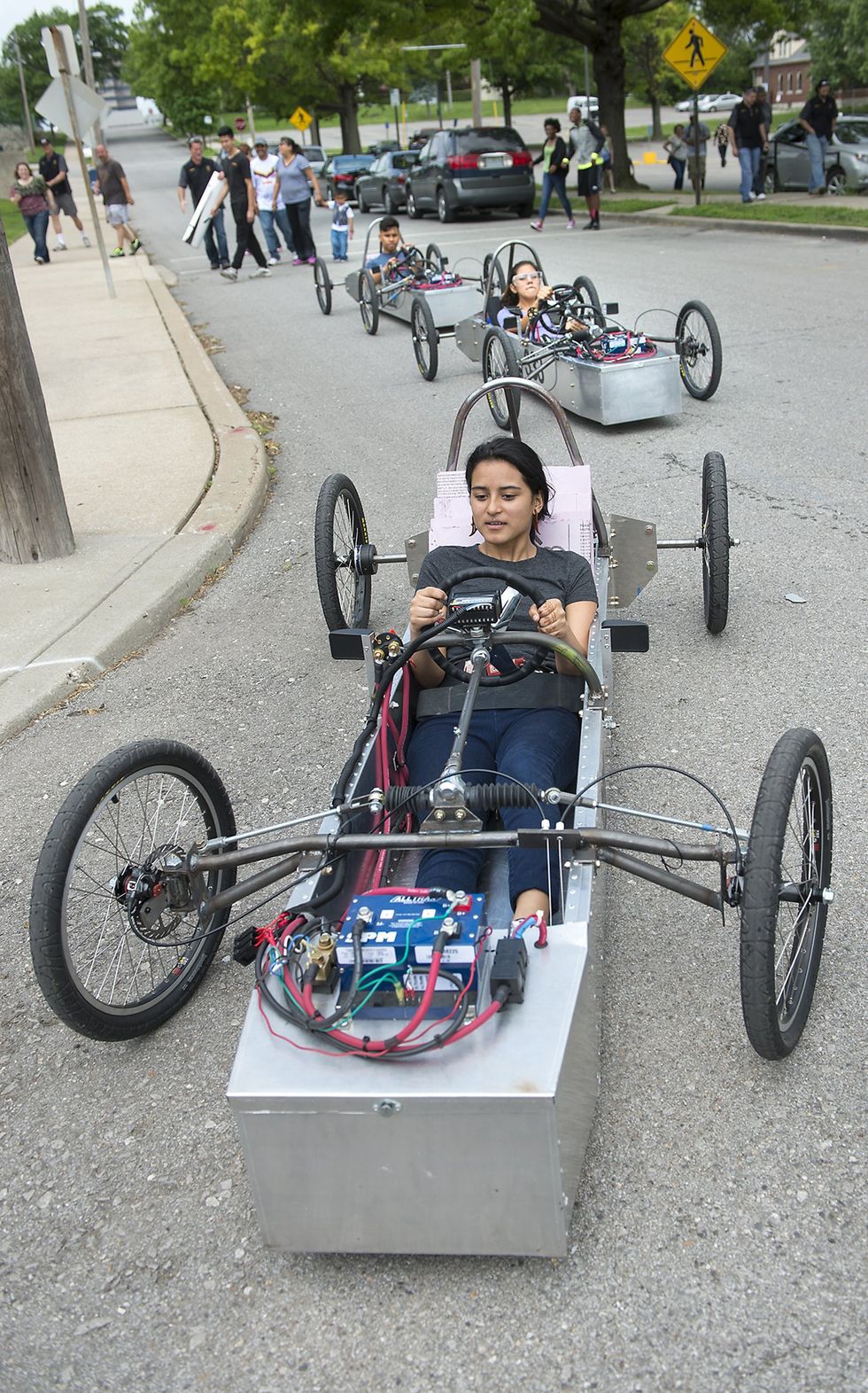 By Joe Robertson, The Kansas City Star (TNS)
KANSAS CITY, Mo. — Not long ago when he fancied himself a future professional sports star, Kelvin Duley imagined a reception like this.
People he didn't know waved from porches as he passed. Cheering elementary students gathered in greeting. Police provided an escort. The town mayor waited with a proclamation.
But for what?
"I didn't think it would be for Minddrive," said Duley, 21.
The Missouri Southern State University student was 18 then — part of a team of Kansas City high school students who had refashioned a classic Lotus Esprit sports car into an electric vehicle that they had taken turns driving across the country in 2012.
He happened to be behind the wheel as they rolled into Covington, Ga. — a town that for whatever reason was particularly excited to receive them.
"They're treated like rock stars," said Steve Rees, one of Minddrive's co-founders.
Minddrive is a nonprofit extracurricular fusion of auto garage and classrooms, using automotive design, contemporary communication classes and other coursework led by volunteers to inspire students no matter their background. This year, the program has been serving some 50 students, mostly from urban schools, on Saturdays.
The program is finishing its fifth year, so it has been around long enough that alums like Duley, a graduate of the DeLaSalle Learning Center, are bringing back college-tested testimonials of what the experience meant for them.
Many, like Duley, were talked into trying a class and didn't think of themselves as strong students or mechanically inclined.
The stories they tell — about how they found surprising footing that lifted them into college and career possibilities they never would've considered — is fueling a program that wants to grow. Minddrive is adding summer programming and expanding evening classes with hopes of doubling its numbers because it wants to make as much use of its space as possible, said Linda Buchner, another co-founder.
"There is an amazing amount of energy here," she said.
Victoria Mendez, now a 19-year-old student at the University of Central Missouri, was a freshman with grades on the brink of failing at Alta Vista Charter High School when she walked into the Minddrive shop for the first time.
Just something to do on otherwise-boring Saturdays, she thought.
Around her, as she spoke on a Saturday earlier this month, this year's current group of students from 14 high schools had driven the latest creations back into the garage: Three electrathon cars — rechargeable electric go-carts — built from scratch.
She knows what many of the students are feeling, she said.
"I had no idea what I was going to do," Mendez said. "I thought it was going to be hard."
Then she found herself on the brakes team. Soon she was doing math, figuring radius, calculating revolutions. In school, her grades began to turn north.
She also found a thrill in welding.
"It's kind of dangerous," she said.
Sandra Perez, 18, joined the program's communications team, producing media to chronicle and promote the students' journeys.
She found herself at a special hearing in Washington, D.C., talking in front of federal lawmakers and others in 2013 about the kind of education these building and traveling students have gained.
That project, in 2013, refurbished a 1967 Karmann Ghia as an electric car.
The confidence it took to stand in front of audiences and cameras startled her, she said. "It sparked faith in me."
The DeLaSalle graduate is earning her associate degree in communication and business at Metropolitan Community College-Penn Valley, and then heading on to the University of Missouri.
On the way to D.C., the Minddrive group stopped with their car in Pittsburgh, where they met Carnegie Mellon University students who were doing their own electric car work, Rees said. These were elite college students listening to Minddrive's team, Rees said, "and the students were taking notes."
Duley had the same experience earlier, when the team was in Indianapolis with an electric Lola sports car in 2011, visiting with Purdue University students. He thought sports was the way he was going to make his dad proud. He didn't think he'd be much for "higher learning."
But the work they'd done that so impressed the Purdue students made a higher learner out of him, Duley said.
He would take on college as a scholar, not an athlete. And the aspiring journalist knows his dad is proud. The Lola made news at multiple outposts across the country, and his dad saw it, Duley said.
"He was amazed."
Photo: After a test driving cars in a nearby parking lot, students in the Minddrive program, including Anett Amaya, 17, return to headquarters, on Saturday, May 16, 2015, in Kansas City, Mo. Students in the program spend about 30 weeks designing, building and testing their projects, including these electric cars. (Tammy Ljungblad/Kansas City Star/TNS)