Cancel The Food Drive! Walmart Can Easily Afford To Pay Its Full-Time Workers $25,000 A Year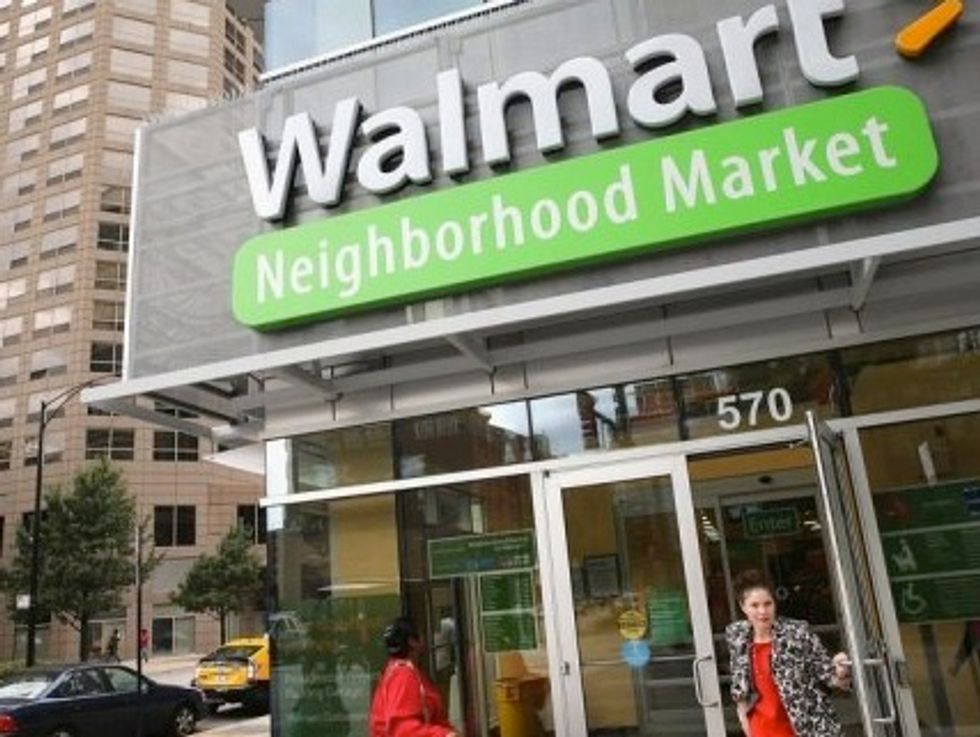 Walmart is the nation's biggest beneficiary of food stamps.
Last year the mammoth retailer received an estimated $18 billion in subsidies directed to it through its customers who receive Supplementary Nutritional Assistance Program (SNAP) benefits. But that's not the only way the company is on "welfare."
Its employees are also often beneficiaries of Medicaid and other public assistance to the point that taxpayers subsidize the company by as much as $900,000 a store.
Despite the generous help from the government, one Walmart store in Ohio held a food drive for its own employees. The nation's largest retailer could relieve the burden it places on the public — and its own employees — in a pretty simple way: raising wages.
Salon's Josh Eidelson — who relentlessly tracks the growing pressure from organized labor to improve conditions for low-wage workers — reports that Walmart "pegs its average hourly wage at $12.78, but that figure includes managers and excludes workers who aren't full-time. Drawing on 2011 IBISworld data and GlassDoor.com surveys, OUR Walmart activists have pegged the wage at less than $9 per hour."
A 2011 study from UC Berkeley Center for Labor Research and Education found that if Walmart raised its minimum wage to $12 — an increase of $1,670 to $6,500 per year per employee — and passed the entire cost of the hike on to consumers, the result would be an increase of 1.1 percent in prices. Walmart's prices are reportedly about 15 percent below its competitors'.
But the company could offer its employees a raise of $5.83 an hour, guaranteeing that no full-time associate would earn less than $25,000 a year, according to a new study from the progressive think tank Demos, and it would "not cost the company or its customers one additional dime." All it would have to do is stop buying back its own stock and paying dividends.
"The six heirs of Sam Walton, founder of Walmart, are already among the world's wealthiest people, with a combined net worth of $144.7 billion," the report's authors Catherine Ruetschlin and Amy Traub note. "In 2010, when the family's fortune was worth 'just' $89.5 billion, it was already greater than the total financial assets of the least-wealthy 41.5 percent of American families combined." Demos estimates that last year, while many of its employees were in poverty and forced to turn to taxpayer assistance, the Walton family took in $2.66 billion in dividend payments.
The report suggests that by "reinvesting" in its own employees, the retailer would also reduce employee turnover, estimated at 500,000 people leaving the company every year. This generous assertion doesn't acknowledge that cycling new employees in and out of stores may be a strategy to prevent workers from organizing, which could lead to demands for actual livable wages.
Because if Walmart ever had any intention of compensating its employees so that they wouldn't need charity from the government or their colleagues, this report suggests that it could do so right now.
AFP/Scott Olson