Don't Try To Breathe Life Into A Dead Scandal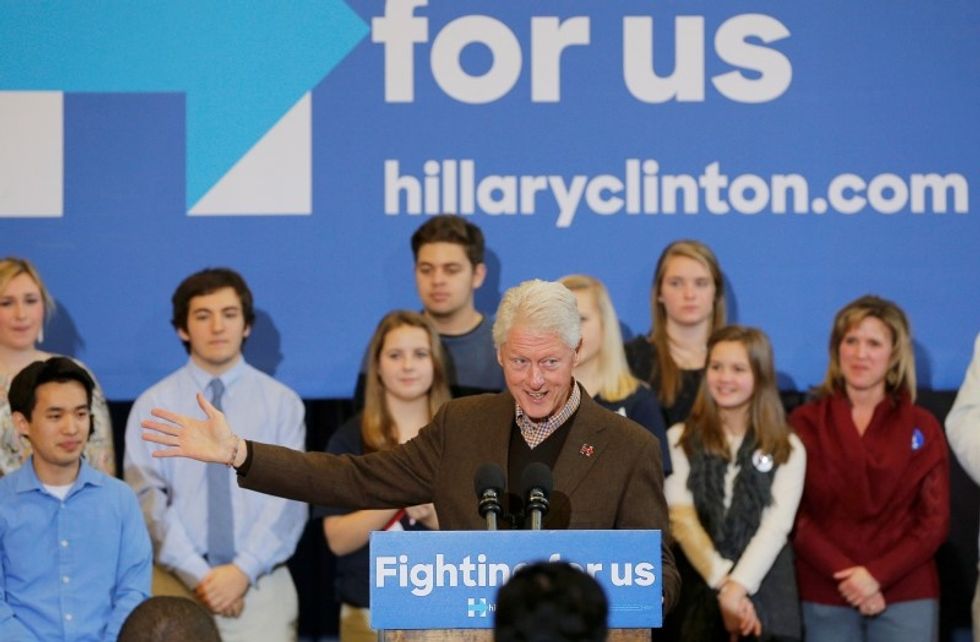 This just in: Nothing boosts circulation or enhances ratings like a sex scandal. The more prominent the actors and the more prurient the allegations, the better. And if any factual adjustments become necessary to keeping the narrative going, many journalists are eager to play along.
For example, how did the current spat between Donald Trump and Hillary Clinton over her husband's well-known sins begin? Was it when Hillary, unwisely rising to the bait, criticized Trump's "penchant for sexism"? Or was it earlier, when Trump described her taking bathroom break during a TV debate as "disgusting"?
Most would say Trump's bizarre insult jump-started things. However, if you watch Morning Joe or read accounts of Hillary's supposedly "enabling" Bill Clinton's transgressions, you'd learn that it's pretty much all her fault. Always was.
Even the New York Times, in an editorial arguing that "Trump is way out of line bringing up Mr. Clinton's philandering," couldn't restrain itself from scolding her for allegedly attacking Bill's paramours.
"When Mr. Clinton ran for president in 1992," editors chided, "Mrs. Clinton appeared on television beside him to assert that allegations involving Gennifer Flowers were false. In 1998, he admitted to that affair under oath."
Actually, no he did not. In the famous 60 Minutes interview, Bill Clinton had acknowledged "causing pain in my marriage." He added that most adults would understand what that meant.
Testifying in 1998, he admitted a single backseat tryst with Flowers, very far from the 12-year relationship she'd claimed. In her own deposition, she testified to earning more than $500,000 posing as Bill Clinton's mistress. Besides claiming college degrees she'd never earned, beauty titles she'd never won, and even a twin sister who never existed, Flowers also managed to write an entire book without stipulating a single time and place where she and her famous paramour were ever together.
Fans of MSNBC's Hardball have evidently forgotten the August 1999 episode in which Flowers was permitted to accuse Bill Clinton of having political opponents murdered, while host Chris Matthews told her how hot she was.
Bob Somerby found the transcript: "You're a very beautiful woman," Matthews panted. "He knows that, you know that, and everybody watching knows that. Hillary Clinton knows that!"
See, where Lewinsky was a starstruck amateur, Flowers was a seasoned professional.
Echoing Trump, who's been going around describing Hillary as an "enabler," who "totally destroyed" women that accused Bill Clinton, New York Times columnist Maureen Dowd depicted her as a hypocrite for "running as a feminist icon"after smearing women who truthfully maligned him.
And who would those be?
Dowd provides exactly one example, the unfortunate Monica — the most reluctant "accuser" imaginable. And did Hillary not describe her husband's paramour as a "narcissistic loony toon"? Apparently so, but in a private communication with her close friend Diane Blair, a University of Arkansas professor whose papers became available after her untimely death.
It's the press that turned it into a smear.
If that's the worst thing a middle-aged wife ever said about a young thing who threw herself at her husband, she should get the Nobel Peace Prize.
So am I so naïve that I believe Bill Clinton innocent of all charges? Certainly not. However, my suspicion is that like most public men with what the old Johnny Cash song called a "wicked wandering eye," he waited for the woman to make the first move, and rarely had to wait very long.
Indeed, I long ago learned that the way some women act around famous, powerful men — athletes, actors, musicians, politicians — contradicts almost everything your mama (and every feminist since time began) says women behave. I have even witnessed women at writers' conferences trying to trip novelists (and even the odd journalist) and beat them to the floor.
I've also noticed that some can get vengeful when they don't get what they want. Or even if they do. That's why Hillary Clinton in particular ought to avoid academic-accented cant about women never lying about sexual assault.
All human beings lie, and sex is one of the most common things they lie about. Again, sorry, but there it is.
Meanwhile, some reporters appear keen to return to those thrilling days of 1998 the way others yearn to experience Woodstock. I recently read a screed by a Vox reporter who was eight years old when this all went down: Linda Tripp, Kathleen Willey, Michael Isikoff, the "Elves," Kenneth Starr, the lot.
He made a brave show of arguing that it would be "misleading and pernicious" to doubt the ever-changing tale of Juanita Broaddrick, an Arkansas nursing home owner (and Trump supporter) who claims that Bill Clinton raped her 40 years ago, but has also given sworn statements denying it.
He appears unaware that a veritable army of jackleg private eyes and right-wing political operatives (many employed by Kenneth Starr) ransacked Arkansas for years without proving a thing.
Please, not again.
Photo: Former U.S. President Bill Clinton addresses a campaign rally for his wife, Democratic presidential candidate Hillary Clinton, in Nashua, New Hampshire January 4, 2016. REUTERS/Brian Snyder