Former Senator George McGovern, 1922 – 2012, Saw Vindication In His Lifetime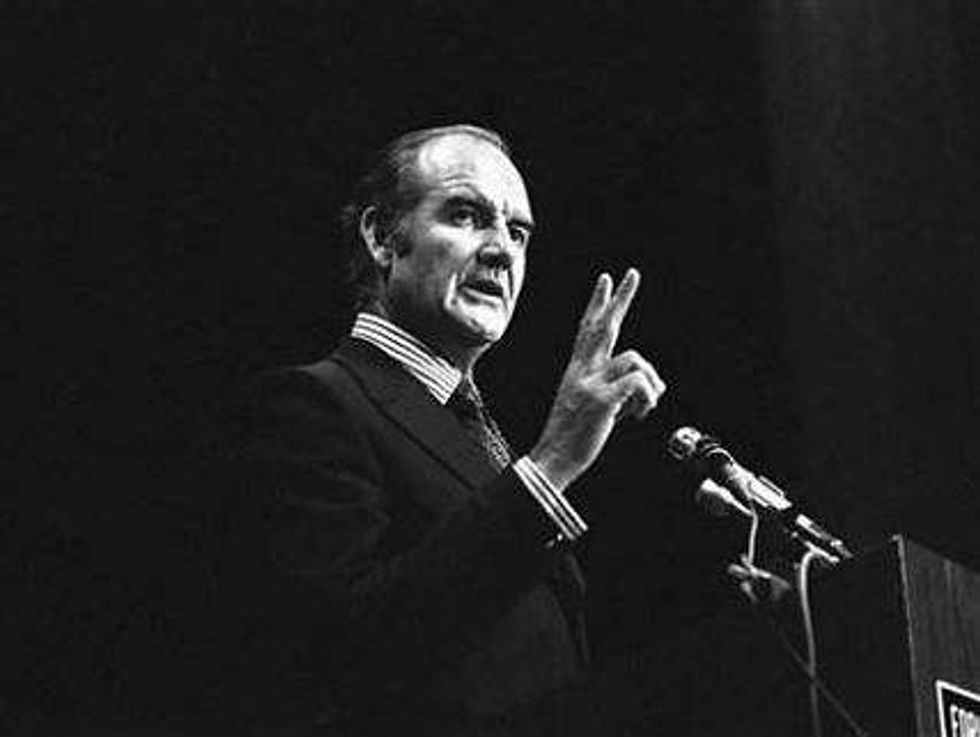 Few politicians are ever as thoroughly vindicated as George McGovern, the former South Dakota senator and Democratic presidential candidate who passed away on Sunday at age 90.
A true war hero and recipient of the Distinguished Flying Cross, McGovern became the nation's leading voice against the war in Vietnam and then went down to a 49-state defeat against Richard Nixon. That election is often portrayed as a watershed for both the Democratic Party and the brand of liberalism that McGovern represented, with the party failing until it moved toward the center  — and away from him.
It was a viewpoint that McGovern accepted, at least in the sense that he was too far ahead of the electorate. But while his positions on domestic and international issues were "out of step" with American voters, as he once put it, the confirmation of his wisdom and integrity was nevertheless swift. First came Watergate and Nixon's impeachment, then the disorderly withdrawal of the United States from Vietnam. Americans disowned the president they had overwhelmingly reelected, and  came to see the war he had tried to end as a tragic mistake.
If he was right about Nixon and Vietnam, those were not the only questions on which history ultimately absolved McGovern. He supported the decriminalization of marijuana long before narcotics reform became fashionable. He opposed the invasion of Iraq when much of liberal Washington simply acquiesced to the madness. And the young political idealists who ran his campaign prefigured a modern and diverse Democratic Party that grew to represent a far broader swath of America than the embattled minority that had supported him.
While McGovern was proved right in everything he had said about Nixon and the war, he also lived to see the bitter adversaries who had helped to bring him down in 1972 discredited.  The old labor bulls who had contemptuously dumped him were eventually thrown out by more progressive union leaders, the "Democrats for Nixon" left the party to become Republican neoconservatives – and came to grief in their dishonest, destructive invasion of Iraq, another ruinous war that he courageously opposed.
Twenty years after he lost to Nixon, McGovern savored the presidential victory of Bill Clinton, who had run his campaign in Texas. In 1998, Clinton appointed him ambassador to the UN Food and Agriculture Organization, a position he used to sponsor a major, federally-funded program that has since provided school-based nutrition to millions of children around the world. In recognition of his lifelong dedication to ending hunger, Clinton awarded him the Presidential Medal of Freedom in 2000.
For decades, McGovern's chief ally in that struggle was Senator Robert Dole, a longtime partisan adversary who became a close friend– and who described him, in a touching farewell essay, as "a true gentleman who was one of the finest public servants I had the privilege to know."
McGovern rose above the humiliation of 1972 with dignity and determination and will be remembered as a patriot, statesman, humanitarian, and scholar who stood for virtue and against cynicism.
Photo credit: AP/Walt Zeboski, File