Gay Republican Group Takes To The <em>NY Times</em> To Oppose Hagel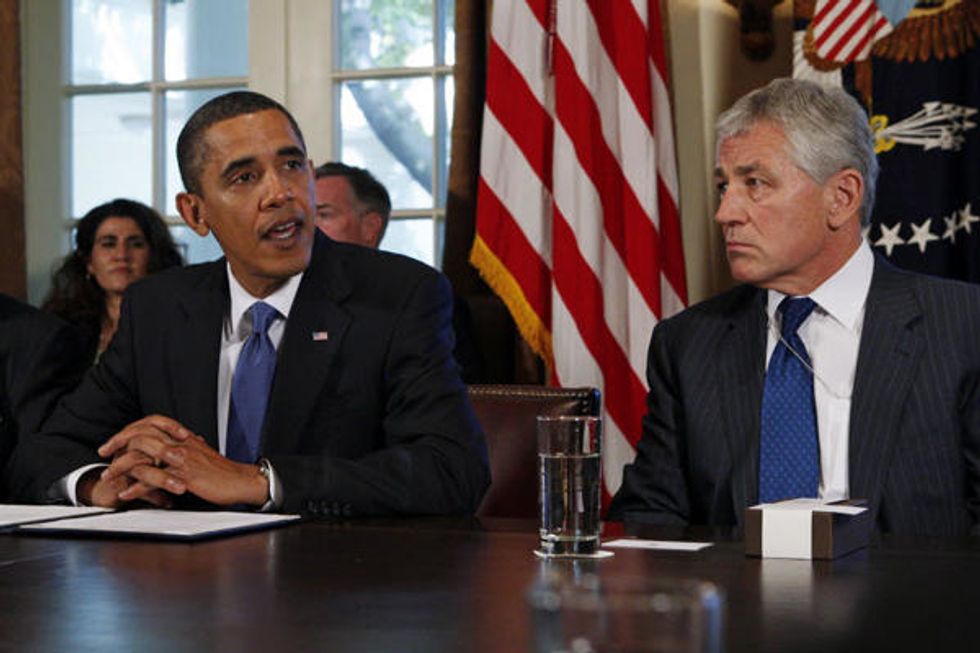 Adding to the general confusion about exactly what they stand for, the Log Cabin Republicans took out a full-page ad in Thursday's New York Times, urging President Obama to reconsider his possible selection of Republican Chuck Hagel for the position of Secretary of Defense.
The gay Republican group, which by association and voting behavior accepts the GOP's default position that (openly) gay people are second-class citizens not deserving of the same civil rights as "normal" human beings, is apparently miffed that Hagel — in time-honored Republican tradition — made a homophobic remark in 1998 about James C. Hormel, President Bill Clinton's choice for ambassador to Luxembourg, calling him "openly aggressively gay."
Hagel has since apologized for what he termed the "insensitive" comment, adding that it does "not reflect my views or the totality of my public record, and I apologize to Ambassador Hormel and any LGBT Americans who may question my commitment to their civil rights. I am fully supportive of 'open service' and committed to LGBT military families."
His apology was accepted by the Human Rights Campaign, who referred to him as an "ally."
But the selectively indignant group doesn't stop there… it ups the ante by throwing in some foreign policy concerns — "Chuck Hagel: Wrong on gay rights, wrong on Iran, wrong on Israel," reads the ad. "Tell President Obama that Chuck Hagel is wrong for Defense Secretary. Help us create a stronger and more inclusive Republican Party."
Conservatives believe Hagel has not pledged sufficient allegiance to Israel, pointing to his assertion that there is a powerful "Jewish lobby" that intimidates legislators. (While few would contend that AIPAC is not a powerful lobby, the preferred term — says the suddenly-all-for-political-correctness crowd — is "pro-Israel" lobby.) "I'm a United States senator." he reasoned. "I'm not an Israeli senator."
That, to the extreme right, makes him an anti-Semite.
Then there's Hagel's senatorial votes against extending sanctions on Iran and his "diplomacy first" stance, which to some means he wants to deliver nukes to Iran in a pretty gift basket with an engraved invitation to blow up the White House. However, having signed his name to a Washington Post op-ed that read, in part, "War with Iran is not inevitable, but U.S. national security would be seriously threatened by a nuclear-armed Iran" would — to any reasonable person — be enough to dispel that misconception.
The ad's plea to "Help us create a stronger and more inclusive Republican Party" is puzzling to anyone who might attempt to reconcile the positions of that party with the interests of a group of openly gay Americans. "Who are these people, and why do they continue to champion and vote for a party that hates them?" is a familiar refrain. But, since losing another presidential election in spectacularly convincing fashion, the GOP is in major damage-control mode. Even they have finally realized that they need to repackage themselves, and improve the quality and believability of the lies they tell to the people they hate.
Whether it not this transparently self-serving strategy works remains to be seen, but it's not likely.
Photo: Jim Young/AP/File