GOP Furious That Obama Is Acting Like He Won The Election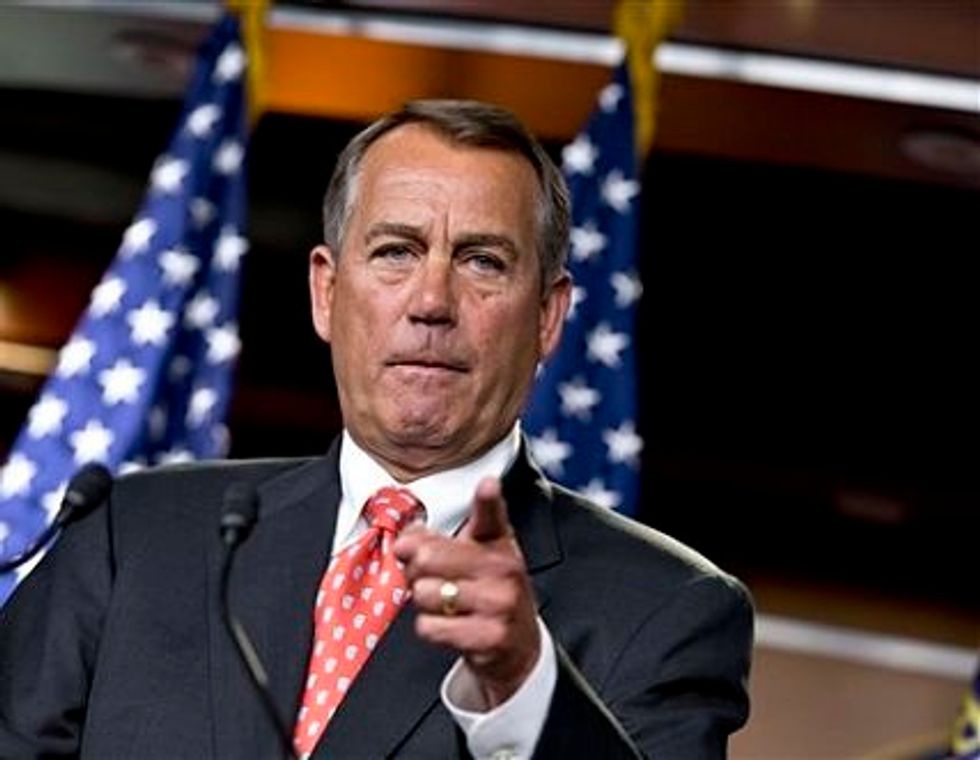 On Thursday, Republicans immediately rejected the president's opening offer to resolve the so-called "fiscal cliff" issue.
According to Republicans who leaked the bid, President Obama would cut $4 trillion from the deficit, including $400 billion in Medicare savings and $1.6 trillion in revenue from first ending Bush tax breaks on the top earners, capital gains and dividends, and then tax reform. He also called for action to create jobs in payroll tax cuts, unemployment benefit extensions and $50 billion in infrastructure spending and a new mortgage-refinancing program.
Basically the president is asking for exactly what he campaigned on.
Watch:

Yet according to Talking Points Memo's Brian Beutler, congressional Republicans dismissed the plan as "outlandish" and "unserious." Senate Minority Leader Mitch McConnell reportedly laughed aloud as Treasury Secretary Tim Geithner read him the plan.
So what's the GOP's plan?
On Twitter, House Minority Leader Eric Cantor's Communications Director Rory Cooper said their plan was a bill that replaced the defense cuts in the sequester with other cuts. The bill was passed in September.
What's happened since then?

Oh yeah, as Politico's Ben White reminded Cooper, we had an election.
The GOP likes to point out that the president's re-election was closer than his election, which isn't typical — except we haven't had a president elected in such a landslide in more than half a century.
President Obama's total share of the popular vote is the second highest of any candidate since 1988—trailing only himself. And if Mitt Romney had been elected with 332 electoral votes, you don't think the GOP would be calling that a landslide? Their pre-election predictions, many of which had him winning even fewer electoral votes, were boldly characterized as such.
Meanwhile, the House GOP was re-elected into the majority with only eight members losing their seats. However, they won fewer total votes than Democratic House candidates across the country, and owe their majority to masterful gerrymandering.
This isn't to say the GOP has no advantages when it comes to the current negotiations. They still have to approve raising of the debt ceiling early in 2012. Speaker Boehner has already said that would come with a "price."
More Republicans are calling on the GOP to go over the cliff. And senator Patty Murray (D-WA) had said that Democrats are willing to do the same thing if Republicans won't give on the Bush tax cuts for the rich.
So are we just seeing brinksmanship or does the GOP want to go head to head with a president who has just been re-elected and has the greatest platform in world—his inauguration—just weeks away?
We'll soon find out.