Handmaid's Tale? Trump Administration Curbs Access To Birth Control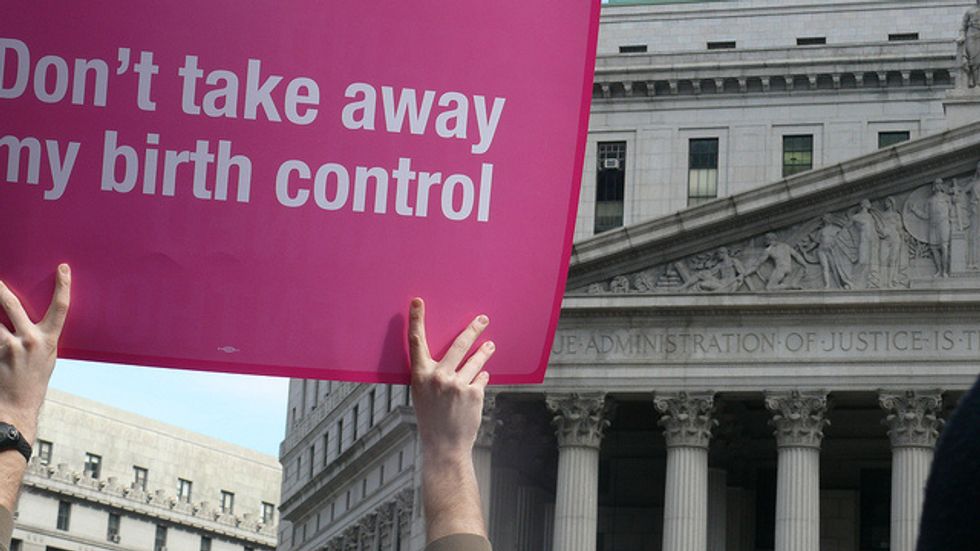 Reprinted with permission from DCReport.
Trump health officials plan to rewrite guidelines for a federally funded family planning program to make it harder for low-income women to obtain birth control.
The 32-page proposed regulation mentions contraception three times aside from the footnotes and proposes removing the requirement that family planning services be medically approved, saying it could cause confusion.
"Medical doctors and professional organizations can differ on which methods of health care they approve, including different methods of family planning," said the regulation prepared under abstinence advocate Valerie Huber, now a senior policy adviser at Trump's Department of Health and Human Services.
"This policy is straight out of The Handmaid's Tale," said Dawn Laguens, executive vice president of Planned Parenthood Federation of America.
Trump said at an anti-abortion gala sponsored by Susan B. Anthony List that the new rule would "prohibit Title X funding from going to any clinic that performs abortions."
Vice President Mike Pence, who has pushed Congress to defund Planned Parenthood, has said that legal abortion would end in the United States "in our time."
Title X, signed into law in 1970 by former Republican President Richard Nixon, serves more than 4 million low-income women and a much smaller number of men. Nearly two-thirds of patients in the program are at or below the federal poverty line.
In 2016, programs funded by Title X provided 5.1 million tests for sexually transmitted infections, including 1.2 million HIV tests and about 700,000 Pap tests. About 80% of patients receive birth control which helped prevent an estimated 800,000 unintended pregnancies in 2015.
Researchers call areas where it is difficult to get birth control "contraception deserts." About a third of adult U.S. women who tried to get a prescription for hormonal birth control reported problems.
A 2016 study published in the Journal of Adolescent Health credited better use of contraception to reducing teen pregnancies, which dropped by 25% from 2007 to 2011.
Our nation's teen birth rate remains high compared with other industrialized nations, particularly among poor and minority women. More than a quarter of U.S. women become pregnant by age 20.
A Case Western study in 2005 of Ohio abstinence programs where Huber managed the state's abstinence education efforts found they misrepresented religious convictions as scientific fact and contained false information about contraceptives such as implying that condom use can lead to death.
The latest round of grants is just for seven months which could help the Trump administration push to defund Planned Parenthood and other organizations that help girls and women make their own choices about when or if to have babies.