House Republicans Announce Vote On Three-Month Debt Limit Extension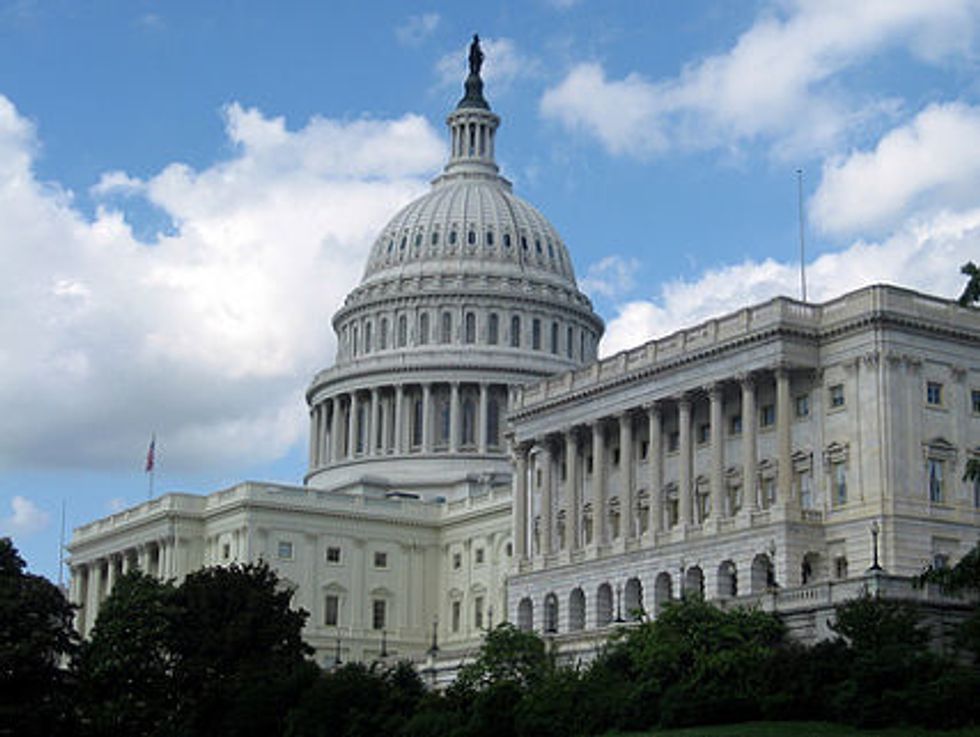 House Republicans have announced that they will hold a vote on a three-month extension of the debt limit, signaling that the GOP is ready to fold in the latest debt ceiling standoff.
According to CNN, the vote will include a requirement that both chambers pass a budget, or go without pay — a political shot at the Senate, which has not passed a budget in four years.
"That is a shameful run that needs to end, this year," House Speaker John Boehner said at the House Republicans' strategy session in Williamsburg, VA. "We are going to pursue strategies that will obligate the Senate to finally join the House in confronting the government's spending problem."
"We must pay our bills and responsibly budget for our future. Next week, we will authorize a three-month temporary debt limit increase to give the Senate and House time to pass a budget. Furthermore, if the Senate or House fails to pass a budget in that time, members of Congress will not be paid by the American people for failing to do their job. No budget, no pay," House Majority Leader Eric Cantor (R-VA) said in a statement.
"This is the first step to get on the right track, reduce our deficit and get focused on creating better living conditions for our families and children," he added. "It's time to come together and get to work."
Unlike during the "fiscal cliff" battle, there are signs that Boehner's caucus is united behind the decision to stand down. South Carolina 's Mick Mulvaney, a Tea Party favorite, told reporters "If you can figure out ways to get little types of reforms, little fixes for small extensions, I don't find that objectionable."
Responding to the proposal, Senate Majority Leader Harry Reid told The Washington Post that it's "reassuring to see Republicans beginning to back off their threat to hold our economy hostage." Reid added that he would be "be happy to consider" the proposal, although he did not address House Republicans' demand that the Senate pass a budget or forfeit its pay.
The party's decision to back down from a February clash over the debt ceiling was foreshadowed on Thursday by Senate Minority Whip John Cornyn (R-TX) and House Budget Committee Chairman Paul Ryan (R-WI).
"We will raise the debt ceiling," Cornyn told the editorial board of the Houston Chronicle on Thursday night. "We're not going to default on our debt."
Cornyn's statement was an about-face from two weeks ago, when he wrote an op-ed in the Chronicle warning that Republicans should not raise the debt ceiling without securing major cuts to Medicare, Medicaid, and Social Security, and that "it may be necessary to partially shut down the government in order to secure the long-term fiscal well-being of our country."
When the Chronicle's editorial board asked Cornyn why he had changed his position, the senator replied, "You sometimes try to inject a little doubt in your negotiating partner about where you're going to go, but I would tell you unequivocally that we're not going to default."
In Williamsburg on Thursday, Ryan suggested that "the realities of divided government" would lead the Republicans to vote for a short-term debt ceiling increase.
"We're discussing the possible virtue of a short-term debt limit extension so that we have a better chance of getting the Senate and the White House involved in discussions in March," the former vice-presidential candidate told reporters. "What we want to achieve at the end of the day is a two-way discussion between Democrats and Republicans and, out of that, hopefully, some progress being made on getting this deficit and debt under control – because we really do believe that our obligation is to help prevent a debt crisis from hitting this country."
The White House has repeatedly insisted that it will not accept a short-term increase. "There is a long tradition here of Congress acting to raise the debt ceiling," White House Press Secretary Jay Carney told reporters at his Thursday briefing. "This is a power that they've given themselves to do. And the point is — without drama and delay. A monthly extension is drama."
"We're not going to negotiate over extending the debt ceiling," Carney insisted.
The White House's position seems all the more reasonable in light of Cornyn's statement, which has been echoed by several other prominent conservatives. Now that Republicans have acknowledged that they will not accept the consequences of not raising the debt limit, they have lost the ability to use it as leverage to demand spending cuts from the White House. It doesn't matter whether Republicans extend the debt limt for three months or three years; without the threat of default, these skirmishes will have little political value for the party.