If CBS Wants Its Reputation Back, A Better Explanation Is In Order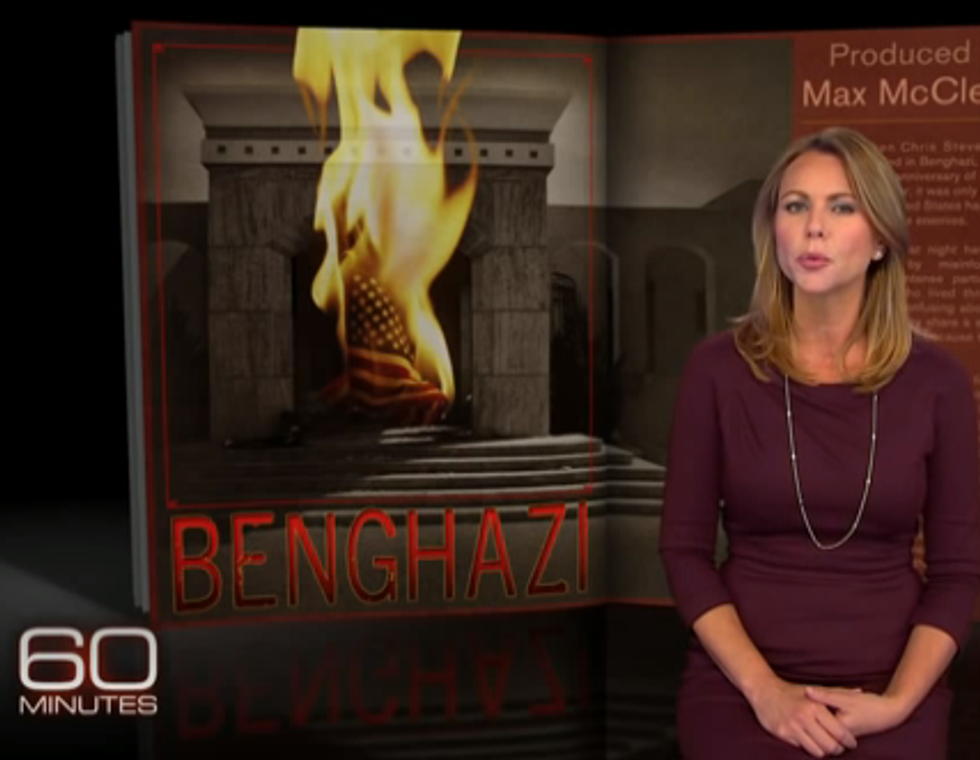 The comic figure of the braggart soldier first appears in Plautus's play Miles Gloriosus in roughly 200 BC, although the Roman dramatist acknowledged a now-lost Greek model. So it's surprising that somebody who's spent as much time in war zones as 60 Minutes' Lara Logan failed to recognize the type: a swaggering, self-anointed hero describing military feats nobody witnessed but him.
Bars near military bases around the world harbor fakers like Dylan Davies, aka "Morgan Jones," as 60 Minutes called him, although they do have to be careful who they lie to. It's mainly a tactic for fooling gullible women. I used to know a fellow whose girlfriend forgave his drunken blackouts because of his terrible experiences in Vietnam—a war that ended when he was nine.
That said, Lara Logan's apparent naiveté is far from the most objectionable thing about CBS's ill-fated attempt to pander to the far right's odd obsession with the Benghazi tragedy. See, 60 Minutes' October 27 episode supposedly falsifying the Obama administration's version of what happened that terrible night in Libya wasn't so much TV journalism as an infomercial for a book in which CBS had a financial stake—a manifest conflict of interest 60 Minutes neglected to mention until MediaMatters.org called its hand.
Exactly how generous an advance Simon & Schuster's "Threshold Editions" bestowed upon Davies for his heroic tale about singlehandedly fighting his way into the besieged U.S. compound where Ambassador Christopher Stevens and three fellow Americans were killed by a terrorist mob hasn't been revealed. Presumably enough, however, to give the one-time British mercenary ample reason to concoct a narrative pleasing to its readers' expectations.
Having previously published books by such innovators in the art of storytelling as Glenn Beck, Mark Levin and Jerome Corsi, Threshold editors would appear to be less than rigorous about fact-checking. So excuse me for saying so, but that makes Davies virtually a paid source, and 60 Minutes a practitioner of checkbook journalism that could ruin its well-deserved reputation.
Nothing about the way CBS handled the ensuing controversy gave confidence. After boasting that its report raising "lingering questions" about Benghazi was the result of a year's reporting and over 100 interviews, the network stonewalled as obvious flaws in its reporting began to appear.
Within three days of the 60 Minutes broadcast, the Washington Post's Karen DeYoung learned that Davies had submitted a written incident report to Blue Mountain, his British-owned employers—a version in which nothing he told Lara Logan he'd seen and done at the U.S. compound that night could possibly be true, because he'd never actually gone there.

"Immediately," wrote Jay Rosen at Pressthink.org, "the CBS report is in deep trouble. And anyone with a clear mind can see that. Except the people at CBS. When your key source tells two different stories, something is seriously amiss."
Instead, a CBS spokesman announced, "We stand firmly by the story we broadcast last Sunday."
Translation: "We're 60 Minutes, and you're not."
Two days later, Davies gave The Daily Beast an interview claiming he'd neither written nor seen the incident report with his name on it, although he admitted lying to his bosses because "he did not want his supervisor to know he had disobeyed his orders to stay at his villa" that night.
So CBS's source now says he's told two different stories. Did Logan and her producers know that? If so, shouldn't 60 Minutes have explained to begin with? If not, exactly what did a year's reporting consist of?
Well, you can see where this is going. In a classic con-man's bluff, Davies also told The Daily Beast that he'd told State Department and FBI investigators exactly what he'd told 60 Minutes.
Meanwhile, mum remained the word at CBS. They stood by their story. Period. Mystifyingly, Logan assured the New York Times that "If you read the book, you would know he never had two stories. He only had one story."
So the incident report is a forgery? Wow, that would be news.
Who wrote it, Michelle Obama?
Then on November 7, the hammer dropped: The New York Times produced the FBI report: "Dylan Davies, a security officer hired to help protect the United States Special Mission in Benghazi, Libya, gave the FBI an account of the night that terrorists attacked the mission on Sept. 11, 2012 that contradicts a version of events he provided in a recently published book and in an interview with the CBS News program 60 Minutes."
So last Sunday, they sent Logan out to apologize: "The most important thing to every person at 60 Minutes is the truth," she said, "and the truth is we made a mistake."
Sorry, but that simply won't do. Lara Logan's a formidable figure and 60 Minutes has long defined TV journalism. But if CBS wants its reputation back, a better explanation is in order.
Screenshot via 60 Minutes