Inside A Manhattan Republican's RNC Watch Party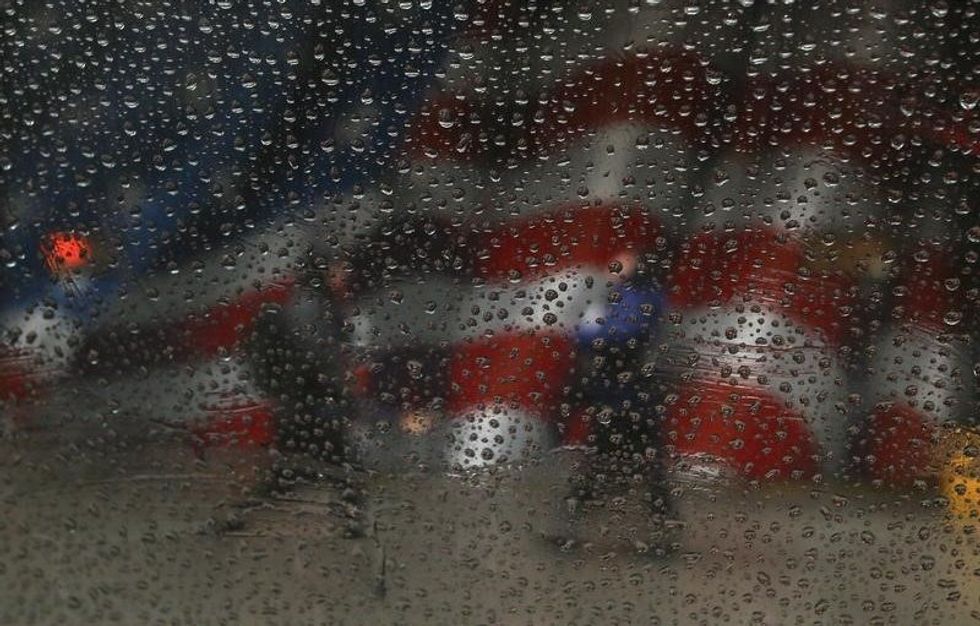 New York City Republicans got together on Thursday night to watch their nominee's coronation — at an apartment in a Trump building, appropriately.
But Republicans in New York City are not the Trump crowd, or so it seemed. They didn't even want to lynch Hillary Clinton, like the crowds at the Republican National Convention in Cleveland have been demanding all week.
Todd Shapiro, the party's host and vice president of the New York Republican committee, didn't sound much like Trump's nationalist base, making him a good example of New York City Republicans. He doesn't think Clinton should be locked up, and believes Obama did the best job he could with the mess he inherited. Both of these convictions would make him persona non grata at the convention.
"Today's gonna be history. It's gonna be the first time in a long time that it will guarantee that a new Yorker will be in the White House. No matter which party." That sentiment alone shows an openness to Hillary Clinton uncommon, to say the least, amongst Trump's Republicans.
Still, Shapiro, who has been a Republican "since it was cool to be a young republican," can barely contain his excitement for Trump. His mother gave him a Trump doll that says "You're fired!" as a gift once. He just got back from Cleveland and told me that although he's been to many conventions, he's never seen energy like this year's.
Shapiro, who works in public relations, has been around Trump's family and thinks Donald's a good dad, who has raised kids that "are like future Kennedys."
Great. But "what about all the controversy surrounding Trump?"
"What controversies?" Shapiro replied.
When I reminded him, he shrugged it off. "You're gonna see a different Donald Trump come out right now. A more conservative, presidential and less of a showman [Trump.]"
It was already primetime and speakers were warming the stage, but no one in the Central Park South apartment was watching the television showing Fox News' coverage. In fact, most people in the room looked uninterested.
There was a Japanese sushi chef, a handful of older men who looked like they owned multimillion dollar homes in the Hamptons, and lots of wives a la Melania, dressed to impress and holding Chihuahuas. It looked like what Trump's scene must have been for most of his life – cocktails, a good view, and lots of Democrats.
Republicans are a rare species in New York City and this watch party was no exception. One of the attendees, Eric Lourieo, was too liberal even for Clinton. He is a Bernie Sanders supporter and will not vote in November unless "Trump is within five points of Hillary," because after all, he is a "patriot."
Perhaps the most surprising attendee was Stuart Salles, a labor lawyer who has defended unions for more than 30 years. As an expert on workers and their rights, Salles knows how dangerous Trump would be for workers. He says the labor community is also very clear on the matter, and that the New Yorkers who support Trump do it for one of two reasons: money, or hatred of Hillary Clinton.
Others were just confused. One woman came up to me and asked if I knew what was going on. She had received an email invitation and came with her boyfriend "for the booze."
Finally, just as I was about to give up my search for a true, full-red Republican like the ones wearing cowboys hats at the convention and shouting "lock her up," I found someone truly passionate about Trump.
Matthew Sheldon, a publicist, liked Trump from the start, because "he speaks the truth." He thinks Trump can put New York into play in November, because just like Sheldon, he was born and raised in New York and has "business smarts."
"People are excited about him because he's a New Yorker. Hillary Clinton is not a New Yorker." Sheldon said. "She thinks she's a New Yorker, but she's not. She's a transplant."
Sheldon admits that Trump isn't a conservative, and he doesn't mind because he isn't one either. "I'm fiscally conservative but I believe his social policies are more in line with what I am," he said. I mentioned that Trump's vice presidential pick is the true definition of a Christian conservative, but Sheldon believes that Mike Pence is just for show; Trump is in good health — according to him — he'll do whatever he thinks is best when in power, and will serve as a unifying force for both parties. Like Shapiro, he seemed shocked when asked about all the controversy surrounding Trump. "That's the media," he said.
He was once a Democrat but his disdain for Hillary Clinton and Barack Obama, who he thinks has been the worst president in the history of the country, were pushing him out of the party just as Trump offered a new Republican one, and he switched over for this election.
Sheldon is the closest thing to a textbook Trump supporter I found at the watch party. He does think Clinton should have been indicted over her use of a private email server. "The Clintons have time and time again gotten a pass that other Americans will not get. It's not fair. What she did was beyond criminal," he said.
Still, the Manhattan native didn't go all the way. When asked what he thought about a Trump advisor's comments that Clinton should be shot for treason, Sheldon said "that's ridiculous. Listen, it doesn't go to that degree."
But it does go to that degree with some Trump supporters, especially those present at the event these New Yorkers got together to watch. Unfortunately, that was not a deal breaker for them, nor for millions more like them.
Photo: People walk in the rain past a U.S. flag painted on a building in the Manhattan borough of New York, February 16, 2016. REUTERS/Carlo Allegri